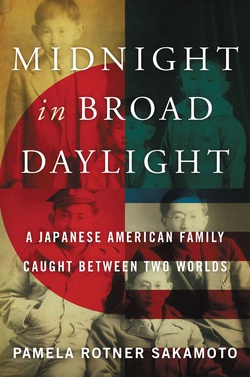 At our vacation residence in the small San Luis Obispo County community of Los Osos, Calif., my wife and I have a delightful neighbor who is genuinely a "voracious reader." By far this woman's favorite genre of literature is historical fiction. While customarily she shuns non-fiction books, she is open to perusing such works with one proviso: they must read like captivating novels. For this reason I have previously recommended to her a trio of exemplary 2015 Nikkei history books that nicely conform to her exacting taste: Jan Jarboe Russell's The Train to Crystal City; Julia Checkoway's The Three-Year Swim Club; and Janice P. Nimura's Daughters of the Samurai. I am now prepared to promote to her attention still another non-fiction book, the one under review here (likewise by a female author): Pamela Rotner Sakamoto's new narrative masterwork, Midnight in Broad Daylight: A Japanese American Family Caught Between Two Worlds.
Although the novelistic elements of Sakamoto's book—graceful prose, solid plot line, dexterous character development, and philosophical heft—enthralled me, what also drew me powerfully into Midnight in Broad Daylight was its transpacific subject matter and the resourceful and consequential way in which Sakamoto has exploited it. As denoted by its subtitle, the book revolves around the fortunes and (chiefly) misfortunes of one Japanese American family (the Fukuharas, consisting of two immigrant Issei parents, Katsuji and Kinu, and their five U.S.-born Nisei offspring, Victor, Mary, Harry, Pierce, and Frank).
Not coincidentally, the Fukuhara story, which Sakamoto lavishly and imaginatively documents with diverse evidence, is broadly representative of the entire Japanese American community's historical experience before, during, and after World War II. The Issei parents both immigrate to the United States from Hiroshima, the home prefecture for the largest number of first-generation Nikkei. The male head of the family, Katsuji, sails to the West Coast of the U.S. mainland in 1900, and in 1911 is joined in the Pacific Northwest by Kinu, his picture bride. In the ensuing years, all five of the Fukuhara children are born and then raised in the town of Auburn, Washington. However, after the 1933 death of Katsuji places the family in dire financial straits, Kinu decides to return to her ancestral home in Japan, accompanied by her reluctant Nisei brood.
In the waning 1930s, Mary and Harry return to America, but after the U.S. entry into World War II against Japan, they are caught up in the mass exclusion and incarceration of the West Coast Japanese American population.
Meanwhile Victor is conscripted into the Japanese Imperial Army, as in due time are his younger brothers Pierce and Frank. In the U.S., Harry leaves the Gila River concentration camp in Arizona to enter Japanese language school in Minnesota and become affiliated with the Allied Translator and Interpreter Section (ATIS). This action plunges him into the vortex of the Pacific War, which Sakamoto strategically treats from alternating Japanese and American perspectives. Readers of her book likely will anticipate that at some point the conflicting wartime paths of the Fukuhara brothers will cross, so I will not here compromise Sakamoto's suspenseful scenario by spilling the historical beans in relation to this real if seemingly remote contingency.
Two items bearing directly and indirectly on Sakamoto's book especially spoke to me. Using Harry Fukuhara's immediate postwar visit to his family's home site in Hiroshima permits Sakamoto to offer a rare personal account of not only the context of that city's controversial atomic bombing by the U.S. military, but also the consequences suffered by its tragically downsized population of survivors. Having only recently listened to the 2014 audiobook of Dr. Michihiko Hachiya's classic 1955 work, Hiroshima Diary: The Journal of a Japanese Physician, August 6–September 30, 1945, I found myself humbled by being privy to a pair of such complementary, compelling, and compassionate narratives on so pivotal (and horrendous) a moment in modern world history.
The second item about Midnight in Broad Daylight that particularly resonated with me derived from a December 28, 2015, videotaped ThinkTech Hawaii interview I accessed via the Internet between Jay Bidell and Pamela Rotner Sakamoto, which I strongly recommend.
From this interview I learned that Sakamoto, a U.S. citizen of Jewish heritage, had lived in Japan for 17 years and there became conversant in Japanese language, culture, and history while concurrently serving as a historical consultant for Japan-related projects for the Holocaust Memorial Museum in Washington, D.C. I found out too that she had devoted over 15 years in researching and writing her present book, after finishing her first and strictly academic book, Japanese Diplomats and Jewish Refugees: A World War II Dilemma (1998). Reflecting on this revealing information about Sakamoto reminded me anew how exceedingly important and far-reaching has been the contribution of Jewish American scholars to Japanese and Japanese American studies.
MIDNIGHT IN BROAD DAYLIGHT: A Japanese American Family Caught Between Two Worlds
By Pamela Rotner Sakamoto
(New York: Harper, 2016, 464 pp., $29.99, hardback)
*This article was originally published by Nichi Bei Weekly on July 21, 2016.