Pursuing Japanese food and service culture with American hospitality, a restaurant was opened last year near the Pike Place Market. Notable and legendary local chef Shiro Kashiba and his veteran partners' Sushi Kashiba has been packed everyday with sushi lovers hoping to experience the high-quality Japanese cuisine.
"Edomae sushi, a traditional Japanese food, following a basic technique is simple," Kashiba said. "We consider how we can serve customers the right way."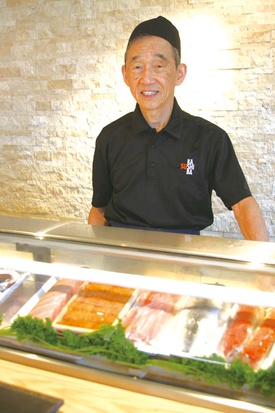 Kashiba is joined in his concept by six other partners, most of whom have experience owning local restaurants, to open his new restaurant. This is like a reunion for them as most have worked together with Kashiba.
According to Sam Takahashi, a business partner, the total age of the seven partners will be over 400 years old. Seeing their strong bonds and guts for the new business, two chefs have sold their restaurants before launching Sushi Kashiba.
The restaurant has always been crowded since opening. In addition to Kashiba's high reputation as a pioneer in local sushi history, the mixture of the Japanese cooking technique and American hospitality have been key in their first-year success of their business.
"This is where seven powerful seniors gather to build a new business model," said Takahashi, who has been a doorman taking care of customer service. "This should be a test case of business, harmonizing the Japanese spirits and techniques and American hospitality."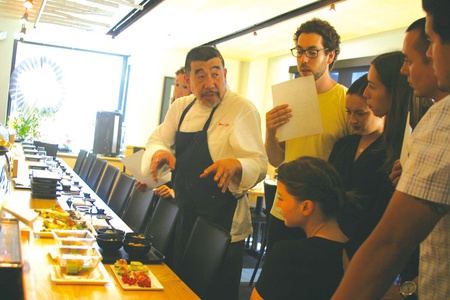 Kashiba, who has about 50 years of experience as a sushi chef, said that he still learns every day.
"Those who study techniques, history, and cuisine in Japan can cook real sushi," He said. "[But] sushi has changed little by little. The ingredient we have never used is now used in Japan sometimes. It is important to study the change happening in Japan and adapt."
There are over 200 Japanese food restaurants around the Seattle area; Japanese owners and Japanese chefs taking command in the kitchen are few. Many restaurants serve mainly Americanized sushi as roll sushi which is made with mayonnaise and red peppers.
Kashiba said that fusion sushi plays an important role for those who would hesitate to eat unfamiliar food from different countries.
"Fusion sushi, which adapts to each culture, is great itself," Kashiba said. "It makes people familiar with sushi. More people get interested in real sushi gradually, and eventually more people understand Japanese culture profoundly."
Kashiba also shared his surprise that many customers have been recognizing and seeking the edomae sushi.
"I am surprised that the number of people who seek real sushi is increasing," he said. "I guess they are increasing more and more."
Takahashi said that serving Japanese food has strict rules including where and how the plates should be set. The edomae sushi is simple, but knowledge of the tastes and ingredients to correctly share with customers is very critical.
Takahashi said that most of the servers have working experience in high-grade restaurants, so they are pros in food service.
"Japanese restaurant culture is a combination of food and service," Takahashi said. "They are not familiar with Japanese food culture and that's the problem."
The servers are introduced to an appetizing small dish by one of the chefs twice a month, and one server said that this time is one of the most enjoyable and educational moments. Their increasing knowledge about Japanese food and culture will also be key to the customers' restaurant experience.
"The Japanese Omotenashi culture is great in the world, and it comes from the heart of Zen," he said. "In order to offer the great service as the Japanese restaurant, we have to learn Japanese history."
During the peak of the local tourism season, Sushi Kashiba, located in the courtyard of the Inn at the Market along the Pike Place Market, seems to be successful in showing what they can serve from Seattle.
"Many people gather in this place from all over the world," said Kashiba, smiling. "It is so fun to teach foreign people Japanese culture through sushi."
The Pike Place Market has a long-time history with local Nikkei (Japanese American) farmers, who used to run their vegetable stands there every day before World War II. The site demography has dramatically changed over the last decades, but Takahashi still shared his appreciation of the Japanese Americans' roots and history around the area while running the restaurant.
"Our lives are supported by Nikkei people's struggles to live," he said. "Thanks to them, many American people have good impressions of Japanese people in Seattle. I would like to return the favor by doing our best here."
He added that he hopes the restaurant may inspire the younger generation in their future businesses.
"We want to show young people how to run restaurants and present Japanese food culture," Takahashi said. "That's one of the purposes of this restaurant. We want the next generations who are in their 20s, 30s, and 40s to take over and develop the Japanese traditional food."
Although time is passing, the strong belief that preserves the tradition must be passed on from generation to generation.
More information about Sushi Kashiba can be found at www.sushikashiba.com.
* This article was originally published on The North American Post on September 1, 2016 (Vol. 71, Issue 37).