Some years ago, I worked in a publishing house in São Paulo's Vila Mariana district. Nearby, there was a Japanese grocery store, where I would go to buy a bento at lunchtime.
It was not every day that I would buy one; I believe it was two or three times a week at most. I also used to buy an Asian-style bread there that was not found in ordinary markets and bakeries. From time to time, I would feel like eating manju, or I would need shoyu, kare, or chikuwa to make dinner. I would go to that market to take care of these day-to-day "emergencies."
Maybe it is a genetic impulse or something physiological, because sometimes I "need" to eat Japanese food. It is not always simple, fast, or cheap to go to a restaurant, so visiting a Japanese grocery store can be a good way to satisfy the craving.
That grocery store is now closed. I changed jobs, but when I was near that neighborhood, I still bought something from time to time. I did not go there for a few months and when I finally did, I found the gates closed and the interior under construction. I thought it might just be a makeover, but the place is now an ordinary fast food restaurant.

New entrepreneurship
It's a habit for some and a novelty for others; Japanese grocery stores offer products that appeal to both Nikkei and non-Nikkei.
"The interesting thing is that Nikkei teach non-Nikkei. For example, they show them the onigiri and explain what it is, how to open the package, and how to eat it," says Elisa Sayuri Suto, a Sansei and a partner at Dai Suki, a newly opened grocery store in São Paulo.
"We want to replicate the concept of konbini (Japanese convenience store) in Brazil, with adaptations for the Brazilian market," explains Fernando Kajihara, also a Sansei and Elisa's partner.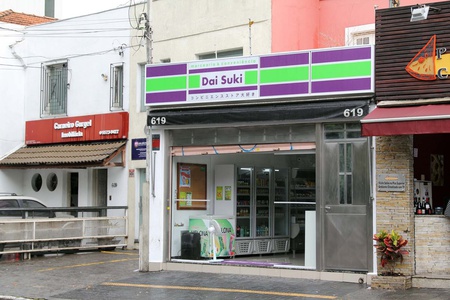 The idea came when they both went to Japan for arubaito (temporary work). "We used to go to the konbini every day. We mainly bought bento, which was very convenient," recalls Fernando.
"Along with the products, we want to bring a little bit of Japanese culture," he continues. "For example, we have that tray where the customer can place money without making direct contact with the clerk." This custom does not exist in Brazilian stores, where money, card, check, change, and invoice are passed directly between the hands of consumer and seller. The tray they use was purchased in Japan, because Elisa and Fernando did not want to improvise with any available tray.
"It is difficult to put this into practice because Brazilians are not used to it," says Elisa. "People who already know it adapt to it quickly."
The store also uses social media to promote its products and offer more information about Japanese culture. "We do posts on social networks explaining aspects of Japanese culture, such as obon, and also highlighting typical foods such as ichigo daifuku."

Where to buy
Most of the Asian shops and restaurants of São Paulo are concentrated in the Liberdade district, in the central part of town. Going there is not always easy, as the traffic is intense, the sidewalks are congested, and the parking is expensive. It would be much nicer if these establishments were spread out in other districts.
In São Paulo, there are districts with a greater concentration of Nikkei residents, especially in the southern area. The Paraíso district, where Dai Suki is located, is one of them. "Many customers are happy to have a store like this in the region, because now they don't need to go to Liberdade just to buy one or two products," says Fernando.
"Nikkei seek out Asian products because they are familiar with them," Elisa adds. "Non-Nikkei seek them out because they know and like Japanese cuisine. Many look for temaki, which is very popular today. We also end up teaching them about other foods."
The store has only been open for a few weeks, but the partners have already made some findings. Most customers are students from a school across the street. Many of these students are descendants of Japanese, Chinese, and Korean immigrants. Many have also been to Japan. Thus, they already have a familiarity with Japanese food products. They buy mainly bento, candies, snacks, and nori, with onigiri being the sales leader.
The main difficulty now faced by the partners is their own inexperience; this is their first business. "There are still many products that we do not know about," says Elisa. "We are researching and learning."
Fernando did intern at an advertising company in Ehime Prefecture in 2014. "I wanted to have experience in a Japanese company," he explains. "I was already thinking of starting a business in Brazil, so I wanted to see how it worked in Japan and then bring it here. As we were in love with the konbini, they provided the inspiration. Today, I can apply what I learned to our business."
Elisa has a degree in business administration and has gone to Japan twice—both times for arubaito—during breaks from college. "I always wanted to go to Japan. It was a dream. The education of the Japanese people is something extraordinary, especially the shop clerks. That's what we are trying to replicate here: always serve with good will, seeking to help customers."

The value of experience
The more established Enman grocery store is now entering its 17th year of operation, after opening in 2000. It is located in São Paulo's Saúde district.
"When my father and I came to this spot, the idea was to set up a mini-market," says Naomi Maeda, a Nisei who, along with her three siblings, runs the business. "We sold things like canned sardines and oil to meet the needs of residents in the nearby condos. Then we started offering Japanese products, and they began to sell. The next thing we knew, sellers [of Asian products] began to appear at our door—even when we were closed."
The mini-market soon became an Asian grocery store. "A year later, I was talking to my father and I asked him, whose idea was it to have an Asian grocery store? He replied, wasn't it yours? I thought it was his idea. It was just something that happened naturally," Naomi recalls.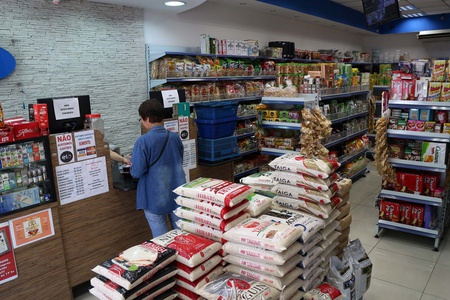 Passing on knowledge
Now, the majority of Enman's customers are elderly Nikkei who live nearby. The neighborhood has many residential condos, with a strong Nikkei presence.
"The senior citizens come every day," states Naomi. "They buy mochigome, shiromochi, rice, shoyu, tofu, konbu, nori, kanpyo, nishime, manju, and ingredients to make sushi."
Although Nikkei make up the majority of Enman's customers, the number of non-Nikkei are increasing. This can be explained by the fact that Japanese cuisine is now well known in Brazil. "These are educated people who have college degrees and access to the internet," Naomi observes. "They also have the desire to explore different restaurants. They have Asian friends who teach them how to make some of our dishes."
Naomi emphasizes the importance of knowing and passing on the traditions of Japanese cuisine: "I always make a point of preserving Japanese culture. It is important for both the descendant and the non-descendant to know how to shop for ingredients and prepare a Japanese dish at home. More and more, the elderly are passing, and people my age are coming to me to ask how to prepare some dish. I attend classes to learn more, then I practice at home so I can pass it on. This is not only to sell a packet of nori; I really feel the knowledge itself is important, whether it's how to make a more tasty Japanese rice or what kind of shoyu is most suitable for a particular dish."

Learning
Naomi inherited her instinct for customer service from her father. "He was a natural-born merchant. Everywhere I go, people always remember my father. When he became ill, he told me, you better learn everything you can now because no one lives forever."
In the mid-1980s, the Maeda family set up their first store. A few years later, Brazil experienced a serious economic crisis. The family had to close the store and try another enterprise, which did not succeed. "We went through a lot of difficulties, until we decided to set up this little shop. It was just my sister and me. Since we could not afford to have employees, we divided all the tasks between the two of us."
Why open a store again, in the midst of such difficulties?
"Selling is in our blood," Naomi quickly responded. "When we were kids, my siblings and I would help out in the family store—at the cash register, packing, restocking, wherever we were needed. At that time, a child could work because it was not considered dangerous like it is today."
Naomi's father passed away 10 years ago. "Up until the sixth year of the store, he was there. Even when he was ill, he would sit in a chair, just watching the movement. He liked it. He wanted to see everything and to be together with us."
After her father passed, a large supermarket proposed that the family open a branch inside their establishment. "I was kind of lost because my dad had been our safe haven. He was my foundation. So I thought, if he was still alive, he'd say to accept the deal."
Enman now has two branches. Both are run by Naomi and her three siblings, who take turns being in command. "It is very important for the owner to be present, to see what is happening, to learn what sells more and what sells less. In addition, the owner has a unique perspective and will want to highlight certain products accordingly," Naomi concludes.
The Japanese grocery stores of Brazil play an important role in preserving Japanese food habits and culture. While conducting research for this article, I saw children and teenagers eating onigiri during class breaks; I also saw seniors buying rice and other Japanese staples.
I hope we can all buy bentos for lunch for a long time to come.

Note: It turns out that the grocery store I used to frequent is still operating, but in another location.