Growing up in Little Tokyo in Los Angeles was a lot of fun. Japanese American and Mexican American children played together in the alleys across the street from the hotels and apartments on Azusa Street located in the heart of Little Tokyo. It ran from San Pedro Street to the garage on the end of the street followed by the Pure Pack building and then Central Street. Azusa Street is still there but long gone are the original buildings. On one side of Azusa Street is the rear of several shops and on the other side is the Japanese American Cultural and Community Center.
In the mid-fifties, roller skates and scooters created by the children out of wooden fruit boxes and old roller skates were among the toys the children played with on those streets and alleys. "Kick the can" and "hide and go seek" along with war and cowboy games were played on Azusa Street and its adjacent alleys. The wars were fought with wooden stick swords and cardboard shields when the war was that of English knights, or with cap guns and rifles if it was a more modern war and if they were cowboy and Indian battles. Look and Life magazine pages rolled and fitted into one or two-foot water pipe tubes with a band aid where one's mouth was placed to blow the paper dart was used to do other battles. A circular Quaker Oatmeal box full of paper darts was hung across the shoulders with a string.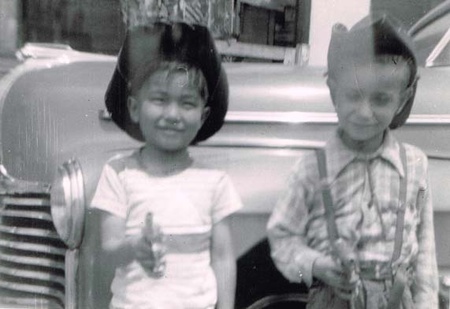 During quieter moments the reading of comic books filled the time: Superman, Superboy, Captain Marvel, Mighty Mouse, Batman and Robin, The Black Hawks, Little Lulu, Archie and Veronica, Daffy Duck, Donald Duck, Porky Pig, and many more. They cost 10 cents new and could be found used for a few cents at the local Salvation Army on Seventh and Town Streets, Volunteers of America on Third and San Pedro Streets, and other thrift stores.
Playing marbles, building clubhouses, and much more were the entertainment for these children; though we often lacked real toy cars, we improvised using even empty milk cartons. Black and white television was just coming out and few families in the area had them. One of the local hotels had one for its tenants and we would partake sitting on cushions borrowed from the chairs in the sitting room. Superman and Flash Gordon were favorite television programs.
On Second Street going west, between Los Angeles Street and San Pedro Street was Sensei Murakami's Judo Club, and next door was the Mickey Finn Club. Both were directly across from Nozawa Trading Company, a martial arts uniform and equipment distributing company. Many years later, in my early twenties, I met and became friends with Ms. Amy Nozawa, their only child.
The Mickey Finn Club was special for the local children. Mickey Finn was a wrestler who taught the art on the second floor of the building which was well equipped with a matted wrestling ring. The first floor was devoted to teaching the children various crafts and painting, and the basement provided children's films, usually on the weekends in the evening. I saw Pinocchio, Snow White, Alice in Wonderland, and many more there for the first time. He did all this for free. Nearby was St. Vibiana's Cathedral that I attended from the first to the eighth grade.
A grapefruit tree planted at the beginning of the last century has been removed from its former spot on Azusa Street and has been placed across the street in the yard of the Japanese American Cultural and Community Center. It has blossomed with grapefruits and has a plaque stating its longevity in the community.
To get a glimpse of that era, the north side of First Street between Central and Alameda Streets has been preserved as it looked then. All the buildings on that side of the street have been declared a historical monument by the City of Los Angeles and there are portraits of that city block in the local shops.
The kid's ages ranged from 9 to 11 years of age at the time. They were building the then new Police headquarters; it opened in 1955. Today a new headquarters has been built and Parker Center closing its doors symbolically using handcuffs on January 2013.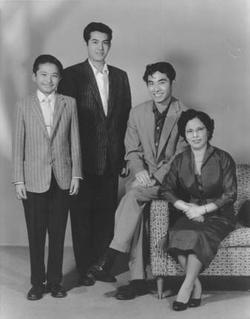 Yutaka, Freddie, Youichi, Chiakto, and other kids roamed the area. Yutaka's older brother Umio, who was 13 at the time, would rescue his little brother Yutaka and his good friend Freddie from the local bully Youichi, who was a little older, maybe 11, and liked to pick on them. Yoni was 22 at the time. He would take Yutaka and Freddie riding in his green Chevy pick-up truck. That was the most fun riding in the back of his pickup through the alleys and back streets. When he got his new 1956 Ford and took us for our first ride, I remember vomiting in his car as I got car sick in that first ride. He did not get angry. These were care-free times for all. Yoni has recently celebrated his 73rd birthday. He looks as fit as he did when he was in his twenties.
Especially enjoyed by the children was the week-long Nisei Week celebration which kicked off by a parade featuring a variety of Japanese cultural dances, floats, marches, and followed by a carnival, martial art exhibitions, flower arrangements, and sumi paintings. Especially colorful were the signs, in various colors, announcing Nisei Week along with the round, also colorful, Japanese lanterns adorning the sidewalks and streets. From a number of young Japanese American women, a Nisei Week beauty queen was selected.
Nisei Week was anticipated weeks before by the dance practices of those who were going to participate in the parade. They would practice during the week, in the evening. That parade and events are still taking place and is actually taking place as I write this article on August 14, 2007. Then there were the various martial arts demonstrations.
Last Saturday was held the annual Shotokan Karate of America annual tournament at Cal Tech in Pasadena as part of the Nisei Week festivities. The first karate demonstration to the public in the United States was held in 1956 during Nisei Week and has continued being an annual event. Until recently it was held in Little Tokyo but starting a few years ago the annual tournament switched to the Brown Gymnasium at Cal Tech which was where the first university class in karate was also held and continues to be taught by Shotokan Karate of America black belts.
For many young people, Nisei Week provides them with some of the rich history of Japanese Americans in the United States. Except for the WWII years, the festival has taken place since 1934.
Until a couple of years ago many of the residents from that era would meet at such places as Murasaki's on Second Street to enjoy dinner, to have a beer, and relax singing karaoke; today they continue to meet as the Murasaki crowd but in various locations in Little Tokyo. Among personages you are sure to run into are Yutaka and his wife Yoko. I tell everyone that despite Yutaka's tough (but polite) demeanor, he still is that nice little boy he once was; but don't tell anyone I told you.
I wrote this story some years ago, but we still see each other, just about every Saturday, when I'm in town.