For journalists, there are stories, perhaps only a handful, that never leave you. That's the way I feel about the Alan Hotel in Little Tokyo.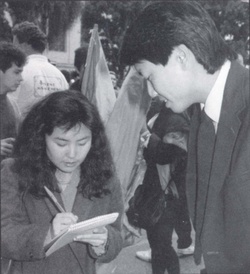 It was almost a lifetime away, in 1986, when I was a foot soldier, or more officially a reporter, for The Rafu Shimpo Japanese American daily newspaper. I wore my long hair wild in perm, with bangs cut short so I could see. Seeing was important for a reporter—and what I was about to witness I could not believe.
In the mid-1980s, Little Tokyo was on the edge of being flattened and transformed into fancy shopping malls financed by either Asian interests or Los Angeles-based developers. The bubble had yet to burst in Japan, and money was freely flowing from overseas corporations. Domestic companies were still stuck in an economic recession, yet a select few were still prepared to invest in the next best thing in downtown Los Angeles. Depending on your feelings about aesthetics, free enterprise, and social responsibility this latest cycle of redevelopment was either a cause of celebration or dismay.
The Alan Hotel was located on the corner of Second and Los Angeles streets, in a multi-level building, which also housed another low-income hotel, Masago, as well as some Japanese eateries. The Alan and Masago were called hotels, but they actually served as more permanent apartments. Often their residents of various colors and ages spilled out onto the sidewalks, cigarettes hanging from their mouths or balanced in unsteady fingers. It was obvious that the Alan Hotel was the home for those on their way down the economic ladder, or perhaps the last place to catch people before they landed up on Skid Row.
So when the news hit that the whole complex would be razed for a new development, there was little protest from community organizations. Even though it was part of the Little Tokyo Redevelopment District, the transfer of property was clearly seen as a private transaction. Who would really care that the "least of these"—men and women who barely made minimum-wage or received public assistance—would be kicked out of a low-income hotel?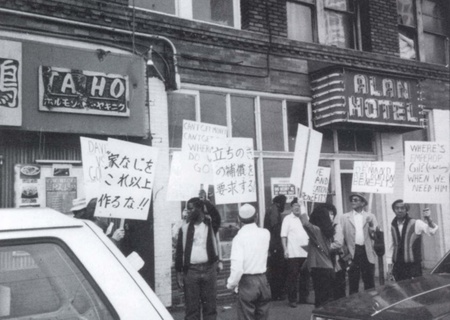 But there were some that did care. They included a county psychiatric nurse, Lani Tsuneishi; Li'l Tokyo Tenants Group headed by Mo Nishida; Legal Aid attorney Judy Nishimoto-Aguilera; and members of the Little Tokyo Service Center. Relocation benefits were negotiated so most could have some cash for a deposit on a new place, usually further south in downtown Los Angeles.
The problem here was that some didn't want to take advantage of the relocation benefits. Some refused to move at all. These were men, mostly Japanese American, who had fallen through the cracks and most were now either physically or mentally ill. While they were able to at least collect their Social Security or disability checks, they had hardly any grip on reality. I decided that in order to write a comprehensive story, I needed to go into the Alan Hotel, where the last residents inhabited the 105-unit building, now completely dark because the electricity had been cut off.
Not relishing the idea of wandering through the lonely hallways by myself, I elicited the help of another Rafu reporter, John Saito, Jr. We pushed opened the cracked glass door and entered the small lobby. A group of people, their bodies hunched over and bent, sat in old couches and chairs. But we had to push on to the upper levels.
The sun barely shone through the hallway windows, so it was indeed dark. Some men in the corridor pointed to rooms that were still occupied.
The first man who opened the door for us was small, barely five feet tall. He only spoke in Japanese. He had used plastic bags from a neighboring grocery store as makeshift curtains. He also had centerfolds of naked women throughout the room—obviously he had some passions to ease his loneliness. I was a bit embarrassed and pretended not to notice them.
"When will you be moving?" I asked him in Japanese.
"I am the owner of this hotel," he insisted. "I signed a contract with three other people." As he believed himself to be the landlord, he saw no need to move. "It's only being remodeled," he insisted. We went from room to room. Many would not open their doors. At the end of the corridor, a Japanese American man opened his door for a moment. His room was filled with foul-smelling debris. The man wore a baseball cap. His face was gaunt and his eyes furtively looked back and forth. I repeated my question to the man. "When will you be moving?"
Instead, he muttered something incomprehensible. I tried to listen as carefully as I could, and then I heard the words, "December Seven." December 7? The man was definitely haunted by history. As he stood there, I snapped his photograph.
After John and I stumbled down the stairs and walked through the lobby into the sunlight, we both felt weighed down. We didn't quite know what we had witnessed, but its impact was palpable. Later, as I interviewed various social service providers specializing in the homeless, and they confirmed that up to 30 percent without homes in Los Angeles County were the chronically mentally ill. Government cutbacks had led to the release of hundreds from mental health facilities. Were these men in the Alan Hotel one step away from living on the street?
As I wrote the story, I debated on whether we should use the photo of the man who muttered "December Seven." I didn't know if he had the capacity to fully realize that his photo was being taken for publication, but I also told myself that the story had to have a "face." Without a face, especially a Japanese American one, our readers would not be interested. So on Thursday, February 27, 1986, the presses rolled at The Rafu Shimpo building on Los Angeles Street, just three blocks away from the Alan Hotel. On the front page was the story, "Falling Through the Cracks on Skid Row."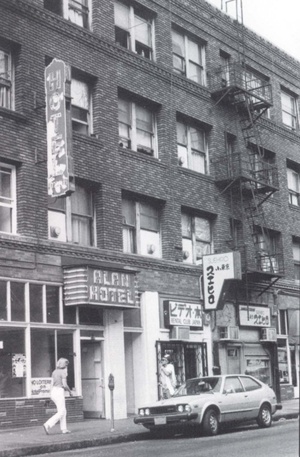 The story did not end there. As the psychiatric nurse, attorneys, and social workers attempted to address the men's need, eviction notices were posted. The last of the tenants needed to leave. One morning, I heard that the evictions were beginning. I ran to Second Street and saw the new owner's legal representative and spokesman, whom I had interviewed before, throwing a mattress, lamps, and other belongings into a flatbed truck. These were the possessions of a Nisei man I had seen but not interviewed in the darkened hallway of the Alan Hotel. The owner's representative was obviously in a hurry to complete his task, just removing another roadblock to eventually make way for the bulldozers. I wanted to pull those items away from him. Yell and scream that these men didn't even know what was happening. Tell them that there must be a better way than to callously deposit these men in a strange and more dangerous place. Because no matter what people, even I, thought about the meager accommodations at the Alan Hotel, this had been home to them. But, of course, as a reporter, that was not my role. All I could do was stand by and write. Another journalist who did the same was J.K. Yamamoto, then of the Pacific Citizen.
The man who was being evicted was sent to a Skid Row hotel. The new owners had apparently paid for a month's rent. After a month, he was kicked out again, this time into the streets. It was only a matter of time before he landed up at Los Angeles County General Hospital, his leg eaten away by an infection. He couldn't remember his Social Security number or his birth date. But according to a story written by Yamamoto, he could recall another I.D. number—his dog tags. The man, a native of Kauai, had indeed served in the 100th Infantry Battalion. His relatives had been searching for him for the past forty years. He was placed in a veterans mental health facility. After that, I don't know what happened to him.
With the closing of such low-income hotels, Mo Nishida and Bill Watanabe of Little Tokyo Service Center began to publicly advocate that the city needed to preserve more housing in Little Tokyo, a place that had once housed hundreds of Issei bachelors looking for new opportunities in this country. While now the faces were not all Japanese and young, they nonetheless represented the underclass who worked menial jobs to keep businesses in operation. One place that could be a future home for some of the displaced was the San Pedro Firm Building, a structure that had been originally constructed by eight Issei (first-generation Japanese American) flower growers in 1925. The city of Los Angeles had since purchased the building, which consisted of storefronts and apartments, from the flower growers, and unfortunately had left the structure in disrepair.
As time passed, the San Pedro Firm Building was later acquired by the Little Tokyo Service Center. I had left the newspaper and then returned as editor. One day, as I was driving through Skid Row back to the office, I noticed an Asian homeless man sitting on a bus bench, surrounded by pigeons. He looked familiar, so I stared at his face. It was the same face of the man I photographed in the Alan Hotel. I would be shocked to later discover that this man was the brother of a former prewar editor of The Rafu Shimpo. While one brother became a financial success, the other floundered and disappeared from the radar screen. Luckily, in time, he was located by his daughter, a filmmaker, who documented the two brothers in a poignant movie, Who's Going to Pay For These Donuts, Anyway?
Now, almost twenty years later, I'm not that shiny-faced reporter that I was in 1986. Instead of a long, fizzy mane, I have short hair with many gray strands mixed in among the black. I've since left the newspaper and work primarily from my home near the financial center of Pasadena. Some of my friends and former colleagues, in fact, have become landlords themselves. I probably hear more stories of property owner's complaints with wayward tenants than slumlords' offenses. And in the spot where the Alan Hotel once stood—the shopping mall was never constructed—there is instead a parking lot, where I, in fact, have parked my car at times to attend community functions.
But I'll still never forget the image of these elderly men and their possessions being dragged out of their apartments, not fully comprehending the reality of their present situation or their future. As Little Tokyo prepares to forge ahead in the 21st century, it must definitely deal with certain fiscal and economic issues. We need nice shops and restaurants to fuel the local economy. However, I hope that in "improving" the area, that Little Tokyo will not forsake the care of those whose faces we never see, but are nonetheless there, living and breathing with names and histories that intersect ours.
* This article was originally published in Nanka Nikkei Voices: Little Tokyo: Changing Times, Changing Faces (Volume III) in 2004. It may not be reprinted or copied or quoted without permission from Japanese American Historical Society of Southern California.