Last March marked the 10th anniversary of Discover Nikkei's public launch. Yoko Nishimura, Discover Nikkei's Project Manager, asked me to write an article commemorating the occasion. I have struggled and procrastinated for over a year to write something. Now that we're about to end our year-long celebration, I'm forced to quit putting it off.
At first, I had planned to write something straightforward about the project's history and accomplishments. But that didn't really go anywhere. As I thought about how to write about a project that has been like a child to me, it finally dawned on me that I was approaching this all wrong. Although Discover Nikkei does offer a lot of important facts and information to its readers, its real strength lies in the sharing of personal stories and the forging of connections among people from all over the world.
I began to think about my own personal stories and connections. I thought about what I love about Discover Nikkei, and I recalled something from my childhood that maybe explains a lot of why I feel so connected to the project.
As a young child, I was extremely shy and introverted. I was an insatiable reader, a trait that I picked up from my Nisei maternal grandmother who was always reading something. It didn't really matter what. She would read newspapers, National Enquirer, romance novels, romance magazines (my family has many funny stories about having to buy these for her), and even my children's books.
My mother also read a lot, although I think mostly in Japanese, having grown up in Japan after the war. I think from my mother, I picked up my thirst for knowledge. She used Blue Chip stamps to buy one of those really, really big and heavy dictionaries which she used (and still uses) to help her learn English and to look up words, especially when working on crossword puzzles.
My mother stayed at home and my father worked really hard—sometimes seven days a week. I respected my parents and didn't ask for much, but the one thing they would always buy for us without hesitation was books. I don't know if this is still done, but when I was in elementary school, they used to hand out order forms from Scholastic Books. I would select which ones I wanted and get money from my parents. Each time, I looked forward to the day the books would come in. I would overstuff my backpack with my bounty and walk the block to my home.
At one point, I naively thought my dream job would be a librarian. But that was because I thought it meant that I would have access to and read books by myself all day. We didn't frequent the library often, I'm not sure why, so I collected books of my own instead and eventually, I became my own librarian. I filled bookshelves full of books that I purchased or family gave to me, and at some point I opened up "Vicky & June's Library" (June being my sister, whom I've pulled along on many endeavors over the years). I don't actually remember how this came about, but I kept it up for a couple of years. At its peak, I had a rubber date stamp, put out typed newsletters (that my dad would take to work and copy for me), and organized bookmark contests, events, and little fundraisers to buy more books. Our library members were family and some friends. I think I burned out after a year or so. I still keep the original newsletters.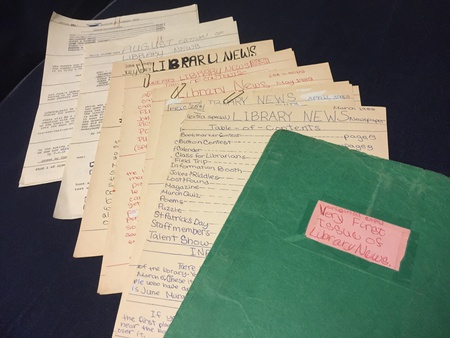 Looking back at my library now, I see many parallels with my work at the Japanese American National Museum, and especially on Discover Nikkei. We collect and share stories. We organize programs, send out e-newsletters, and present contests. Thankfully, there are many more of us who have worked together to build, maintain, and grow this project. So, even though I'm not able to work on this project as much as before, it's still going strong. My sister June has been invaluable as a Discover Nikkei volunteer.
I find it ironic sometimes that Yoko and I are responsible for maintaining and growing a global network when both of us are most at home away from the spotlight, just doing the work. As an introvert, I'm much more comfortable meeting people virtually, although it has been nice to get to meet some of you in person. Just in small doses…
In many ways, working on this project has forced me out of my comfort zone. I've had to give presentations about Discover Nikkei and meet many new people over the years. It used to make me very anxious, and I doubt I'll ever be completely comfortable with it. However, being able to talk about a project I feel such immense pride in gives me confidence, so it's not quite the ordeal it used to be.
Since confrontation creates extreme anxiety for me, I'll never be an activist. But I feel that through Discover Nikkei, I have played my own part in helping to change the world in positive ways by presenting the stories of people's struggles and histories. I'm proud of the Kizuna series, which pulled together Nikkei stories of support for the people of Japan following the Tohoku earthquake and tsunami. I'm proud of a recent story we published by an Argentine Nikkei about her father's abduction during the last military coup d'état in Argentina, which stands as a heartbreaking example of what can happen when we allow hatred and intolerance of others to rule.
The other accomplishments I am most proud of are expanding the Journal section (when we first started developing this section, I had to beg, plead, and find stories to share—and that was just to post one article a week!), creating the Nikkei Chronicles series, and establishing more relationships with local contributors, supporters, and organizations. The taiko database will always have a soft place in my heart because contacting the taiko groups and entering the initial data was one of my first tasks when I started working on the project.
For the last 10 months, we have posed different questions to our Nima-kai community. We have found the responses interesting, and more than a little gratifying. Thank you to everyone who took the time to respond each month. Your participation, words of support and appreciation, and ideas for how we can continue to grow Discover Nikkei mean more to us than you can know.
We were excited to learn that many of our site contributors have interacted not just with us, but with each other. Some expressed interest in more opportunities for our Nima-kai to meet in person. Although the introvert in me rebels against it, the organizer and collector in me feels that it's a good idea. So, who knows? Maybe I can talk Yoko into something—for the 20th anniversary, if we're all still around.
Thank you from the bottom of my heart to everyone who has helped build Discover Nikkei into something very special over the past 11 years. Please keep sharing stories from your heart, from your families, and from your communities. I'm looking forward to seeing what else I can learn!