Bill Shishima grew up eating gohan along with lingua (tongue), seso (brain), and menudo (tripe soup). His father ran a grocery store near Olvera Street, in the Mexican American community of Los Angeles. The store was stocked with items such as chile and masa for tamales. In the store's kitchen, they made chorizo from leftover scraps.
On weekends, Mexican American residents from Chavez Ravine would stop by Bill's parents' store to place their orders. Bill's father would then have a worker deliver the orders to Chavez Ravine and collect the money.
Bill's older brother was in the Maryknoll Boy Scout troop, so Bill looked forward to following in his footsteps when he turned 12, the age at which boys are allowed to join the Boy Scouts. However, Japan's attack on Pearl Harbor changed everything.
Earlier that year in 1941, Bill's father had saved enough money to lease a hotel on Main Street, which is now a part of the La Plaza Museum, but his father lost the lease once the U.S. entered WWII.
When the U.S. government announced that all people of Japanese ancestry had to leave the West Coast, Bill's parents sold their store to a Chinese American family. The Shishima family was shipped to the Santa Anita Assembly Center, where they lived in the new barracks built on the parking lot.
Bill attended the makeshift school at the grandstand. He did not recall having books or learning anything. He mostly watched people working on the camouflage nets or others playing baseball or football on the horse tracks. He also joined the Cub Scouts.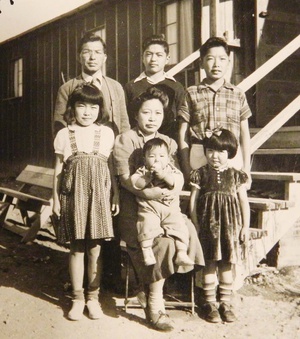 From Santa Anita, the family was shipped to Heart Mountain. Bill's mother rode on a separate Pullman car train since she was pregnant, and the remaining family members were put into coach where they had to sleep sitting up.
At Heart Mountain, Bill's barrack was located at the opposite end of the school, so he had to walk about a mile to get to class. The classroom consisted of benches with no desks and a pot-belly stove in one corner. If he sat too far away, he got cold; too close, and he got hot.
Through the Boy Scouts, Bill went on hikes and camping trips outside of Heart Mountain to compete for the District Flag. Bill's St. Mary's troop won the District Flag three out of the four times they held competitions.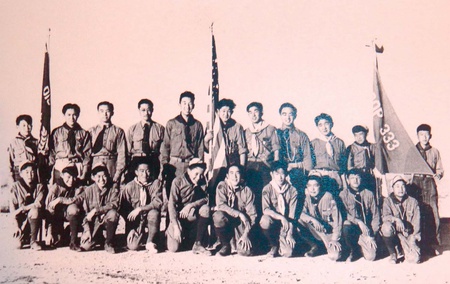 The family returned to Los Angeles in August 1945 after their release from camp. Bill's father initially ran a restaurant on First Street called M&S Café, then got into the hotel business on skid row. Bill helped clean the hotel rooms and came in contact with a colorful cast of prostitutes and transvestites.
He graduated from Belmont High in 1948 and went to Los Angeles City College, before receiving his draft notice in 1952, a year before the Korean War ended. After an honorable discharge, Bill enrolled at USC on the GI Bill and eventually became an educator, teaching at the elementary school level.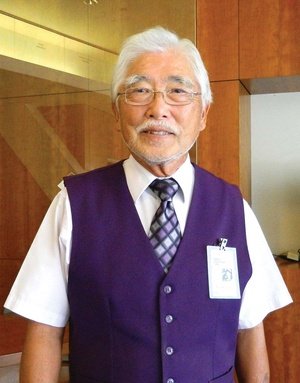 For the next 40 years, Bill volunteered with the Boy Scouts. His most memorable moment was awarding an Eagle Scout Badge as a Koyasan Scout Master to a particular youth and then, decades later, awarding an Eagle Scout Badge to the grown youth's son as an Evergreen Scout Master.
As a docent at the Japanese American National Museum, he gives back to his community by telling his story to visitors. Although he had fun at camp as a child and discovered the Boy Scouts there, he sees it in a different light now, and he hopes it will never happen again.
* Bill Shishima was interviewed by Tomomi Kanemaru and this article was written by Martha Nakagawa for Voices of the Volunteers: Building Blocks of the Japanese American National Museum, a book presented by Nitto Tire and published by The Rafu Shimpo. This story has been modified slightly from the original.

Presented by