I live on a farm in the Imperial Valley, which is located in the southeastern corner of California. My Issei grandparents established our farm before the Second World War when thousands of Japanese immigrants converted barren desert into fertile farmland. When I was growing up, my grandmother lived on the farm too, in the original house that my grandparents built in 1930. I can still remember when the house did not yet have an indoor bathroom so there was an outhouse—a benjo as we called it—and a furoba (outdoor bathhouse). After my parents got married they built their own house with all of the modern conveniences on the property. During gatherings at my grandmother's house, the guests (especially the city folk) would walk to our house to use the facilities. Even after a bathroom was installed in my grandmother's house, she insisted on bathing in the furoba and completely disregarded the brand new bathtub and shower.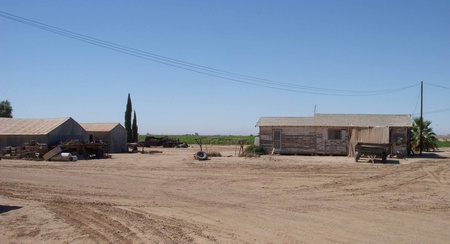 My grandmother was an extraordinary farmwoman. She stood less than five feet tall, yet she was physically stronger and worked harder than most men. I was very close to her even though communication between us rarely went off without a hitch. She spoke little English and I spoke little Japanese. By the time I came along, there were no Japanese language schools in the Imperial Valley for me to attend, although there had been seven Nihon gakko (as local Nisei called them) before the war. When my grandmother talked to me, she used a mixture of English and Japanese; her Japanese even included some words in her native prefectural dialect.
I have a recollection, which I believe was my first encounter with the challenges of Nikkei-go. I was around four or five years old and I still remember it vividly. My grandmother wanted me to collect the eggs in the chicken coop. She got angry because I wouldn't do it. It wasn't that I was refusing to do it; I just couldn't understand what she was saying. My grandmother took me by the hand and led me to the chicken coop and showed me what she wanted done. Afterward, with my head hanging low I went to my mother and asked:
"How do you say eggs in Japanese?"

"Tamago."

"Is there another way to say eggs?"

"Not that I know of, why?"

"That's not how Grandma says it."

"How does Grandma say it?"

"Yeah-geese."
My mother had a good laugh at that. I always went to her when I had questions about the Japanese language. She would have been the first to say that she was not fluent in Japanese, but as a young girl she excelled at the Santa Monica Gakuen. She was only around eight years old, just before the war broke out, when she won the annual hanashi taikai (speech contest) beating out students who were much older than her.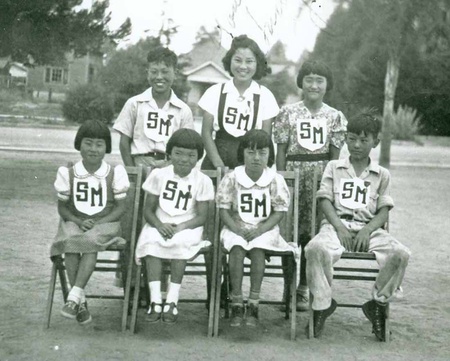 As the egg story attests, my grandmother found it difficult to pronounce words in English. There are a great many sounds in the English language that simply do not exist in Japanese. In addition, most syllables in the Japanese language that begin with consonants end with a vowel sound, except those that end with the stand-alone letter "n." The result is what former U.S. ambassador to Japan, the late Edwin O. Reischauer who himself was fluent in Japanese, described as "curious mispronunciations" of English words. So, for example, when my grandmother said "thank you very much," which she often did, she used these sounds from the Japanese phonetic system: san kyū beri machi.
Since there is no "L" in the Japanese language my grandmother used the closest Japanese speech sound, which is the rolling "R." And the only "F" sound in Japanese is fu (pronounced as in "food"). But I was told that in Japanese the "F" sound is made by pushing air through my lips pierced together as opposed to in English in which we flick our lower lip out from under our upper front teeth. Consequently, one of the words that my grandmother would say, which took me a very long time to decipher was "alfalfa." It was such a revelation when I figured out that she was referring to alfalfa when she uttered, "a-ru-ha-ha."
Because of her accent, I had to determine if she was saying something in English or Japanese. And there were quite a few Japanese and Japanese American cultural words and phrases spoken around here. One of them was uchi-no: uchi (house) plus the possessive particle -no.
Literally translated as "the house's" or "the household's," uchi-no is a familial, group-oriented term. Members of a household, family business, company, or other tight-knit organization use uchi-no where "my" or "our" is typically said in English. My grandmother used uchi-no when referring to everything pertaining to our farm. For example, the tractor my father bought was "uchi-no tractor," or as she pronounced it, "uchi-no torakuta."
The term uchi-no conveyed the concept that everything belonged to the household, or in our case the farm, and not owned by individuals. In a sense, the farm even owned the family rather than the other way around. After all, in the long-term scheme of things, individual family members were ephemeral; they would come and go. But the farm was expected to live on for generations.
Anything that was part of our farm was uchi-no, and everything else was tonari-no (the neighbor's). Mind you, our nearest neighbors lived two or three miles away. Proximity was irrelevant. In fact, my father once grew alfalfa on a field that was about ten miles away from our farmyard. But that didn't matter. It was still uchi-no aruhaha, and the surrounding alfalfa fields tended to by other farmers were tonari-no aruhaha.
Shikata ga nai, meaning "it cannot be helped," was another phrase that I frequently heard, but both sets of my grandparents pronounced it as sho ga nai. My dad's parents came from Kagoshima and my mom's parents were from Hiroshima. So I am assuming that sho ga nai is either a western Japan dialect or an old-fashioned, pre-World War II way of saying shikata ga nai.
I first learned the shikata ga nai pronunciation by reading about its association with the forced removal and incarceration of the West Coast Nikkei population after the bombing of Pearl Harbor. It was the prevailing feeling among the incarcerees that what happened to them during World War II could not be helped. It was then that I recognized that shikata ga nai and sho ga nai are the same.
When I was growing up, sho ga nai was only applied to life as a farmer. In farming there are so many variables beyond our control. Crop prices plummeting overnight due to fluctuations in the marketplace, an unseasonable freeze wiping out vegetable crops, or sudden infestations of insects were all sho ga nai. And in our uchi it was said a lot!
The point of saying sho ga nai was not so much to express our helplessness or vulnerability as it was a way of saying that as difficult as it may be, we just have to buck up and carry on; it's our lot in life. In a sense it was like saying gaman, meaning "to endure" or "to persevere," which was another word that I often heard, especially from my mother. To her, gaman was the definitive cultural trait of Japanese Americans.
The year before I graduated from college my grandmother passed away at the age of ninety. I had gone away to college and for the first time I had the opportunity to take kendo lessons. I learned from my sensei (instructor) a new word, dōgu (道具), meaning "equipment," as in the phrase kendo dōgu (kendo equipment). Then a lightbulb went off in my head!
On our farm we have equipment sheds, which were called dōgu beya. All of our tools are kept in them. When I was a kid we had a mean watchdog on a long line attached to one of the sheds. Such a practice would be frowned upon today, but in those days uchi-no watchdog, Lobo, kept the tools from mysteriously disappearing. Lobo didn't like my grandmother and she didn't like him. So it was not uncommon for my grandmother to tell me to go retrieve for her a short-handled hoe (now outlawed) from the dōgu beya. Or she might hand me a shovel and say, "dōgu beya ni takee backee chōdai" (please take it back to the dōgu beya).
All those years when my grandmother said dōgu beya I didn't know that she was saying "equipment shed." I knew that heya (or -beya) meant room since that is what she called my bedroom. Because of Lobo, I always thought that she was calling the equipment shed the dog's room, or in other words, the doghouse! When she said dōgu, she meant "道具." I can't believe that I was college aged before I realized that my grandmother was NOT saying "dog" pronounced as "doe-goo"! That was my final step in discovering Nikkei-go through my grandmother's Japanese accent.