My mother is Japanese Brazilian, and my father is Japanese. I was born in Japan and lived there until I was nine years old.
My parents spoke to me only in Japanese. When one or both parent is Brazilian, some children go to Brazilian schools, but I went to Japanese school every year from preschool to 4th grade. Água and obrigado were the only two words I knew in Portuguese back then, and I can't even remember when I used them.
The only time when I had a chance to meet Brazilians was when I went to Brazilian Evangelical Church. Everyone there was talking in Portuguese, including my mother. I was always with other kids. Because we went to Japanese school, we all talked in Japanese.
I had my first Brazilian dishes at the church—rice and beans, roasted chicken, coxinha, and stroganoff. To this day they are my favorites. I participated in dancing at events at the church, and I'm still very much into dancing.
When I was living in Japan, I visited Brazil twice—the first time was when I was a baby, and the second time was when I was six years old. But I only stayed for a short period of time. And I moved to Brazil when I was nine. I was always with my mother.
On our way from the airport to my aunt's house in São Paulo, we passed by the Tietê River, and I was surprised at how dirty it was. Nante kitanai kawa nandaroo! (Wow, what a dirty river!) "This road is so bumpy!" I said to my mother when our car swayed greatly.
At my aunt's house, everyone was speaking Portuguese. As I couldn't understand them at all, I often asked my mother, "Nani? Nani? (What? What?) Nani itteruno? (What are you saying?) Wakaranai! (I can't understand!)" So my cousins tease me to this day, mimicking my Nani? Nani?
In October, 2004, I arrived in Brazil. I didn't know a word of Portuguese, but I learned some words by watching anime on TV and by listening carefully to conversations of my family. Six months later (in mid-2005), I transferred to 4th grade class in a public elementary school.
I went to public middle school and high school. I didn't have a hard time communicating with my teachers or with my classmates. In those days, foreign students were a rare sight, so my classmates got curious about how to write their names and often asked me, "Hey, how do you write 'Gabriel' in Japanese? What about 'Julia'?"
Fortunately I never experienced bullying or discrimination. I was academically at the top of the class, so everyone treated me nicely.
I'm grateful to my mother. She looks after me, supports me, and encourages me at all times. And she hopes for my happiness. When I go out, she sees me out, saying "Kio tsukete ne! (Take care.)"
As I mentioned earlier, I regularly visited a Brazilian church when I was in Japan. In Brazil, I go to a church that was founded by Japanese people. Most of the members are Nikkei, but not everyone understands Japanese. They often ask me, "How do you say 'Jesus' in Japanese?" And they also ask me to say a prayer in Japanese.
Now I'm a member of a group called "HIKARI" at church. I'm one of the people who take part not only in dancing but in choreography as well. I also help with worship services for children.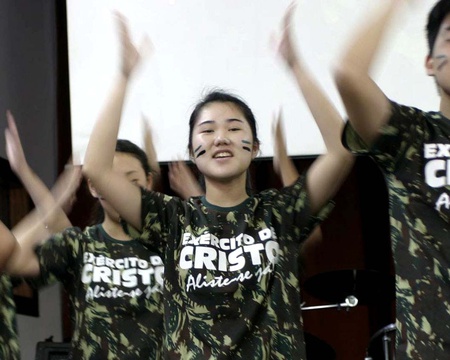 Twelve years have passed, and now I speak Portuguese at home. I use less and less Japanese each day. But still, there are some Japanese words that I always use—Itadakimasu (a word to show appreciation for food and the one(s) who made the meal), Gochisosama (Thank you for the food/meal), gomen (sorry), arigato (thank you), daijyobu (it's okay), hayaku hayaku (hurry, hurry), Itai! (Ouch!), Oishii! (Delicious!), Takai! (It's expensive!), toire (toilet), gohan (meal or rice), natto (fermented soybeans), shoyu (soy sauce), etc.
Even when I talk with non-Nikkei, I say hai (yes). My response is always "hai."
When I was a kid, some Brazilians asked me if my thinking was in Japanese or in Portuguese. I told them it was in Japanese, but since I became an adult, I've only thought in Portuguese. But sometimes I forget Portuguese, and I can only think in Japanese.
Some Brazilians use Japanese with amusement. The other day, I was walking on the street, and this man who was standing in front of a store suddenly spoke to me in Japanese—"Sayonara (Goodbye)."
I miss Japan very much. There are many things that exist only in Japan. My dream is to someday go back to Japan, though I'm not sure if I'm going to move there or visit for leisure. If I just live there, I don't think I will have much trouble with the language. However, if I work there, I'll have to study more.
My family tells me I've become Brazilian in a sense that I'm no longer shy but have become lively and positive.
I also think that I've become more Brazilian. But even now when the time I've spent in Brazil has exceeded the time I lived in Japan, I feel strongly about my Japanese identity. Japan is definitely in my heart.
* * * * *
Our Editorial Committee selected this article as one of their favorite Nikkei-go stories.
Comment from Yoshiyuki Asahi
I read the three Japanese essays submitted for the project. All three of them described the life of people in Nikkei communities in a clear and easy-to-understand way. I learned about how they handled a variety of issues in their life. They were all very well-written.
My favorite is "Brazil is My Second Home—Japan is My Spiritual Home" by Marina Tsutsui. In this essay, Tsutsui talks about her life story, from the time she was born in Japan to how she moved to Brazil and lived a life there, including how she studied Portuguese. For example, she says that even now, while she doesn't have any problem communicating in Portuguese, she finds herself uttering Japanese words such as Itadakimasu, Gomen, Daijyobu, and Itai and even speaking Japanese when she can't find words in Portuguese.
I think that everyone in Nikkei communities experiences the duality of one's self growth as they find themselves becoming part of local communities while embracing their Japanese identity. In a simple and straightforward way, this essay teaches us how languages play a role in it. As my favorite, I would recommend it as an essay worth reading.