Today, in the open area on the east side of Sawtelle Boulevard, from La Grange Avenue to Missouri Avenue, stand big complex facilities and apartment buildings. In that block, there used to be a boarding house where many gardeners lived. It was called "Kobayakawa Boarding House." It was a large boarding house with six big premises and simple frame houses that once held 60 people at its peak. Riichi Ishioka, an immigrant from Hiroshima started the business in a solitary house in 1926. It was extended in the early 1930s, shut down temporarily during the war, and closed in 1979. A great number of gardeners lived in the house for all those years, and they worked in the gardens of Caucasians' houses in places such as Brentwood, Beverly Hills, and Bel Air.
Riichi's son, Toshio Ishioka helped his father's boarding house business. After its closure, Toshio moved from the Sawtelle district to the Mar Vista district in the west, but he still feels deeply attached to Sawtelle as he attends the gathering for the naming of the Sawtelle district "Sawtelle Japantown." But Toshio tells us, "Even though we call it Japantown, now most businesses are run by non-Japanese people, and those who live in the town have changed too. In reality it might not be Japantown anymore." Toshio told us the history of the boarding house as he wistfully touched on the changes in Sawtelle.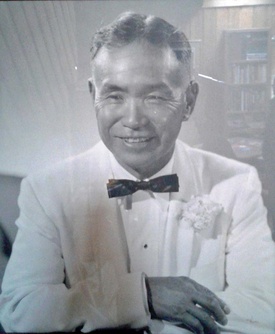 Riichi Ishioka was born in Hiroshima in 1890. At an early age, he lost his father in a lightning strike—rather an extreme kind of start in life. He was then taken by the maternal Kobayakawa family and raised there. His boarding house was named after the family. The Kobayakawa family was strict in child discipline, and Riichi had five years of training as a child monk. Later he became a crew member of a merchant ship and sailed around the world. He landed in America around that time. Riichi was 20 years old.
He landed in Seattle first and arrived in Los Angeles via San Francisco. In 1926, he bought a house along Sawtelle Boulevard and started the boarding house business. Riichi had already acquired some gardening skills at the time, so he taught lodgers of the boarding house know-how on landscaping and gardening skills. Sometimes he called to collect money and helped people purchase necessary equipment.
However, Nora Sterry primary school, which was located right next to the house, acquired the land of Kobayakawa Boarding House as part of land expropriation by a public institution. Riichi then managed to get an even bigger parcel of land alongside Sawtelle Boulevard and expanded his boarding house business.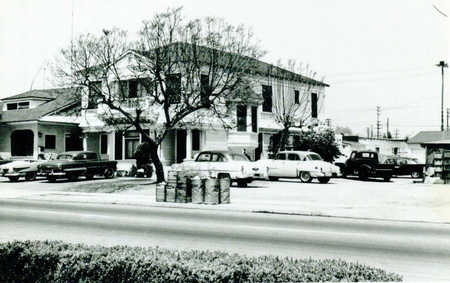 In those days, 95% of lodgers in Kobayakawa Boarding House were gardeners. Most of them were from either Hiroshima or from the Kyushu region and were raised by farm families. While Riichi took the role of training gardeners, his wife Wakano was in charge of administrative tasks, including coordinating with gardeners and clients, preparing lunch for the gardeners, and even doing their laundry—it was hard work. Then their son Toshio and daughters started to help the business.
Riichi's was not the only boarding house at the time. There were eight boarding houses by around the year 1941, and a total of 28 nurseries were there to do business with gardeners living in such boarding houses. It was indeed a mecca of landscaping. Having the business of landscaping as a core element, the Sawtelle district developed itself into a Japantown. Those residents of boarding houses who became successful got their wives through arranged marriages and picture bride marriages and settled in Sawtelle.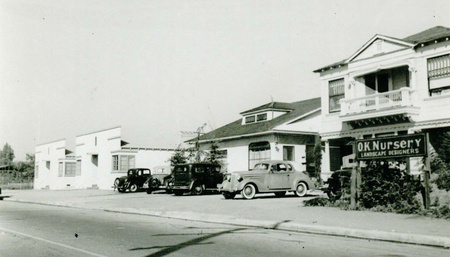 And then December 1941 marked the outbreak of the war. About 120,000 Nikkei and Japanese people on the west coast were forced to move out, and the majority of them were sent to concentration camps. But the Ishioka family escaped the order and moved to the state of Colorado. Colorado Governor Ralph Lawrence Carr openly supported Nikkei and accepted the Japanese and Nikkei who were ordered to move out from the west coast. Riichi packed as much stuff as he could possibly pack into his car and headed to Colorado. He was with five other tenants living in the boarding house at the time.
In Colorado, Riichi worked three jobs furiously. In the absence of the young labor force who were all sent to the battlefields, there was plenty of work available. In the summer, he worked as a gardener and took care of farm animals and at night he worked at a pie factory. Toshio and his other children went to school during the day and did cleaning work of buildings at night.
Fortunately, the family was able to keep their boarding house during the war, and Toshio says they owe much of the fortune to a Caucasian man named Schneider. Schneider was a specialist of real estate and finance, and he took care of most of Riichi's property. He could have easily snatched the Ishioka property and made it his own in the turmoil of the war. But he didn't. He rented rooms in the boarding house to employees of the Douglas Company, which was located about five miles away from the house, and managed the property. He also helped the family with mortgage payments and asked Riichi to send money just twice when he was short of it.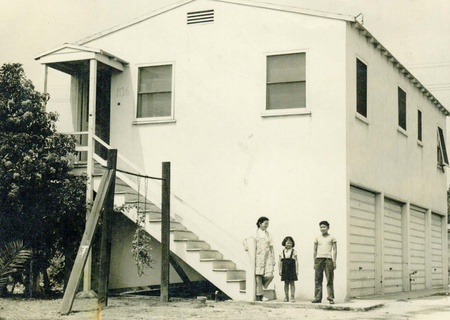 After spending four and a half years in Colorado, Riichi returned to Sawtelle in the aftermath of the war and resumed his boarding house business. It seemed that Riichi and his family were the first Japanese to return to Sawtelle. It was probably because of that, the family got rocks and eggs thrown at their building. But one of their tenants lost two sons in the 442nd Regimental Combat Team in the war, and he placed the "Gold Star Banner," a sign that showed the deaths of his two sons, on the window that was broken by rocks. Soon such brutal acts stopped.
Since Riichi had kept in touch with people who were sent from Sawtelle to the Manzanar concentration camp, they returned to the boarding house after leaving Manzanar and resumed gardening work. Their life returned to normal, and the boarding house business thrived.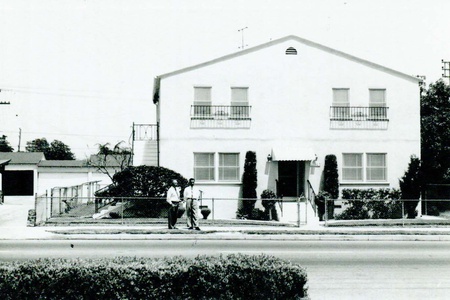 Just like before the war, most of the tenants were gardeners. Japanese people were constantly moving to the states, and the demand for gardening work was always there.
However, things gradually started to change. Following the economic growth in Japan, less and less people came to America to take gardening jobs, and the number of non-Japanese or non-Nikkei gardeners increased. They started to take care of gardens of people who used to be the clients of Japanese and Nikkei gardeners.
And businesses and residents in the Sawtelle district began to change as well.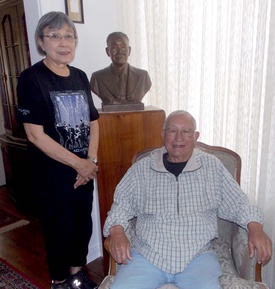 Given the situation, Kobayakawa Boarding House closed its business in 1979. Its building and land were bought by a development company. The building was completely demolished and a complex facility was built there.
Riichi passed away in that year. Toshio moved to Mar Vista. The Sawtelle district has greatly changed since the heyday of Kobayakawa Boarding House, but Toshio tells us, "Despite the change, the naming of Sawtelle Japantown is worthwhile as it reminds us of the fact that a great number of Japanese and Nikkei people used to live and work there." Looking at pictures and newspaper articles from old days, he seemed to reminisce about the time he spent in Sawtelle.