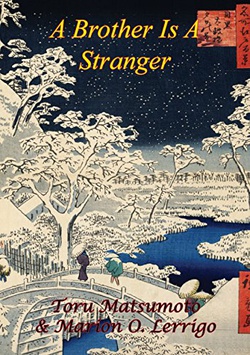 My recent Discover Nikkei article on Tsuyoshi Matsumoto has prompted interest from readers in other members of the Matsumoto family, such as Tsuyoshi's sister Takako Shibusawa, a leader in social welfare work in postwar Japan, and most especially Tsuyoshi's younger brother Toru. Toru Matsumoto (1913-1979) was actually the more-renowned brother during his lifetime: in the United States during the 1940s he was known as the author of multiple books, including the notable 1946 memoir A Brother is a Stranger. Following his return to Japan, he became celebrated as a popular media star and teacher of English. Oddly enough, while Toru lived in the United States during roughly the same years as Tsuyoshi, and had somewhat parallel experiences, his memoir almost totally excludes his elder brother.
Toru Matsumoto, like his brother, was born in Hokkaido, Japan, the son of a doctor father and a Christian mother. His great-grandfather Shohachi Matsumoto, who attended University of Michigan in 1885, was reputedly one of the first Japanese students to be educated in the United States. In his memoir, Matsumoto tells the story of how his father, impatient at the restrictions imposed by his devout wife, abandoned the family when Toru was five years old, plunging the family into financial difficulties. Over the next years Matsumoto's mother moved with the children to Takasaki, near Tokyo. There she raised the children as a single parent. She was forced to do sewing and tailoring to support the family. In the absence of their father, Toru's eldest brother Yuji assumed responsibility for the family. Ultimately Matsumoto's father returned, but he died soon after, and the family remained poverty-stricken. Toru became part of a close-knit group of friends, who dubbed themselves "the Seven Stars."
Inspired by his mother's example, the young Matsumoto sought a Christian education. Through Tsuyoshi's connections, young Toru was able to attend his brother's alma mater, Meiji Gakuin, where he became close to Daikichiro Tagawa, Meiji's president, and developed his distaste for Japanese authoritarianism. After graduating in 1935, Matsumoto left Japan. He later termed it an act in protest of Japanese military policies. Upon arriving in New York, Toru joined Tsuyoshi at Union Theological Seminary, where the brothers roomed together for one semester. Once Tsuyoshi graduated, Toru roomed with James H. Robinson, an African American ministerial student who was later a prominent clergyman and humanitarian. Matsumoto graduated with a Bachelor of divinity in 1938. During his time at Union, Matsumoto met Emma Nishimura, a westernized Japanese woman studying in New York. The marriage led to lasting conflict with Toru's brother Yuji, who disapproved the match. Their first son, Ted, was born in 1939.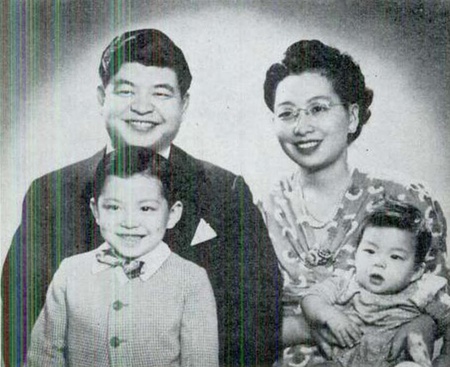 Throughout his time in New York, Matsumoto served as General Secretary of the Japanese Student Christian Association (JSCA), and also worked with the World Student Service Fund to raise money to aid students in war-torn countries, mostly Chinese. His status as a representative of Japanese students placed him in a permanent dilemma, when he was asked in public forums to defend Japanese foreign policy that he privately deplored. He later recounted that he staged a public debate with a Chinese colleague where each took the other's position: Matsumoto criticized Japanese policy in China, while his Chinese counterpart deplored Western interference in Asia that hindered accord between Japan and China! Forced to return to Japan in 1940 due to visa problems, Matsumoto addressed a meeting of the JACL on behalf of the JSCA while on his way to Asia. Rather curiously, considering his strong opposition to Japanese militarism, Matsumoto interviewed Nisei college and university graduates seeking positions in the Far East to help them file their applications and records. He traveled with his wife and son as the leader of a group of American students making an educational tour. During his time in Japan, he was placed under surveillance by the government, and suffered the efforts of his bother Yuji to kill him and to force him to break up his marriage. Due to this family interference, he was forced to leave his wife and son behind, but they were able soon afterwards to rejoin him in New York.
Following the Japanese attack on Pearl Harbor, Matsumoto was interned by the Department of Justice, first at Ellis Island and Camp Upton, New York, and later at Fort Meade, Maryland. His account in his memoirs of his internment experience was quite horrific: Matsumoto faced hostile and punitive military authorities, harsh living conditions (including residence in a leaky tent in pouring rain at Camp Upton) and friction with pro-Japanese internees suspicious of him because of his Christian pacifist views, fluent English and lack of interest in repatriation.
After 11 months in confinement Matsumoto was finally paroled in late 1942. Upon his release he was named executive assistant to George E. Rundquist, secretary of Committee on Resettlement of Japanese-Americans for the Federal Council of Churches and Home Missions Council of North America. He also worked with International Committee of YMCA. As part of his work, during 1945 Matsumoto visited the WRA camps at Heart Mountain and Minidoka, and propagandized for resettlement. Meanwhile, Matsumoto moved with his family to the New York suburb of Larchmont, where the couple had two more children in the next years. In 1943 the Matsumotos made national headlines when the Victory Garden that Emma and son Teddy had produced in Larchmont was trampled and slashed by vandals. Village officials and club women responded by transplanting their own seedlings and tending the garden, while liberal newspapers expressed regret for the action. Matsumoto made further headlines in 1944 when he was ordained as a minister of the Dutch Reformed Church. While New York City officials sent police to guard his ordination ceremony, fearing attacks on the new pastor as a Japanese alien, there was in fact no challenge or negative demonstration.
Following the end of World War II, Matsumoto pursued a Doctor of Education degree at Columbia University. He meanwhile distinguished himself as a public intellectual. He wrote a pair of articles on the Japanese for Asia magazine (again following his brother Tsuyoshi) and threw himself into writing books. His study Beyond Prejudice: A Story of the Church and Japanese Americans, was published by Friendship Press in 1946. It told the story of Protestant Church groups, their wartime support for Japanese Americans and aid in resettlement. Meanwhile, Matsumoto turned to work on a memoir—one that he had started writing while in internment at Fort Meade. With assistance from his coauthor (and Larchmont neighbor), the sex therapist and educator Marion O. Lerrigo, the work was completed and published in mid-1946 under the title A Brother is a Stranger, along with an introduction by the Nobel laureate novelist Pearl S. Buck. The work was one of the first books to discuss the wartime confinement of Japanese Americans, and offered its portrait of Matsumoto's own experience in East Coast internment camps. The book received a fair amount of media attention and respectable reviews. In 1949 he published two further volumes. His novel The Seven Stars was a fictionalized account of the life experiences of his circle of high school friends in Japan who pledged to always stick together, amid the background of Japan's descent into militarism and war. In addition to its content, publication was notable for a set of interpolated drawings by Nisei artist Miné Okubo, a commission that helped launch her postwar career as a book illustrator. The other book, entitled I attacked Pearl Harbor, was Matsumoto's translation of a Japanese-language memoir by Kazuo Sakamaki, the commander of one of the Japanese midget submarines which took part in the Japanese raid on Pearl Harbor. In the book, Sakamaki recounted his experiences during the operation and as a prisoner of war. During this time, Matsumoto also devoted himself to lecture tours and speaking engagements. For instance, in Fall 1945 he spoke at Springfield, MA on "Chances of Japanese for Rehabilitation." In 1947 he addressed a Hudson Valley youth rally.
In 1949, Matsumoto received his Ed. D degree, with a thesis on "a proposed program of Voluntary Religious education at Meiji Gakuin, Tokyo, Japan." He returned to Japan with the goal of easing the teacher shortage there. He announced that he would assume the duties of president of Meiji Gakuin (the institution had just begun admitting women the previous year—the first Japanese university to go coed). However, either he either did not take the position or did not last in it, because he was thereafter identified as a professor of English. At first, his wife and three children remained in Scarsdale. Matsumoto returned to New York from July to October 1950 and helped publicize "Toru's people", a 30-minute film on Japan made by the Protestant Film Commission, and for which he served as narrator. Posing the question, "What are the Japanese people like today and how do they live?" the film attempted to respond by focusing on a representative family.
In October 1950, Matsumoto moved permanently to Japan. In 1951 Matsumoto started as a radio broadcaster. As the host of NHK's Radio English Conversation program, he provided 15-minute lessons in conversational English. He soon became well known for his theory of thinking in English as a basis of language learning (and also for his parting phrase—he was notable for saying "so long" rather than "goodbye") He continued teaching English on NHK for 22 years, and also wrote several books on the English language, including Eigo de kangaeru hon [Think in English] and Eigo gakushūsha no tame no Kirisutokyō nyūmon [Introduction to Christianity for English Learners]. In 1961, he began a separate long-running program, "Let's Speak Japanese," which offered twice-weekly lessons in spoken Japanese for English-speaking listeners in the South Pacific. Matsumoto produced a textbook, The Random Dictionary: A Glossary of Foreign Words in Today's Spoken Japanese (1974) He also published a book of children's stories, Inaba no Shirousagi [The White Rabbit of Inaba] (1968) and a novel, Tobosha [Hunted] (1978).
By the time Toru Matsumoto died in 1979, his pro-democratic activism had been largely forgotten. However, as current-day scholars such as David Hollinger, Stephanie Hinnershitz, Anne Blankenship, and Beth Hessel have begun unearthing the complicated tale of connectuons between faith-based people and Japanese Americans, especially those in the camps, Matsumoto's life work stand as early and useful resources.