"I want Caucasians to eat it."

Chinchikurin—Hiroshima okonomiyaki restaurant on Sawtelle Boulevard
Finding a parking spot on a street in Sawtelle on a Friday night is such a hassle. After going around the place twice in search for a spot, I was finally able to find one on La Grange Avenue, two blocks west of Sawtelle Boulevard. I parked my car there and walked to Sawtelle Boulevard.
Heading south from Sawtelle Boulevard, I saw neon lights on a variety of stores on both sides of the street. Especially the west side seemed busy. There were quite a few stores with long waiting lines, some of which extended to a few stores in a row.
Crossing Mississippi Avenue, I saw a lot more stores and restaurants. There were some Japanese restaurants such as a ramen place, a sushi restaurant, a Japanese tavern, a curry store, a pork cutlet restaurant, and a yakitori place. In addition to those, I saw more variety of stores: a Chinese restaurant, a Korean restaurant, an American-cuisine restaurant, a barbeque restaurant, a hamburger shop, a hotdog shop, a Mexican food restaurant, an ice cream shop, a chocolate shop, a juice bar, a coffee shop (or a café), and more. There were Japanese markets and retail stores, too.
From La Grange Avenue to Olympic Boulevard stand approximately 50 eating places with a crowd that makes it look like a bustling area in Tokyo. The narrow Sawtelle Boulevard seems to raise the density of the crowd as well.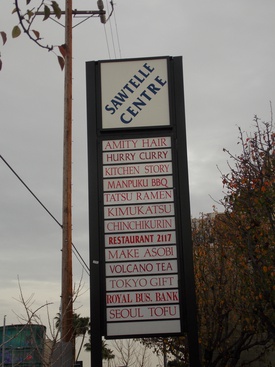 On the west side of Sawtelle Boulevard between Mississippi Avenue and Olympic Boulevard, there is a mall called Sawtelle Center, with 13 stores in it. Ten of them are eating places. I was heading to one of the ten eating places, "Chinchikurin," a brand-new restaurant specializing in Hiroshima okonomiyaki.
Chinchikurin is a Hiroshima okonomiyaki chain restaurant run by K2S Co., Ltd. which has its headquarters in the city of Hiroshima. The company has 10 restaurants in Hiroshima and three in Tokyo. The one in Sawtelle was the first to open in the U.S. in January, 2017. Sawtelle is packed with restaurants, and the competition is keen. Why did they choose Sawtelle? I wondered. Later my question was answered by the owner Hiroaki Kawakami.


Unique menu
I waited in line and got inside Chinchikurin. The place was fully occupied with diners, including the seats at the counter.
At the table, I looked at the menu first. It looked a bit different from what I'd usually see at other restaurants. In addition to a list of foods served there, the menu had the "History of Chinchikurin," the "Introduction to the Business of Cast-iron Hot Plate," the "History of Hiroshima okonomiyaki," the "Introduction to Hiroshima Prefecture," the "History of Otafuku-okonomi sauce," and more written in both Japanese and English. The content was so rich that it almost looked like a guidebook you'd get at a museum.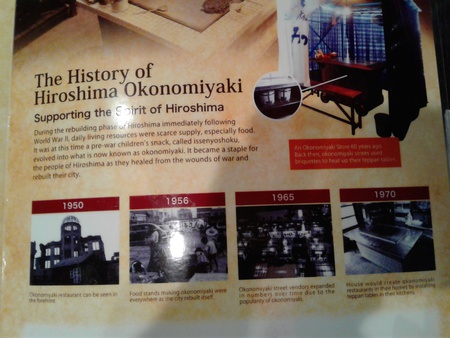 I asked the owner Hiroaki Kawakami why he included such historical details in the menu.
The city of Hiroshima has Otafuku Sauce Co., Ltd., a company that has "grown together with okonomiyaki." Otafuku Sauce built a museum of okonomiyaki—Wood Egg Okonomiyaki Museum—near their office. There, they not only have exhibitions about the culture and history of okonomiyaki, but they also offer okonomiyaki classes and provide information about opening okonomiyaki restaurants. While providing a place for visitors to learn about okonomiyaki, the Okonomiyaki museum serves as a "home base" that introduces okonomiyaki to people all over Japan and to the rest of the world.
Kawakami explained to me that the menu at Chinchikurin was created by a designer at his company, using the materials at the museum as a reference. No wonder the content was solid. The menu was a reflection of Kawakami's hope to spread okonomiyaki to the world.


Layers in okonomiyaki
Let me explain a little bit about Hiroshima-style okonomiyaki.
Okonomiyaki in places such as Osaka mixes its ingredients with the batter, but Hiroshima-style okonomiyaki is characterized by its layers of ingredients—the bottom layer being a thin batter made of flour and water, with fish flour, cabbage, tempura bits, green onions, bean sprouts, thin pork slices, yakisoba noodles, and eggs added on top of it one by one.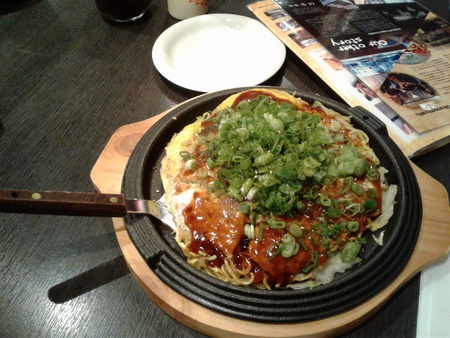 For people in Hiroshima, okonomiyaki had a special meaning.
In the aftermath of WWII, in Hiroshima, barracks were built downtown, and a kind of pancake made of flour that was supplied by the U.S. military, was grilled with some small amounts of vegetables and sold. In the time when all the necessities of life, including food, were lacking, this pancake spread to the masses as a substitute for "issen-yoshoku," (a thin pancake made of flour and vegetables such as green onions) a children's snack in prewar Japan. This is the origin of okonomiyaki. Back then people didn't have adequate cooking equipment, so it is said that they got iron hot plates at the black market or from waste materials and put them on briquettes of coal to cook. Food stalls began to open all over the city, and around 1970, some people started opening okonomiyaki places using portions of their houses. In other words, okonomiyaki gave power to people in Hiroshima to recover from the war.
Kawakami, who was born in Hiroshima, also grew up eating okonomiyaki. He has strong feelings for okonomiyaki.


History of Chinchikurin
Chinchikurin is an okonomiyaki restaurant that Kawakami started in the city of Hiroshima in 1999. Back then there were approximately 1,600 okonomiyaki restaurants in the prefecture, and he started his place with just eight seats, in an alley in the town in the midst of such big competition. His restaurant, Chinchikurin, was named after Kawakami's nickname that was given to him for being short.
The business didn't go well at first. But he kept on working hard with the goal to make the best okonomiyaki in Hiroshima. Things began to look up with more diners coming in, and the place became known to people all over Hiroshima. Today it has the biggest number of restaurants in Japan as a restaurant specializing in Hiroshima okonomiyaki.


With Otafuku sauce
There are two keys to the success of Chinchikurin. The first one is the cast-iron hot plate on which the okonomiyaki is grilled.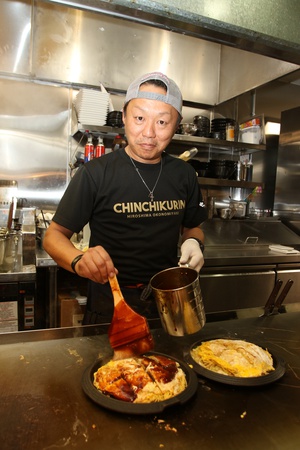 Being a former mechanical designer, Kawakami thought, after starting his business, that he would need a cast-iron hot plate suitable for making okonomiyaki. He looked around iron shops himself and developed a unique iron hot plate. His hot plate was well-received, and Kawakami started to design stores of other okonomiyaki and teppanyaki (a style of cooking using iron hot plates) restaurants and help them get kitchen equipment. Six years after he opened Chinchikurin, Kawakami while running his restaurant, established K2S Co., Ltd. with his old friend Shinichi Muratake and officially began the iron hot plate business. Today, the company produces the largest portion of iron hot plates for business in Japan, and they export related equipment overseas as well.
The second key to their success is the sauce.
Chinchikurin has been using the Otafuku sauce since the beginning. This Otafuku sauce was started by Sasaki Shop (current Otafuku Holdings Co., Ltd.) which began its business in 1922 in the city of Hiroshima. They started making the sauce and selling it after the war.
Sasaki Shop started making the "Otafuku vinegar" in 1938, but their business crashed because of the war. After the war, they resumed the production of fermented vinegar, started making and selling sauce in 1950, set up the Otafuku vinegar company in 1952, and began selling the "Okonomiyaki sauce" in the same year. Ever since, they have been improving its quality with okonomiyaki stores through trial and error, and the current Otafuku sauce was completed. They have literally walked hand in hand with okonomiyaki in their history.
Working to introduce the Otafuku sauce to the rest of the world, Otafuku Sauce Co., Ltd. set up a U.S. corporation, Otafuku Foods Inc. in Santa Fe Springs in 1988 and built a manufacturing factory in Los Angeles in 2013.
According to Kawakami, Otafuku Foods Inc. and Chinchikurin are "mutually beneficial to each other and working together." Their relationship produces a synergistic effect in which the sale of the sauce and iron hot plates goes up when okonomiyaki gets sold. They also both have the goal of spreading the culture of Hiroshima to the world.


Traffic in Sawtelle
Takamitsu Ozawa, the CEO of Otafuku Foods Inc., helped the opening of Chinchikurin in the U.S. in the selection of its location.
Choosing the right place was the first big challenge in the opening of Chinchikurin in the U.S. At first, Kawakami thought about the Japanese town in Los Angeles, Little Tokyo, but he couldn't find a good place, so he looked around some other places such as the South Bay where many Japanese and Nikkei live.
Although he found some open spaces, they didn't quite match what he was looking for.
When he came to Sawtelle, however, he thought that it had different traffic. The district had the thing that other places didn't. There was traffic—of people, a crowd. It was a busy place with many people going by. The district had not only Nikkei and Japanese people, but there were also crowds of people of other Asian descents and Caucasians as well.
"I wanted general Americans, Caucasians to begin with, to taste okonomiyaki. Many Caucasians come here. That's why I chose Sawtelle," says Kawakami.
Bring okonomiyaki to the world. Sawtelle was a perfect place to start his journey.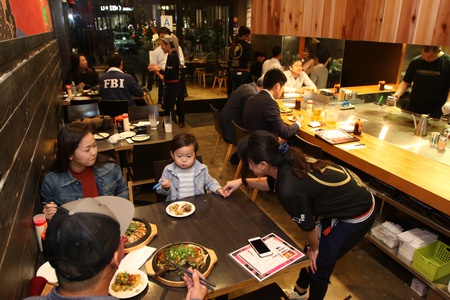 Thus he opened the first Hiroshima okonomiyaki restaurant in Sawtelle, the first one to be opened in the U.S. When the restaurant soft-opened in December, there was already a line outside. As Kawakami expected, there were a good number of non-Nikkei diners, such as other Asians and Caucasians.
Kawakami told me about his next dream, too. "I want those people who have become fans of okonomiyaki at my place to get training at okonomiyaki training facilities and open their own restaurants. That's how I want to spread the chain."
I enjoyed Hiroshima okonomiyaki at Chinchikurin and left the place. On the way back to my car, I stopped by at the chocolate shop and got hot chocolate. I walked back to where I parked my car with the hot chocolate in hand. There was an envelope under the wiper on the front glass of my car. It was a parking ticket. It turned out that I had parked my car in a place where only local residents could park at certain times of the day. Sawtelle indeed was a busy place. I reminded myself once again to be extra careful when parking.