Welcome back to this month's edition of Nikkei Uncovered: a poetry column. As we commemorate the 75th anniversary of the signing of E.O. 9066 and the 50th anniversary of the official Manzanar Pilgrimage, we look to the virtues of and stories behind resistance with pieces from Los Angeles Sansei writer and activist, Miya Iwataki, and Yonsei JA/second generation Okinawan American educator and writer, Ryan Masaaki Yokota (based in Chicago)—from a song stoked by struggle in Heart Mountain to the reasons we marched then and now and again and again…enjoy.
—traci kato-kiriyama
* * * * *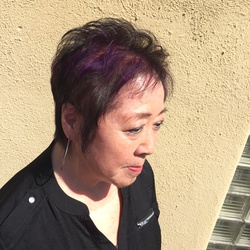 Miya Iwataki's life experiences as a poet, writer, host/producer of East Wind Radio series; designer of diversity and cultural competency programs for LA County; NCRR fighter for Japanese American reparations; one of 30 women sponsored by United Nations NGO to UN Decade for Women Convention in Nairobi, Kenya; and co-author of first study on cultural barriers to reproductive health care in 8 API communities have shaped a lifelong understanding, awareness, and commitment to justice and equity. It has breathed life into the importance of valuing cultural beliefs, practices and traditions in health, and in our daily lives; and an appreciation for how deeply language is tied into, and reflects our culture.


Issei
(a series in progress inspired by our CWRIC heroes)
He came back from camp
A changed man.
This once proud farmer
Who left a scent of ripe tomatoes in his wake
As he weighed and measured
These rich red treasures into
Packed and stacked crates
For the pleasure of the market
This ordinarily remarkable man of the land
Who carried the soil of succulent strawberries
Beneath cracked fingernails
All the way to Manzanar
Until it was washed away
By his wife's tears.
Precious tears from the strong woman
Who shared his love and his harvests
But would not share her tears in front of
Wartime Vultures who circled his farm
And stole his land
And his ideal of America
And still each night he is visited by
Memories filled with the sumptuous scents
Of luscious fleshy tomatoes
And the fertile farmland
He had generously gifted with his
Grit and Gaman
This man of the land
This Issei
* This poem is copyrighted by Miya Iwataki (2017)

AND WE MARCH
1
They shot Malcolm X
But his teachings live on
And we marched
They shot Martin Luther King
But his words ring on
And we marched
They shot Fred Hampton
His Serve the People program lives on
And we marched
They shot George Jackson
And we marched
But his birthright of struggle lived on
In his brother Jonathan
And they killed him
And we marched again
They shot these leaders
But couldn't kill their legacy of resistance
And Power to the People
They took our leaders
But couldn't silence them
Their cause lives on
And we march in their spirit
2
Then they ran out of leaders to kill
Now they shoot Black men in Ferguson
Now they shoot Black men in Atlanta
And in Los Angeles
And Madison
And Dallas
And…
We are still marching
* This poem is copyrighted by Miya Iwataki (2015)
* * * * *
Ryan Masaaki Yokota is a fourth/second generation Japanese/Okinawan American gardener who enjoys digging up old roots. Currently he works as the Legacy Center Manager at the Japanese American Service Committee in Chicago, IL, and is also teaching as an instructor at DePaul University. He received his Ph.D. in East Asian-Japanese History at the University of Chicago, and had previously received his M.A. in Asian American Studies at UCLA. He is a co-founder of the Nikkei Chicago website, which highlights untold stories of the Japanese American community in Chicago.


Song of the Heart Mountain Resistance
Though the darkness licked the ceilings,
though the hatred forced unfeeling,
single lights came on revealing
a second demarcation line.
Faced with coldness and the spite
of those who sought to use their plight
(the line of soldiers suited green
did catch the red that marked their bones).
And so within the courtroom faced
against the heat and lies displaced,
seventy youth all stood and fought;
the scales of justice swayed and broke.
Sentenced to the prison gates
all branded traitors by the state,
and even those within their camps
had turned their backs upon these men.
Now their stories can be told,
about their struggles fought so bold
and all can see the honored signs
of those who stood before their time.
* This poem is copyrighted by Ryan Yokota (1997)