Having originated in Colonia and spread to the rest of Brazil, "Yakisoba" is now enjoyed by many Brazilians. While the most general kind of yakisoba in Japan is the one flavored with brown sauce, why in Brazil did the one with a mountain of vegetables and meat in an-kake (thick sauce) on top of noodles, called an-kake yakisoba become so popular? This mystery had remained unsolved, as some people even called it one of the "seven mysteries of Colonia." However, behind the mystery were the Hirotani Seimen, noodle-making facility, in Suzano city as well as some work of Fujinbu (women's association) that supported the Bunkyo (cultural association) by getting financial resources to maintain the hall. I visited Suzano, the cradle of yakisoba and heard some stories behind the spread.
Today, around Centro in São Paulo, the word "yakisoba" can be easily found on the menus at Brazilian-owned local bars in Sé Plaza and Anhangabaú.
While high-grade dishes, "sushi and sashimi," spread mainly to affluent and middle-class groups of Brazilians, yakisoba went further to be consumed by commoners such as motoqueiro1 and low-income students, which grants the latter a different characteristic even though they are both in the category of Japanese food. In other words, they are two different but equally widely accepted Japanese dishes that shouldn't be compared to one another.
Yakisoba, since it's a kind of pasta, had its chance of becoming accepted. But the soy-sauce flavored an-kake with strong sweetness must have tasted strange to Brazilians, who didn't get to eat Japanese food regularly. If it happened naturally, yakisoba flavored with soy sauce must have become popular, so it could be a sign that someone took action to spread the one with an-kake sauce. There must be some trace of how it came to be.
With such a question in mind, a few years ago when a reporter at Nikkey Shimbun went to report the sukiyaki festival of Suzano Bunkyo, a local board member told a story of that "yakisoba with an-kake from Suzano." Since it was the 109th anniversary of immigration, I was determined to get the story and keep a record. I visited the site again.


How did yakisoba with an-kake become popular?
When I visited the Suzano Bunkyo on June 8 in the afternoon, nearly 20 members of the Fujinbu's "Haha no Kai" (Gathering of Mothers) were there to have a weekly lunch meet-up.
I approached a group of excited members playing bingo and card games, and asked the former chairperson of the Fujinbu, Takeko Yonamine (age 86, Nisei) if it was true that the site was the birthplace of [Brazilian] yakisoba, and she answered calmly, "It was probably over forty years ago. Before we had the current hall... It all began with Hirotani-san from Hirotani Seimen teaching the Fujinbu how to make yakisoba. Up until then we had never seen yakisoba."
As a reporter, I felt like a miner who struck a seam.
The Hirotani Seimen has a factory in Suzano. The first owner held the prominent position of the chairperson of the Bunkyo and committed himself to serve the Nikkei community in the area. The family originally ran a business of noodle-making in Japan, learned about making yakisoba in Japan and passed the information onto the Fujinbu to expand their sales opportunities.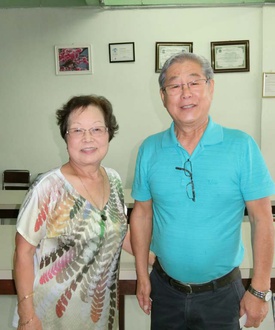 According to chairperson Sadako Yoshida (age 74, Nisei), "From the beginning it was an-kake yakisoba." "Brazilians wouldn't like it unless it's hot," she speculated. Indeed, the an-kake sauce on top of yakisoba kept its temperature longer than the kind with original brown sauce.
Also, it took a certain amount of time to make yakisoba with brown sauce, as it had to be cooked to completion on site. And it required a large amount of Japanese vegetavle sweet sauce which was not commonly consumed in Colonia forty years ago.
Yakisoba with an-kake, on the other hand, could be prepared in parts, as the an-kake with ingredients could be made beforehand, heated on site and poured onto fried noodles that were slightly browned – it could be served more quickly. Even for flavoring, it only needed the ingredients that were commonly used in Colonia back in the days. Moreover, many members of the Bunkyo were from farm families who provided ingredients such as cabbage, carrots, and onions for free.
It was obvious that yakisoba with an-kake sauce was a more reasonable option for groups such as Bunkyo Fujinbu to serve at food stalls at events. Because the Bunkyo Fujinbu's idea was accepted and spread to a wider network in the communities, an-kake yakisoba might have gained its current popularity in Brazil.
Masako Kondo, one of the eight founding members of "Haha no Kai" established in 1955, started a yakisoba sales event in cooperation with the Hirotani Seimen to keep the hall in place. "In Suzano which has big colonies, Brazilians enjoyed Japanese food such as onigiri and tsukemono (pickles) even back then. Because of that background, yakisoba became very popular among Brazilians, too," recalled chairperson Yoshida.
"Besides, Brazilians do not eat vegetables that much. So I think they liked that they could eat a lot of vegetables together with meat," she continued. "Brazilian children who wouldn't eat vegetable-only dishes were willing to eat vegetables if it was yakisoba," giving her own explanation on the reason why yakisoba was accepted widely.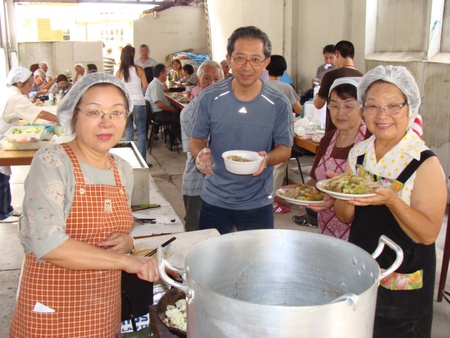 Evolved with yakisoba and spread to many places
Later Mitsue Miyazato, a member of the same Bunkyo planted seedlings of Okinawan cherry blossom which she'd brought from Okinawa, and it was 32 years ago when the cherry blossom began to bloom beautifully.
Ever since then, yakisoba has been served on a large scale at "Sakura Festival," one of the biggest events in the area. "We had more and more visitors as years passed, and now most of them are Brazilian. We serve approximately 6,000 plates of yakisoba in two days," she said, with cries of pleasant surprise.
In the meantime, the Hirotani Seimen which had been a rather small family business expanded itself to own a big factory. "As the wife worked as chairperson at Haha no Kai, the couple devoted their life to the Bunkyo. They used to deliver from place to place by bike," she recalled.
As yakisoba gained popularity at the Sakura Festival, other Nikkei organizations began to take an interest. Some members of the Fujinbu voluntarily visited events hosted by Ipelândia Home and other care facilities, and to Campos do Jordão, and went around teaching them how to make it.
Shizuho Nishioka (age 78, Nisei) talked about some hardships. "We didn't have anything on site, not just ingredients but kitchen knives and pans either. We brought everything ourselves and cooked there." She said that the members continued to support other organizations until they could operate on their own.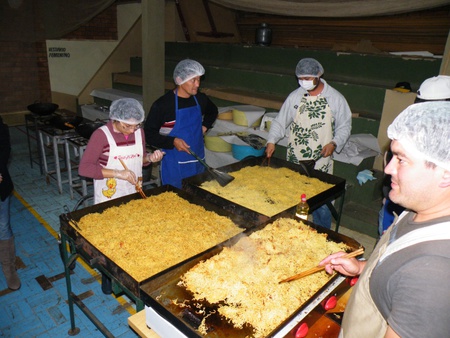 Suzano Takes "Pride" in Yakisoba
Yakisoba-making was spread from Hirotani Seimen and was fully established by Suzano Bunkyo. The association then passed it onto Nikkei organizations in other areas which further helped spread yakisoba to a wide population of Brazilians. Today, "yakisoba" can often be found on the menus at Chinese restaurants, not to mention Chinese street vendors. We could say that it is becoming one of "Brazilian national foods."
Members of the Fujinbu take pride in yakisoba and share a mission. "Many customers tell us that Suzano Bunkyo's yakisoba is better than any other. To keep Suzano's pride in being the birthplace of yakisoba, we believe that we have to pass its taste onto future generations."
"Without doubt, the biggest secret to its taste is the sauce." Suzano yakisoba uses broth from pork bone, beef bone, and chicken bone, and its ingredients such as vegetables are simmered for one day. Another point is to fry noodle on a big cast-iron plate until it gets browned.
"Yakisoba can be made at low cost, and the profit rate is over 60% which has been a big help for the Bunkyo to keep their activities going," chairperson Masachika Takagi (age 69, from Nagasaki Prefecture) mentioned. "I'm very glad that Suzano-born yakisoba has spread throughout Brazil, and people are enjoying its taste," he said proudly.
Editor's notes:
1. motoqueiro: a person who delivers goods and postal items to houses and companies by motorbike


*This article is reprinted from a Japanese newspaper in Brazil Nikkey Shimbun in June 23, 2017.
* * * * *
Our Editorial Committee selected this article as one of her favorite Itadakimasu 2!: Another Taste of Nikkei Culture stories.
Comment from Shigeru Kojima
I read the two essays submitted for Itadakimasu 2! Although there were only two submissions, both from Brazil, their stories were both intriguing in a way that explored the Nikkei community, and I had a hard time deciding which was better. One essay reported the root of yakisoba, while the other was about the popular Brazilian dish feijoada and Kenjinkai. Because the former focused more closely on the theme "Taste of Nikkei Food Culture," I chose Kohei Ohsawa's Taking Pride in Spreading Yakisoba From Suzano to the Rest of Brazil – the Tie-up of a Noodle-making Facility and Bunkyo as my favorite.
The story reports how the Japanese yakisoba noodle spread across Brazil as "YAKISOBA," exactly as it is in Japanese, with detailed reporting on the Bunkyo and Fujinbu in Suzano as well as a noodle-making facility. At the same time that I understood its background story, I remembered that there was a theory stating yakisoba was first introduced in the eastern city of São Paulo by Chinese people. It's difficult to pinpoint the origin with objective evidence, as every origin tends to have different stories, yet this reporting could be the proof of the theory that it did indeed start in Suzano.
Masayuki Fukasawa's essay on feijoada and kenjinkai is also thought-provoking, helping us understand the relationship between food and Nikkei people. There is the "feijoada" (national dish in Brazil) gathering that has been held for over ten years as a traditional event of the Brazilian Okayama Kenjinkai. Together with its appeal – we cook it for just a while to remove oil and then stew it enough to get the flavor with adding just a bit of salt – their statement is important when reflecting on the tradition and change of Nikkei food culture.
I need to see how yakisoba and feijoada evolve from now. I will continue to taste them with the interest that they deserve.