How do you express your Nikkeiness?
I know that when I teach I am able to emphasize human and civil rights. I also make a point of referring to periods in history when we (e.g., including Punjabi, First Nations, African Canadians, Chinese) were all targets of racial discrimination in Canada. As Nikkei teachers we need to be cognisant of this deep responsibility to make sure that our Japanese Canadian (JC) experience is not forgotten in the competition for media attention. We Asians are all too often left out of discussions about race.
So, how are you Nikkei? Is it an ongoing concern or are you just beginning to mull over the significance of it and how your life might change because of it?
When I was growing up, well before "Nikkei" was part of our lexicon, my heroes were people like writer/poet Joy Kogawa; school principal and Redress leader Roy Miki; environmental activist Dr. David Suzuki, LA Dodger's pitcher Hideo Nomo, and former CBC journalist Susan Harada, now head of the journalism program at Carlton University in Ottawa.
I never got around to asking Calgary Sansei Mark Ikeda, 30, possibly Canada's youngest Sansei, to talk about his Nikkei heroes but I would hope that one would be Redress leader Art Miki.
* * * * *
First of all, can you give us some background about your family? When did your grandparents arrive here? Were they part of the internment? If so where were they interned? Can you talk a bit about your parents too?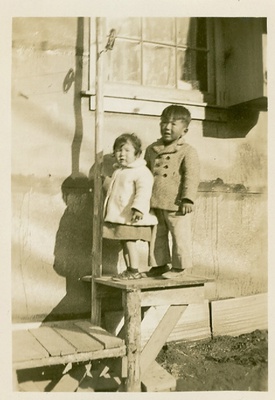 My grandfather Yoshinori George Ikeda was born in 1899 and came to Canada as a child.
My grandmother Itsuko Okimura Ikeda was from Hiroshima. She didn't arrive here until later when they were arranged to be married once my grandfather's family (also from Hiroshima) was well set up in the fishing industry. They were interned—along with my Aunt Jane Yoshiko and Uncle Edward Yoshio.
My grandfather worked building the #3 Hope/Princeton highway, and my grandmother, aunt and uncle were in Tashme, Rosebury, and eventually in New Denver. Though as a silver lining—if not for the internment, I wouldn't be alive: My grandparents were done having children when the internment happened, after the war, once they had some basic stability in Alberta, they had my father Fred Isao.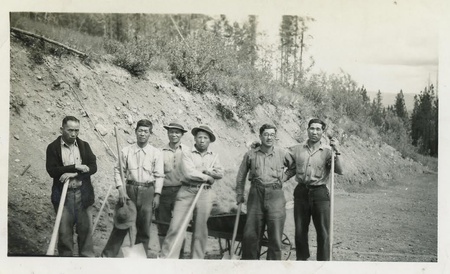 I was born and raised in Burnaby, a suburb of Vancouver, and my parents, Joanne Elizabeth, and Fred Isao are still there. I came out to attend the University of Calgary and have found a beautiful niche in the arts.

Can you please share your own personal story about becoming a performing artist? Can you go into some detail about that path? What occupies your time these days as far as work goes?
I came out to Calgary to study theatre, with the eventual goal of becoming a drama teacher. Though once I got into the community, I continued to find opportunities, mentors, and jobs. My first steps were in theatre for young audiences—both teaching theatre to kids and performing plays in elementary schools. I continued to study performance, and was trained by Calgary's One Yellow Rabbit where I learned everything from yoga to playwriting to arts management.
I kept most avenues open and found a wild variety of gigs: I've been a human statue, a stilt walker, an actor, a dancer; I write, produce, market, I can stage manage, sound engineer, and light design, you name it!
These days I've been very lucky to find a niche between contemporary dance and theatre. I do a lot of teaching. I teach actors how to dance, and dancers how to act! I've taught movement at the University of Calgary, the Rosebud School for the Arts, and Mount Royal University. Most of my current work focuses on telling stories—both through theatre and dance.
"If the Japanese Internment didn't happen, I wouldn't be alive today." Sansei: The Storyteller grew from this one true statement. Using dance, theatre, and humour I tell the story of one of Canada's darkest decisions, and unwrap how racism of past generations has affected the Japanese community today.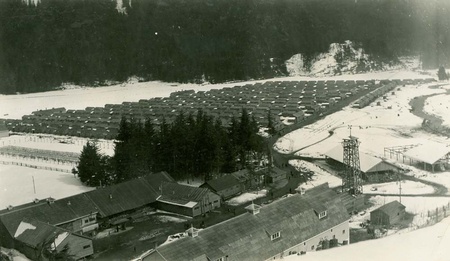 For me, I feel it's easier to contextualize the events with a spaciousness around many of the events of the past. My father was kept in the dark about many of the events and details, but he was very close, emotionally close to the underlying feelings. Whereas I can come with a clearer curiosity and have come to understand those emotional repercussions. With the passing of each generation, we gain distance and perspective; I feel it's as important to learn from the stories and how they've shaped you, as it is to live in the current moment without allowing past wrongs to weigh down the present.


Can you go into some detail about how you describe yourself as a "Nikkei Canadian" — or do you? What kinds of experiences inform it? How connected are you to the experiences of your family and the greater JC community in your art?
It's taken a while for me to be comfortable considering myself a Nikkei Canadian, growing up we weren't obviously connected to the Nikkei community in any way; it's only been since I've began to research my family history in my performance piece Sansei: The Storyteller that I've been able to realize how my experience fits into the JC community. (Sansei explore my family's experience in the Internment Camps in Canada, and contextualizes it for others through humour, storytelling, and dance).
Through Sansei I've been in a lot stronger connection with Nikkei organizations, festivals, and communities like the Calgary Japanese Community Association, Powell Street Japanese Festival, The Nikkei Internment Memorial Centre. I received a grant supporting Sansei from the National Association of Japanese Canadians.


What is the Nikkei community in Calgary like? How interconnected are you to those in Edmonton and other areas in Alberta?
I have had the pleasure of performing for the Calgary Japanese Community Association, and have made some wonderful connections through it — though I confess I am more of a satellite member and am not aware of the Calgary/Edmonton connection.

How receptive is the greater Alberta community to the stories that you tell?
Everywhere I go, people are very receptive to the work, there seems to be a spaciousness for cultural understanding in the collective consciousness (at least in those willing to go to a dance / theatre performance!). I've found a much greater call for the performance in BC, I've had extensive touring opportunities through the support of a BC Multicultural Grant and have had the privilege to perform on the original internment lands in New Denver.


What was that experience like?
Powerful. I felt very supported in sharing the story, both in the community engagement and in the history of the land.
I was lucky to visit the site prior to the performance in order to let my emotions settle, the first time I was there it left a lasting impression on me, the Nikkei Internment Memorial Centre did a great job at contextualizing the experience for me; seeing my grandmother's name on their list was chilling.


I read a Calgary Herald newspaper story that described your work as being representative of "Japanese culture" as opposed to Nikkei. What does "Japanese Canadian" mean to you?
To be honest, it's been a slow learning curve for me to recognize the terminology behind "Japanese Canadian" and "Nikkei Canadian," many of the organizations I've come into contact with continue to use Japanese Canadian (Calgary Japanese Community Association, National Association of Japanese Canadians). To complicate thing further, parts of the performance do take place in Japan, far back in my family history.


From that same story, you are quoted as saying:
Not many Japanese stayed behind to talk but many of the non-Japanese did and the show was so well received, they've asked me to come back again this summer…. When I performed at the Ottawa Storytelling Festival I was genuinely amazed at the number of people who wanted to talk to me after the show.
How common is this experience that JCs don't demonstrate the same interest as non-JCs in your performances? Any thoughts about why you think that this is?
It's still fairly common, though I have had some beautifully in-depth conversations from Nikkei Canadians, the sentiment that I am most often met with is that my family's story often aligns with others', and that it wasn't encouraged to be shared by the elders in the family. Somewhere amidst our collective narrative, we accepted that we ought not speak out about our experience, that it doesn't do any good, but I've found the opposite - silence is oppressive, and to suffer in silence can be very damaging to the self and to forming healthy relationships. I am very privileged to consider these stories, to share them, and do so without the need to blame or shame.