On July 30, Japanese martial art Shorinji Kempo will hold its world championships in the U.S. for the first time. We talked with Hiroshi Onaka, the first secretary-general of the US Shorinji Kempo Federation (USSKF) and now the master of the Seattle branch, about business, martial arts, and community.
* * * * *
I had interest in foreign countries since I was in elementary school. For a kid growing up in the countryside, the wide world fascinated me. I think it all began when I joined my dad on a work-related trip to the US when I was a 17-year-old high school student. I practiced English and went sightseeing for two weeks in California, and I began to get pulled into a world that was completely different from Japan. When I flew out of LAX to go back home, I thought, "I'm coming back to this country." When I entered Seinan Gakuin University, which has an overseas exchange program, my wish was granted. I chose to study at San Diego State University for a year. I was able to relive those high school memories in San Diego.
I graduated in 1983 and entered the purchasing department of A&A Japan, a company that made home electronics and PC products targeting Radio Shack. It was the very beginning of the computer age, and PCs weren't quite satisfying yet, which presented a merchandising concern. I got involved in all sorts of projects such as one to make an IBM-compatible plug. After two years with the company, I was transferred to Fort Worth, Texas, for a three-year stint. In 1989, I was hired by Dell to run their purchasing and merchandising operation in Asia. Before Dell Japan was born, I established Dell Far East.
My opportunity to live in Seattle came in 2000 when I entered the software developing company Open Interface and handled the establishment of a North American branch office. At that time, Silicon Valley was expensive and it was difficult to find good engineers, so I chose Seattle, which was rich in software industry types. I was on an L-1 visa, so I thought for sure I would be heading back to Japan soon. But then my two kids told me something that suddenly changed my mind. "It's selfish of you to go home now," they told me.
At that time, my daughter was in the first year of middle school, and my son was in the fourth grade of elementary school. For the first three years in Seattle, they worked like crazy to keep up with their schoolwork. "We've worked this hard, so we don't want to go back in the middle," they told me. I felt for my kids, so I told them, "I got it. We'll stay in Seattle." That's when things got difficult. Trying to find a job without a visa would be a big roll of the dice. I needed to find something while I still had a valid visa. With just three months left, I was hired by IT consulting firm QuantumFusion. I breathed a sigh of relief. That's how we ended up staying in Seattle.


Changing industries at 50, expanding business from Seattle to Fukuoka
As I approached 50, I got a green card and set up my own company. That was EnLinx Partners. The name came from the idea of connecting with multiple strong partners. It was just after the Lehman Shock, so economically, it felt like the bottom and a good place to start. Reality wasn't so kind. The first three years were really rough. One of the pillars of the company was supporting Japan and US companies in overseas efforts. I used my 30-year-old professional network to make introductions and build business connections.
In January 2017, I established a Japan base in Fukuoka for Redmond's ComputeNext. Some people may be wondering, "Why Fukuoka?" Because I thought a nationless business like cloud services, which is ComputeNext's business, should be ready to spread from Japan to the rest of Asia. Fukuoka is attractive because it is a compact city – the airport is just a 15-minute drive – and closer to the rest of Asia than Tokyo. Compared to Tokyo, Fukuoka offers a more trustworthy quality of life, whether it's the commute, family life or child rearing. That's also where I spent my college years, so I have good connections there too.
Even outside of my university contacts, Fukuoka has a suprising amount of connections. There are the connections we have from introducing local Seattle businesses to Fukuoka City and the fact that two years ago Fukuoka Mayor Soichiro Takashima visited Seattle and attended a luncheon. The ComputeNext CEO, who had received support for overseas expansion, was also in attendance. The CEO knew nothing about Fukuoka, but I mentioned that ComputeNext was going to open a branch in Fukuoka to begin its Asia expansion. This is how we began preparing in good faith for our Japan market entry, and it was another connection made.
These sorts of connections aren't accidental, they're intentional. Making the accidental intentional is a kind of passion, I think. It's something that I'm working on. The network you make can't be overlooked in business. If you find what you really want to do and have a passion for it, your connections will naturally grow. On the other hand, if your motives aren't authentic, you won't meet the right people. To build trust, it goes without saying that you need sincerity, but you also need vision.
Connections with regions are also important. In March, we moved our office to a central part of Fukuoka called Tenjin where about 40 startups are clustered around the Daimyo Elementary School area in a space called FUKUOKA growth next. New companies flow into Fukuoka, which is a special IT economic zone, and the city is experiencing faster population growth than any other large city. Businesses are doing lectures and research with the university, and creating a strong pool of human resources. Everybody is paying it forward.

Transmitting Japanese culture from Seattle
I've been practicing Shorinji Kempo since college for almost 40 years. I consider it my life work. When I was in the third year of middle school, I saw the movie Enter the Dragon starring Bruce Lee and felt admiration for "Shorinji." Today I'm the master of the Seattle branch, where 20 people practice.
I have taught Shorinji Kempo at Seattle University since 2009. A teacher I know asked me to lecture on Shorinji Kempo under the theme "Martial Arts & Zen." Students who became interested got together and formed a club. Two years ago, we borrowed space at Bellevue Children's Academy, and I began teaching all the things I had practiced over the last 20 years.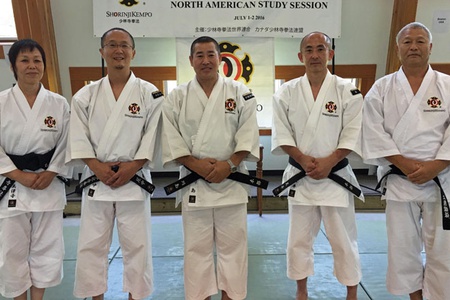 The third pillar of EnLinx Partners is to promote traditional Japanese arts and crafts overseas. This is something I do for pleasure, not business. I remember how I felt during my college days when I saw a Japanese sword declared a national treasure. I've had interest in swords ever since. I began practicing sword drawing and got to know famous swordmaker Yoshito Yoshihara. Of Japan's arts and crafts, I'm focusing my energy on introducing swords. We started an English website called wado to talk about the attraction of Japanese swords and how Japanese culture and history can be better understood through knowledge of the swords. At the same time, we are aggressively promoting kimono, lacquerware and other traditional arts and crafts through collaborative events.
Shorinji Kempo founder Doshin So has a saying, "Half for one's happiness, and half for the happiness of others." If 10 is the level where you're happy, you don't need to strive for 10. You can be anywhere between 1 and 9, and then strive to make occasional contributions. That's my mantra.
In business, it's natural to pursue sales and raise profits. But does pursuit of profits alone connect to happiness? A win-win where both parties profit, not an American style win-lose – my philosophy is happy-happy because we should both be happy. We don't need businesses that are all about profits. The happy parts are when you find a good partner, or you launch a new product or you hit a financial goal, aren't they? That's important for our lives. I would like to continue with passion, work to spread happiness, connect with a lot of people – I want to continue to grow with these three pillars as my guide.
*This article was originally published by The North American Post on July 15, 2017.