Everyone knows about Machu Picchu. But what few people know, even in Peru's Nikkei community, is that the Inca citadel and Japanese immigration to Peru are connected by one person. His name: Yokichi Nouchi.
Born in Fukushima Prefecture in 1895, Nouchi was one of 18,727 Japanese who arrived in Peru between 1899 and 1923 as contract migrants.
This year marks 100 years since Yokichi came to Peru to work at San Nicolás plantation, north of Lima.
How did he get from Lima to Cuzco? His daughter Luz Marina, with assistance from her memories and papers she still keeps, recounts the itinerary her father followed from place to place: Lima, Bolivia, Brazil, Puerto Maldonado (where he was baptized with the name Óscar), and Cuzco.
After stays in several places where for one reason or another he didn't put down roots, during the first half of the 1920s Yokichi settled in the town of Machu Picchu (which was then known as Maquinachayoc). From that time until his death, Yokichi's life was linked to Machu Picchu in such a profound way that it became his home. He was fascinated by the landscape and vegetation, which reminded him of his town in Fukushima.
In the beginning, Yokichi was just another worker on a railroad project linking Cuzco to the district of Santa Ana. But little by little, his emergence as an entrepreneur with a social vocation would transform him into one of those most responsible for the town's growth.
Nouchi led an excavation project that resulted in an invaluable finding: hot springs that recalled the "onsen" of his native Japan. The Japanese immigrant convinced the local people of the medicinal properties found there and encouraged them to bathe in the hot springs. That is most likely how the town got its name: Aguas Calientes (hot water).
His contribution to local development expanded when he built a three-story, Japanese-style guest house using train rails. Yokichi allowed the police and post office, among others, to use two floors of the building free of charge.
He became an important figure in town, and in 1939 was named to its highest office, which he held until 1941. Considered the first mayor of Machu Picchu, Yokichi became mayor again in 1948. He also served as justice of the peace.

ALL BECAUSE OF THE PRINCE
On the other side of the ocean, in Fukushima, Yokichi's family had no idea what had become of him. He was barely 20 years old when he migrated to Peru and just over 40 years after he'd set sail on the Kiyo maru, the Nouchis in Japan had no way to find out about the exceptional life their relative had created in the capital of the Inca empire.
Things would have continued this way (who knows until when, perhaps forever) if it weren't for Prince Mikasa, brother of Emperor Hirohito, who visited Peru in 1958. Mikasa traveled to Machu Picchu, where he was greeted with a bouquet of flowers by Olga, one of Yokichi's daughters.
The Japanese press covering the prince's visit learned of Yokichi's story and publicized it in Japan. That's how his three sisters in Fukushima found out about the direction his life had taken.
The Nouchis were reunited, but not immediately. Another 10 years passed, until in 1968, more than half a century later, Yokichi returned to Otama, the town where he was born.
Luz Marina remembers that her father was very happy when his siblings sent him a ticket to travel to Japan. By then he had retired from his job with the railroad and his economic situation was not good. "Whenever he did something, he gave from his heart, but he never thought about receiving anything. He never asked for anything," his daughter says.
Yokichi returned from Japan loaded with gifts for his children from his siblings (Luz Marina still has a Japanese doll her father brought her) and with his heart full from the reunion with his family. He had also been able to once again taste the flavors of his hometown. "He wanted so badly to eat something from his land," his daughter recalls.
His happiness, however, was not complete: Yokichi returned to Japan too late to see his mother, who had died in 1945.
Luz Marina learned more details about her father's trip to Fukushima in the 1990s. By then she had migrated to Japan and wanted to visit the town where her father's family lived. She didn't even know if her aunts and uncles were still alive. Luckily, she was able to find one of them.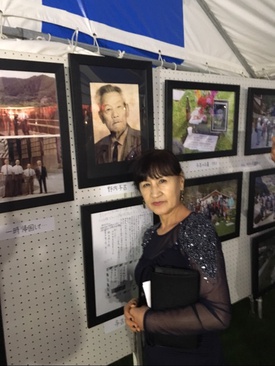 "I said, 'I just want to find one of my aunts or uncles.' For me it was like finding my father again, and thank God it happened. I met my uncle Yoshiro who was quite old and it was very, very emotional," she remembers.
They say that the third time's a charm, and that's how it was with Luz Marina. After two attempts to visit her uncle had failed because of the language barrier, on the third attempt a Japanese-speaking Brazilian friend of her brother's helped to translate and the Nouchis of Cuzco visited the Nouchis of Fukushima.
"They prepared a banquet! We had a very beautiful reception and we all hugged one another. We were so happy to have hugged and kissed my uncle. It was like my father had returned."
Uncle Yoshiro showed Luz Marina the receipt for the ticket he had purchased for Yokichi to travel to Japan and then return to Peru. He kept the receipt, treasuring it like a historical document. She still remembers the amount: 700,000 yen.
Luz Marina learned first-hand from her uncle that her father did not emigrate from Japan out of necessity. He left to follow his spirit of adventure, his dream of visiting other worlds. She also found out that her grandmother, Yokichi's mother, had been extremely saddened when she didn't receive any news about her son. His siblings were hurt that he had not communicated with his family, but in those times it was difficult. There was no Internet, and then there was the war....
Traveling to Japan was almost impossible, because in addition to the economic factor, Yokichi had a wonderful family to take care of. He had five children with Maria Portillo and later married Maria Morales, who gave birth to another five children–three boys and two girls–of whom Luz Marina is the youngest.


A LOVING BUT RESERVED MAN
By the time Yokichi traveled to Japan in 1968, his health had already deteriorated. Cuzco's altitude affected him and he frequently stayed in Lima to recover. From the capital, he wrote letters to his wife to let her know how he was doing and ask about her and the children.
Luz Marina kept the letters and, unlike the coldness of character often ascribed to the Japanese, her father's texts reveal a person who was generous with his affection. "My father was so loving with my mother. He wrote to her with such respect and affection. My father respected her greatly and loved her. She was always by his side, until the end."
Yokichi doted the most on his daughters but was stricter with his sons. When his wife Maria wrote him about problems with his sons, Yokichi responded that men must behave honorably and that he would write to them to make sure they stayed in line. However, when he did so, "He wrote, 'little son', with affection," says Luz Marina.
Lima was better for his health than Cuzco, but Yokichi, against the doctor's recommendation, always returned to see his family.
Yokichi died in 1969, one year after his trip to Japan. "Losing him was very hard for me. I was only a teenager," his daughter recalls.
Her sadness at his early death fades when she mentions his most outstanding trait: friendliness. "Everyone loved him in Zaguán del Cielo (the residential district in Cuzco where they lived). Many thought very highly of him. He was so friendly [and] always invited people home." Young people often visited their house, she remembers, to talk with her father and ask him how to say things in Japanese.
The most beautiful memory of her father treasured by Luz Marina is a gift she received from him as a young girl, when she didn't have anyone her age to play with (her siblings were older and her sister was at boarding school): a kitten. The smile that spreads over her face as she recounts details about the gift and its circumstances are as expressive as her words.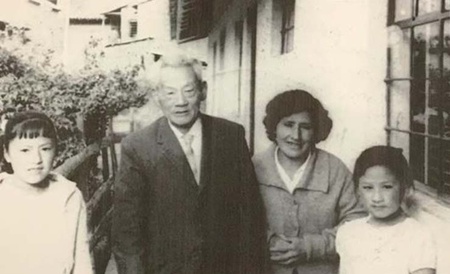 When she grew older, Luz Marina attended boarding school with her sister and enjoyed spending time with her father during vacations. "He was a very understanding and loving person. Sometimes he was very quiet and didn't say much," she says.
Luz Marina, who also remembers her father as a humble man who avoided praise and taught his children to be responsible and punctual, lived in Japan for more than 25 years. In addition to getting to know her uncle and her father's home town, her long stay there enabled her to connect to her roots.
"I've learned a lot from all of my experiences, from what happened to me in Japan, including to value things more, to be connected to my family. By family I mean the Nikkei, because before that the connection wasn't really there. Now I feel more attachment, more affection (for the Nikkei), because they're part of my father."
Although Yokichi Nouchi was a highly respected and beloved person in the town of Machu Picchu and later in the Cuzco neighborhood where his family lived, recognition of his work came much later.
"My father deserves it even though he's no longer here," says Luz Marina. "I'm very proud, very happy about that." Her sense of pride about Yokichi extends to all immigrants. "I'm not only proud of my father, but of so many other Japanese who gave everything, their energy [and] their values."