There are as many artistic manifestations as there are artists in existence. Each artist seems to build their own universe of techniques, methods and meanings in their work. The work of Sandra Nakamura Lam (born in Lima in 1981) is particular, combining historical research, spatial design, definition of concepts and social significance.
Much of Sandra's work stems from her professional training in architecture, which she left behind after discovering a preference for creativity over functionality, following the sense of stimulation she'd always found in the arts. "Being an artist is a vocation more than a profession," she says after more than 10 years dedicated to creating a body of work that defies classification, although her work consists largely of installations.
Eliciting art from paint, clay or paper and bringing it to geographic spaces was her first creative revelation. This was during her studies at the University of California in San Diego, where she specialized in film, video and photography. She continued her studies at Bauhaus-Universität Weimar in Germany, earning a master's degree in the art of public spaces.


Outside its space
Although far from the major urban centers of Germany, she lived in the city that had been home to Goethe and Schiller as well as Bach, Liszt and Nietzsche. A scholarship enabled her to spend one year there, during which she solidified her studies of theory. "Many of the artists who train there work in the plastic arts. I choose the materials according to the project I have in mind."
Spending almost all of her professional career outside Peru had specific implications for Sandra's work. "When I returned, I didn't know anyone in the local scene, which was kind of a disadvantage," she says. Fortunately, gallerist Frances Wu learned of her work and they have been working together since 2010, bringing exhibits to art fairs in Ecuador, Colombia, Mexico, the United States, Spain, Japan and Hong Kong, among others.
Her first work shown in Peru was part of the "Passport for an Artist" program organized by the Embassy of France in Peru and the Alliance Francaise of Lima. In 2007, she was chosen to carry out an intervention that involved physically moving the word "Cine" (theater) from the sign on the Tauro theater (which was no longer in operation) and installing it in a room along with a small slide projector showing an image of the theater's facade after the intervention.


The language of dimensions
Appreciating an object that is out of place is part of the philosophy of installations and interventions, an art form cultivated by some of Sandra Nakamura's influences, including Gordon Matta-Clark, Unka Wara, and Yoko Ono. A year after the Tauro theater work, Sandra created another intervention in Huesca, Spain, called One square meter in some corner of the world. It consisted of 150,000 one-cent coins (equivalent to 1,500 euros) that covered 35 square meters of a room in El Matadero Cultural Center.
The coins represented the dimension of the smallest apartment in that city, encouraging reflection on the meaning of migration, property and housing. "I placed ads in papers seeking to buy one square meter of land. In the end, I didn't buy one but I took more than one square meter of a pedestrian walkway in the city's downtown and covered it with one-cent coins. This was my way of calculating how much it cost."
The action was also perceived as an offer, in which the artist symbolically "purchased" that space. A similar idea was expressed in "It isn't worth one Peru," exhibited at the Wu Gallery in Barranco in 2010, where to restate the value given to things, she placed 200,000 one-cent coins. Each coin represented 1 million dollars paid in taxes by undocumented Latin American workers in the United States.


The politics of art
Sandra clarifies that her art expresses a social perspective with a capacity for reflection and questioning, rather than a political point of view. This has immersed her more in reality and given new meaning to the space and concept of art. In 2014, one of her works consisted of placing a sign similar to the Hollywood sign (in the hills of Los Angeles) in Villa María del Triunfo, a district on the periphery of Lima where many homes don't have access to water.
The sign, with the message "A promise is a cloud", was made of a special material that helps "harvest" water from fog. "That was a great experience because we worked with the community: We financed the production and they contributed labor." In 2016, another of her works was based on the meaning of nature (geography) and its relationship to society. The Uyuni salt flat in Bolivia inspired a reflection on that country's lack of access to the ocean and the resulting conflicts that have arisen.
"Colorless to White" is a salt structure in the form of a curved wall, accompanied by several of the artist's drawings and reflected in acrylic resembling a water mirror. The installation was exhibited at the Cisneros Fontanals Art Foundation in Miami as part of its grants program, which is aimed at raising the visibility of Latin American art in contemporary international artistic circles.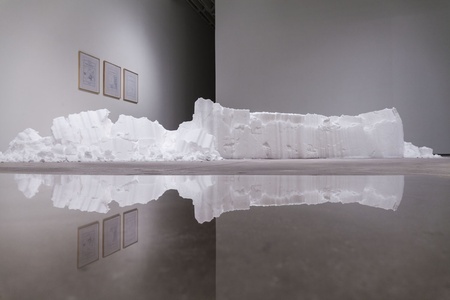 Eastern origin
This year, Sandra Nakamura's work will return to the United States as part of the show Transpacific Borderlands: Art of Japanese Diaspora in Lima, Los Angeles, Mexico City and São Paulo, bringing together the works of 13 renowned artists from these cities. They range from the traditional to the experimental, showing how history, homeland, ethnic communities, racial mixing and cosmopolitanism contribute to the creativity and aesthetic of hybrid cultures such as the Nikkei.
This exhibition is part of "Pacific Standard Time: LA/LA," an exploration of Latin American art in dialogue with Los Angeles, which will take place from September 2017 to January 2018 at more than 70 cultural institutions in Southern California, including the Japanese American National Museum.
"I believe that this relationship with what is Japanese, in a certain way, manifests in me through the treatment of materials. For example, I often use white, the monochromatic approach, more minimalist. Maybe those are things that I learned from being in Japan or what I learned at home, from my grandparents, from how they organized their homes and their spaces."
In 2008, Sandra was an artist in residence in Kitakyushu, a city on the island of Kyushu, Fukuoka Prefecture, for 10 months. "I think that much of my work is informed by the experience of traveling. And the experience of feeling slightly displaced, but in a constant way. I was never completely Peruvian; I went to study in the United States at 17 years old. Then I went to Germany and Japan, without knowing either language."
In a certain way, art has been her language, the code with which she creates her own space. For a creative person whose grandparents were immigrants from Japan and China, investigating space as she does, with enthusiasm for history and a desire to imbue meaning and greater expressive content, the language of space seems to hold many more messages. "Art should help change our way of seeing the world," says Sandra.
* * * * *
Transpacific Borderlands: The Art of Japanese Diaspora in Lima, Los Angeles, Mexico City, and São Paulo
September 17, 2017 - February 25, 2018
Japanese American National Museum, Los Angeles, California
This exhibition will examine the experiences of artists of Japanese ancestry born, raised, or living in either Latin America or predominantly Latin American neighborhoods of Southern California. Sandra Nakamura is one of the artists featured in this exhibition.