One Nikkei who opted for deportation to Japan with his young family instead of dispersal to eastern Canada was Suejiro Ibuki. As he is no longer alive, this profile relies heavily on the recollections of his son Mikio as well as on photographs, personal correspondence, and various official documents related to Suejiro's life. Fortunately, he left quite a large amount of such materials which have been preserved by Mikio.


His Roots and Move to Canada
Suejiru was born on April 28, 1908 in Mitsuya, a small farming village near Hikone city in Shiga Prefecture, the fourth son among 4 brothers and 4 sisters. He left Mitsuya for Canada in September of 1923, at the age of 15. In addition to his sense of adventure, one reason for his leaving Japan was that he did not pass the entrance examination of Omi Hachiman Commercial High School, which limited his future career options. He chose Canada because he had an older sister already living with her husband in Vancouver. Furthermore, his older brother Totaro already had plans to go to Canada, so Suejiro decided to accompany him.


Continuing His Education and Starting a Career
After arriving in Vancouver, he resided in the Powell Street area, which was where most of the new Japanese migrants to Vancouver settled. Although he was 15 years old and had already finished primary school in Japan, he entered the nearby Strathcona Public Elementary School at the grade 1 level as was common for new immigrant young people who could not speak English well. He quickly jumped several grades during the following months. He transferred to Seymour Public School in September, 1924, and finished primary school in June, 1925, and then began high school. Soon he began working as a night clerk at the Owl Drug Store at 197 East Hastings Street, and continued until June of 1928. In 1927 he entered Vancouver City Night School of Commerce and graduated in 1928, after which he began working as a shipping clerk and later as a travelling salesman at E.A. Morris Ltd., located at 435 East Hastings Street. He continued this job until the uprooting in 1942.


His Life as a Bachelor in Vancouver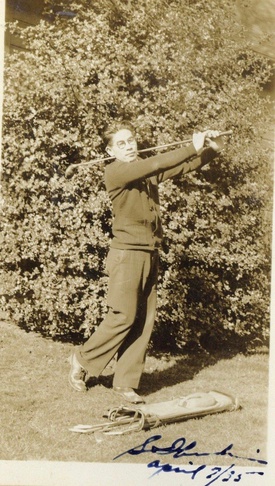 In addition to his work, it seems Suejiro had an active intellectual and social lifestyle. He enjoyed writing and was a member of a small literary coterie composed of several male friends. He even tried his hand at writing some short novels (with a distinctly erotic flair), and had several articles and short stories published in the Vancouver Japanese papers. He also seems to have been an avid photographer as he took numerous photos and videos of life in Vancouver, which his family still has today. It appears from some photos that he was quite an avid golfer in his free time. Judging from his photos and his correspondence with various people, he seems to have had a lot of friends in the Japanese community, and to have been very popular, especially among the young ladies. Years later, this was confirmed to his son Mikio by various people who had known Suejiru during that time. Mikio once met a lady who had been one of his father's girlfriends and got the impression that she still loved him.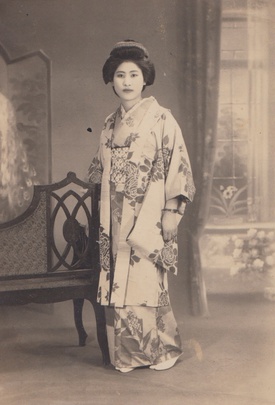 His Marriage to Mitsue
In November of 1934 Suejiro returned to Japan for three months, during which time he met his wife-to-be, Mitsue Otake, through the introduction by an older brother living in Tokyo. She had been born on February 8, 1918, and raised in Tokyo (Senjyu-cho, Minami-Adachi-Gun) where her father worked as an artisan (tortoise shell art, and later carving images on fountain pens). At the time, she was employed by Marubeni Company. They married at the Meiji Jingu (shrine), and Suejiro then went back to Canada alone. About one year later (February, 1936), at the age of 16, Mitsue sailed alone to Canada and joined him.


Married Life in Vancouver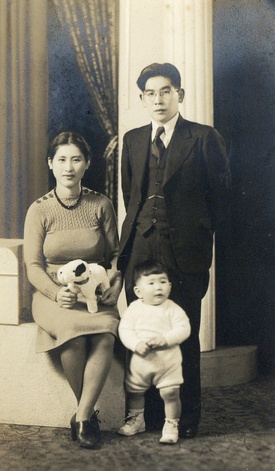 At first, the new couple lived at 431 East Georgia Street until 1936, and then at 501 Hastings Street until their uprooting in 1942. They had a happy marriage and their life in pre-war Vancouver also seems to have been comfortable. Although Mitsue's English ability was limited, they enjoyed an active social life within the Japanese community as can been seen in several photos and videos of them picnicking and socializing with friends. On January 1, 1940, they were blessed with their first child, Mikio. As far as Mikio knows, they intended to stay in Canada permanently. Suejiro's parents had already passed away before he left Japan, so his correspondence with his relatives in Shiga Prefecture was not very frequent. However, until the war began, he and Mitsue sent many letters to her family in Tokyo, often including pictures of their baby Mikio.


Life in the Internment Camp
The family was forcibly uprooted and incarcerated in the Slocan City internment camp from July 1942 to September 1946. Suejiro was first sent to a road construction camp as were many of the able-bodied Nikkei men, but because his wife was pregnant with his second child, he was soon allowed to leave and join his family in the internment camp. He did various kinds of work in the camp, including cleaning chimneys. He was also active as a member of the camp residents' self-governing committee, even serving as the committee leader.
His second and third children were born at Slocan City during the internment. The second child, a girl was born on July 9, 1942. She was the first baby born to Japanese internees of the camp, so everyone celebrated. She was named Gloria by the attending nurse, but Kazuko (和子) by her parents, which expressed their wish for peace. Their second son, Toshiaki, was born on November 3, 1944.
* This series is an abridged version of a paper titled, "Life Histories of Japanese Canadian Deportees: A father and son case history", first published in The Journal of the Institute for Language and Culture (Konan University), March 15 2017, pp. 3-42.