This month we have some light and delicious, sweet yet evocative, precious to ephemeral moments through the words shared here by the lovely yogi and artist, Genie Nakano, who hails from the South Bay of Los Angeles, and by Shō Tanaka, a friend I met a few moons ago over in Toronto. Shō currently resides, in his words, "on Lekwungen and W̱SÁNEĆ Territory (Victoria, British Columbia)." Enjoy.
—traci kato-kiriyama
* * * * *
Genie Nakano is a poet/writer, dancer with a master's degree in dance from UCLA. She currently teaches yoga and tanka at Gardena Japanese Cultural Center. She was born in 1948, East Los Angeles, Boyle Heights, CA. Widely published in international tanka journals and is a poet/columnist for the
Rafu Shimpo
. She has published 3 books of poetry.
Enter the Stream
,
Storyteller
, and
Colorful Lives
. She enjoys traveling the world but likes best to stay home with her family of dogs, cats, husband Hideki, nieces, nephews, and grandchildren.
Onaka Ga Suita
It's the trail of smoke floating in the icy wind that lures her. Her shivering feet chatter across the wooden deck but it's the smoke filled aroma of onions, green peppers and slices of sweet fish roasting on his riverboat that stops her in mid stride. Through the flickering flames she sees him browned from the sun. Her stomach growls and her mouth waters.
She raises a red lantern to her face for him to see. She knows her smile is sweet. Billions of stars dot a blackened sky. She sends her message in the wind.
anchor your boat
next to me
green tea leaves in my pocket.
* This poem is copyrighted by Genie Nakano (2011)

Fragrant Memories
Whenever I think of exquisite gourmet cooking I always think of my mother, Misako Shintani. Mom, learned cooking from her mother and went on to teach the culinary arts. Misako was charismatic, filled with fiery energy and unpredictable. Her classes were sensational, spontaneous theatrical performances.
Her unpredictable nature attracted her to a Jewish Russian American man 13 years her junior. He claimed he was a poet. She ran off with this man, leaving dad and me to fend for ourselves. I was twelve years old. After she left, her life as a star chef began.
With her flair for dramatics and knowledge of cuisine, Mom made a name for herself and was constantly in demand. I remember her touring a group of wanna be galloping gourmet cooks through China and Japan, listening to her on radio, and her stories of cooking for actor Pat Morita and other celebrities.
Perfectly at ease in front of the camera, she was made for the stage. She regretted being born in the wrong time when Japanese American women had few opportunities for stage, cinema and TV.
Mom never went shopping at just one market for her ingredients. She would go to a Hollywood Ranch Market for fruit, an Italian market for olive oil, wine, saffron, a Japanese market for the fish, rice, ginger and Asian veggies. Shopping for ingredients was a day long ethnic tour of the city.
She loved watching cooking shows and reading recipe books, but when it came to actual cooking, recipes were mere guidelines. The real deal was done by taste, smell, sight, and touch.
Her dream was to write a cookbook honoring her mother and their Japanese heritage.
I still have her unfinished cookbook filed away. I get sad when I read through it. And regret there wasn't enough time spent together, but that was not our fate.
Almost every time I open up my spice and herb pantry, I think of Mom. Her paella with saffron and "sausages" she smuggled in from Spain, the fragrant ways she seasoned her spring lamb, and the flaky melt in your mouth crust of her lemon pies were out of this world.
Whether we like it or not we always have our parents with us; and I've acquired her habit of going to a host of markets… Saigon Market for lemongrass, turmeric, and basmati rice, Halal Markets for dates on the vine, pita bread, and fresh Feta cheese, Indian Sweets and Spices markets for spices ad infinitum. And finally Marukai market for everything Japanese.
Forty years after she divorced dad, she called me. It was winter and pouring rain. Dad had just died three months ago and she was sobbing uncontrollably. She wanted to leave the Jewish man and come live with me.
"Did Dad ever talk about me, did he miss me… did he love me". She said she always regretted leaving dad but couldn't come back. I didn't know how to answer, you see…Dad had very few kind words to say about Mom. Whenever he was really mad at me he'd yell… "You're just like your mother". So I, I stuttered and stammered and then trying my best I said to mom…"He always loved your cooking".
The following week Mom's simple annual physical checkup turned into emergency open heart surgery. Minutes before the operation, we were holding hands talking of her recovery, "I'm going to take good care of you Mom, just like I did Dad". She gave a knowing nod. She knew what I meant. But she never woke up. She died on the operating table. No one, not even mom knew her heart was weak.
Shortly after mom's death, I found dad's journals of long ago. In it were pages and pages of dad professing deep love and need for mom. He wanted to tell her but just couldn't. Now I couldn't stop crying.
In our hallway, on a tall black dresser, are mom and dad last driver's license, together they look out of a silver frame. My friend Mary laughs whenever she sees this.
Whether they like it or not, their journey was together.
* This poem is copyrighted by Genie Nakano (2015)
* * * * *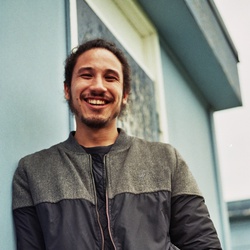 Shō Tanaka is a Yonsei writer and wanderer. His grandmother's family (⼭城) immigrated to the Los Angeles area from Taminato, a village in the Yanbaru rainforest in northern Okinawa. His grandfather's family (⽥中) emigrated from Buzen Shoe, Fukuoka to Tlingit territory settling in Juneau, Alaska. He believes that through sharing food and story we can work to heal legacies of violence that have accumulated within our collective body, mind, and spirit. Currently Shō resides on Lekwungen and W̱SÁNEĆ Territory (Victoria, British Columbia) but his ancestral homeland lies somewhere in the depths of amerikkka.
kinpira gobo
1) they began as roots
covered in dirt, broken
from the barren tree
of original memory
growing strong and long
into walking sticks for the oldest oji-chans and oba-chans
they arrive suffocating in plastic
can we please breathe
they say, so i undress them
from the straightjacket
that binds them
i lift them towards the heavens
it is best to respect one's wishes
as you prepare for their death
2) i grasp the roots and skin them alive
their memory surges through my veins
as they are exposed naked white
their brown skin disappears beneath
the blade. under my breath
i say a silent prayer
once they are stripped of
their protection, vulnerable
and open i find the sharpest
knife begin to wreak havoc
on their bodies
i won't stop until they
are shattered into hundreds
of slivers, each matchstick
its own intention to nourish
us better, this destruction
is difficult and beautiful
3) the seaweed has been soaking
for several hours, turning the
tap water into ocean the lightest
shade of green conjuring a walk
at low tide across a
desolate coastline
4) spirit separates from body,
as they hit the pan
departing upwards
a thousand small beings
no longer earth bound
once seared, their outsides numb
i bathe them in seawater
to soften the burns
that cover their naked skin
their essence circling
ten thousand tiny lights
illuminating the kitchen
guiding the oji-chans and
oba-chans home
5) as time passes and the
fire burns, their hardness
softens, i dress them
for their death
five splashes of shoyu
two splashes of sake and
a handful brown sugar
their skin darkens holding
the sweet and salty sweat
of lifetimes of labor
reaching downward
into dirt
they sacrifice their
strength for a time when
my body fades and decides
it is no longer willing to
hold me upright
* This poem is copyrighted by Shō Tanaka