Early Japanese immigrants rest in untended graves atop Queen Anne Hill in Mt. Pleasant Cemetery. Last December 24, two Buddhist priests from the Koya-san Shingon sect visited the graves from the Bay Area in California to hold a memorial service. Consul General Yoichiro Yamada, Sushi Chef Shiro Kashiba and others rounded out a group of about 10 people who attended the service.
"For some reason, I felt a sense of mission when I heard about these early Japanese immigrants who ended their lives across the waters in the US and are in untended graves," said Emi Ejiri, who goes by the Buddhist name Kan'Ei and held the memorial service. Ejiri, who integrates corporate marketing across the Asia Pacific region for Oracle in Silicon Valley, went through training at Koya-san seven years ago and earned a Buddhist name in order to hold memorial services for people in untended graves. She was accompanied on this memorial service by Koraku Mikami. At Eimei University in Silicon Valley, the pair explain the teachings of Kobo Daishi Kukai to local businesspeople.
The person who invited Ejiri and Mikami to Mt. Pleasant Cemetery was Seattle-based landscape architect Koichi Kobayashi, featured in The North American Post last year as the man behind the Friends of Seko Garden campaign. Kobayashi found the graves on one of his strolls from his nearby home. After looking into it, he found that 28 Japanese people were laid to rest here between 1884 and 1911. A friend told him about Ejiri, so he called her and asked her to visit the cemetery. Ejiri had the experience of being project coordinator for renowned Japanophile Oracle co-founder when he decided to replicate the gardens of Katsura Imperial Villa in Kyoto in his own garden. "There's so many twists of fate here, it's interesting," said Kobayashi. He's hopeful that the networks of Ejiri and Mikami could help him in his efforts to save the Bellevue garden on private property owned by Joan Seko.
For this memorial service, 22 of the 28 people died in a March 1910 avalanche accident involving a train in Wellington, a town in the Cascade mountain range. The Great Northern Railway train, which traveled between Leavenworth and Seattle, had been stuck in Wellington for six days due to heavy snowfall. Then the avalanche swallowed it up, killing 96 people and making it the worst avalanche disaster in North America at the time. More than half of the victims worked for the railway, including many of the Issei, who were thought to have been working away from home at the time. A monument was erected for the 22 Issei in March 1930, and the memorial service was held in front of that monument. The monument, put up 20 years after the accident, was probably built by volunteers from the Nikkei community.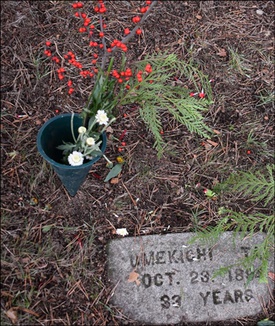 Apart from the 22 avalanche victims honored by the monument, another six graves thought to be for Issei were found. Those were also included in the memorial. Among those was a gravestone for Umekichi Tai, said to have died at age 33 in 1884. That would make him an Edo Era person born in 1851. Kobayashi speculates that he wasn't an immigrant but someone on a ship that got lost and ended up in the US. "There's a high probability he was lost at sea," Kobayashi said.
The Christmas Eve memorial service was held in the biting cold as snow fell on Seattle. Those in attendance listened to the two priests as they honored the Issei immigrants and those lost at sea, people who dealt with difficult destinies in life and death.


Victims of the Wellington avalanche inscribed on the monument:
1909 T. Hirano, K. Murakami, U. Takaoka, S. Miyasaki, T. Niguma,
K. Kashida, U. Yamashita, T. Tokio, I. Kawabata, K. Narita, H. Horimoto, F. Murakami, T. Saida, T. Maeda, G. Osona, Y. Watanabe, T. Miura, S. Sakai, U. Kawahara, S. Tsunoda, C. Mizuguchi, K. Takeya
Names written on gravestones that Kobayashi believes are Issei:
1911 H. Hashizaki, 1907 M. Endo, 1905 M.S. Takada, 1903 Chosuke Fukamoto, 1884 Umekichi Tai, 1893 Kinzo Sahai
*This article was originally published by The North American Post on February 8, 2018.