How did you become an educator?
After graduating from high school, I spent the first year of a five-year Chartered Accountancy program working in a CA firm. After one year, I decided this was not for me even though I excelled in mathematics. My girlfriend at that time was going to enroll at London Normal School (later known as Teachers' College) so she said why don't I join her? Tuition was free because there was such an acute shortage of teachers. I decided to give it a try and I rather enjoyed my experience at Normal School.
Upon graduation, I ended up teaching in Sioux Lookout in northwestern ON. After one year in Sioux Lookout, I went to Winnipeg and enrolled as a student at United College (now University of Winnipeg). I ran out of money so I worked as an untrained social worker and youth worker in North Winnipeg and was there for four years as a full-time and part-time worker. In the meantime, I managed to obtain a teaching job in a junior high school in Transcona which was a suburb of Winnipeg and I was there for four years.
I moved to Pinawa which was a brand new atomic energy community that was developed along Winnipeg River as the Atomic Energy establishment went up in the Whiteshell. I taught there for four years at the junior and senior high levels.
In the fall of 1968, I accepted an administrative position in Kelsey School division, The Pas, Manitoba and for the rest of my career in education, I served as an administrator (school principal for the elementary and senior high school), language consultant, Field Officer with Manitoba Department of Education. After Pinawa and The Pas, I served in Renfrew Board of Education (eastern Ontario), Yorkton, Saskatchewan and ended my education career as principal of a French Immersion High School in Brandon, Manitoba.
Can you talk a bit about your path to the church and the intersections with the education system? You've had a remarkable career.
Following 34 years in the education field, I retired in 1993 and entered the ministry. I was appointed pastor of Southern Alberta Japanese United Church in Lethbridge and was there for 13 years. I spent one year on a special assignment at The United Church of Canada Head Office in Toronto and then returned to Alberta where I spent another five years in pastoral ministry. I retired from church work on June 30, 2012 and have been covering various places when ministers were away on study leave or vacation, etc.
Can you talk a bit about the "Internment Tour to the West Kootenays" that you conduct in June? Why were they started?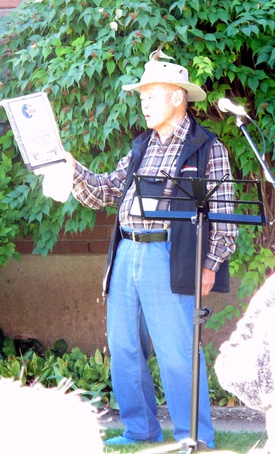 In the fall of 2009, the board of The Nikkei Cultural Society of Lethbridge and Area was holding a special meeting to think about what it might do and have to offer to the Nikkei and non-Nikkei community. I was—and continue to be—a member of the board and I had made a suggestion that we might initiate a "Internment Tour to the West Kootenays," formerly known as "Ghost Town Tour" for the purpose of educating people what internment was all about during WW2. Many of the Nikkeis in southern Alberta were not all that familiar with internment camps as many of them had been born in Alberta before, during, and after the war years in Alberta or many Nikkeis were moved directly east of The Rockies from the west coast at the outbreak of war.
The Board members thought that was a good idea but who would organize it, who would lease it, etc., etc.? I offered to organize it and take the people on the tour. We decided the tour would take place in June of the following year (2010).
We advertised in the Nikkei Voice newspaper (Toronto) and in the local newspaper and, of course, by word of mouth. The interesting thing was half of the tour participants (47) on that tour were 'hakujins' from Lethbridge and Coaldale. To make a long story short, this became an annual event and we had participants from Toronto, Hamilton, Kingston, and Thunder Bay. As well, we attracted people from other parts of Alberta.
Are there any anecdotes that you care to share here? Are you having another one this year?
One memorable event: on one of the tours (I think it was in 2013), we had a 'Tom' who was born in Popoff during the war and after the war, the parents had returned to Japan. The young fellow grew up in Japan and was educated there and found work upon graduation from a Japanese university in Japan. He had the opportunity to come to Canada and take part in the tour, thanks to a Japanese minister/friend who happened to be assigned to a church in Vancouver and had invited him to come and take part in the tour. My goodness, I had never seen a grown man cry as much as he did. Something struck him emotionally and he had many memories (even though he was only a wee child when he left Popoff) which triggered his heart and soul and mind.
Another incident: on one of my tours, we had stopped in Lemon Creek to look at a signage that was placed there circa 2014. There was a 'Tom' from Toronto and a 'Tom' from Pinawa, MB who were looking at the signage. To make a long story short, they discovered they had lived across from each other and they had been playmates as well as school mates while living in New Denver. Memories are a wonderful thing as they recalled one incident after another, they realized how close their friendship was during the war years. Of course, today they are in constant communication with each other thanks to computers.
One more story to tell: we had a 'June' from Guelph on a tour and while in Kaslo, they had heard stories about the late Aya Higashi. She had an old photograph of a school class picture during the war years. Two things happened… the teacher in the photo was none other than Aya Higashi and one of our tour participants was the girl sitting next to June in the picture. Needless to say, there were much tears of happiness shed among the three ladies.
We will be having a tour in June—from June 21 to 24 inclusive—in 2018. I will be using a van instead of a bus and depending on how many people are interested, I will do as many four-day tours as possible in June and in September.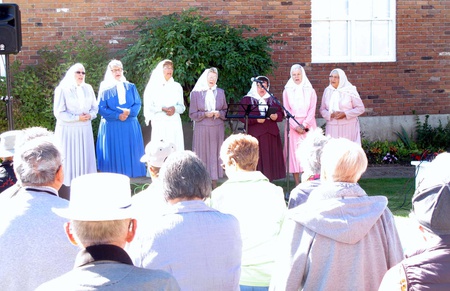 How are you involved in the JC community these days? What is the state of the JC community there?
I am a Board Member—vice-president—of The Nikkei Cultural Society of Lethbridge and Area.
It is very difficult to get Nikkeis together on a regular basis. Some reasons being (my take on it), there is a strong Buddhist Church here and many activities are held in BTSO (Buddhist Temple of Southern Alberta). Many Nikkeis, especially the younger ones, are fully integrated into the wider society and so the need for a Nikkei organization is not there. Nikkeis will come to special events e.g., New Year's Party, summer activities at Nikka Yuko Japanese Gardens, but on the whole, there's not much need for Nikkei activities.
What is the value of having a 'Japanese Canadian' community today? As an educator, are we doing enough to make sure that our stories are not forgotten?
I believe there is a very strong need for younger Nikkeis to know what their roots are. Other ethnic groups, Chinese, Scottish, German, Italian do a lot to ensure their young ones do not forget from where they have come from, for example, Chinese language schools, Highland dancing.
We need to continually tell our stories. The younger Nikkeis need to interview older Nikkeis and record their stories as well as learn from them.
What can we do more of?
I think we need more of what Toronto and Vancouver did a few years ago when they held one- or two-day conferences where the elders shared their stories of the past.
As the Issei have largely passed on, what can you tell younger generations about what they were like and their legacy here in Canada?
One thing I admire about the now deceased Isseis. I remember how much they emphasized the importance of education to the young. I remember many families where fathers and mothers worked hard and the monies they earned went to support their children and their educational costs. They did not work so that they could enjoy luxuries… they worked hard to ensure their children were well educated. The Isseis were not materialistic like people are today. They often went without.
Also, how do you want your own generation to be remembered by future generations?
My children know that I work hard. I do not believe in slacking off. If work had to be done, they were done to completion; that is what my children and their friends learned from me.
What life lessons did your parents pass on to you?
My father believed in being loyal to friends. He taught me not to take advantage of people or to make use of them to better myself. I was to treat them as I would want others to treat me. My dad was very adamant about this: do not take advantage of people be they your friends or not.
Any final words?
Among all the Asian groups, the Nikkeis have the highest rate of intermarriage in our country. That says something. We are humans, we are people where colour, ethnicity, et al do not matter.
*For more about the BC Internment Camp Tours, contact George Takashima by phone at 403-328-0156 or email: geotak@shaw.ca or gp1344@shaw.ca