With May being Asian Heritage Month, I am wondering how our Nikkei voices will in fact be heard?
As a dedicated CBC (Canadian Broadcasting Corporation) radio listener and teacher who takes pride in celebrating all of the cultures that make up Canada's highly celebrated multicultural society, I am curious somewhat about how our Asian stories of how we helped to build this country are going to be heard? Admittedly, there is a long lineup of marginalized voices who historically have been ignored by the mass media.
So, hey, CBC (and other media outlets), give us Asian Canadians our fair share of air time not only in May but all year around. Do we need a trending hashtag to get any respect/attention these days e.g., what about "#weAsians2?";-)
Let's hear about the incredible life experiences of great Japanese Canadians like Reverend George Takashima, 83, who have helped build Canada too. They should be honoured as the generation that never lost hope in what Canada could become even at the very worst of times.
* * * * *
As your generation ages, what are the lessons of history that are important for the Nisei to pass on? Can they do more? If so, what?
To persevere and to endure hardships under extremely trying circumstances; to work towards righting the wrongs and misunderstandings of the major population through educating the public; the need for Niseis and older Sanseis to tell continually our stories of the past.
Can you please go into some detail about your own family history about where the Takashimas are from in Japan? When did your family immigrate to Canada?
My paternal grandparents had come to Canada in the mid-1890s and settled in Vancouver. When my paternal grandmother passed away, the grandfather took the family back to Japan to his home on Amakusajima in Kumamoto Prefecture.
My father, Yoshichika, returned to Vancouver in the late 1920s and established his business as a Registered Masseur. He was recognized as a physiotherapist in the Provinces of British Columbia and Ontario but in his day, there were no private practices for physiotherapists; thus he was a "Registered Masseur" and he practiced giving his patients "shock" treatments (Dr. Noishiki Electric Steam Massage). He was also the Canadian agent for the Japanese firm of "Dr. Noishiki Electric Machines."
Where you were living in BC before WW2? What are your earliest memories about life in BC?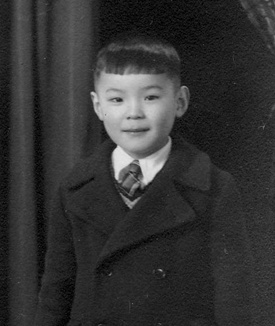 Before WW2, we lived in Vancouver but we also lived in Toronto from 1937 until early 1941 and then returned to Vancouver. We first lived on Bathurst Street, south of Eglinton then moved to 101 Danforth Avenue where we lived upstairs. Dad had his 'office' downstairs.
Life in Vancouver (we lived on 5th Avenue East just one block west of Main Street and on the eastern fringe of Fairview District where many Japanese people lived) was very interesting. My parents had Japanese friends in the Fairview District but I never got to know their children. I did not have any hakujin friends so I spent most of my time in Vancouver and in Toronto. I learned to play by myself and I led a very interesting life as a youngster. I was a roamer and I enjoyed discovering new things and new places. In Vancouver I spent a lot of time at the public library which was located on the southwest corner of Hastings and Main. I used to walk to the library from my home and walk back home. I was only three years old at the time but old enough to know my way around.
In Toronto, I spent a lot of time at the zoo which was located walking distance from my home and also spent time at the library. I was also smart enough to hop on the street car and go downtown into the heart of the city and spend time at the large department stores in the toy sections. Very fascinating place to a youngster!!!
What kind of people were your parents?
My parents were typical Japanese. They never played with me per se so I was left on my own to fend for myself. They were Christians so going to church and Sunday School every Sunday was very important. In Vancouver, I attended Powell Street United Church and I also attended kindergarten there. I still have the original K- graduation certificate.
My father spoke English so I spoke English. My mother, Kikuyo (nee Horimoto) did not speak English but she understood me. I did speak some Japanese at home especially to my mother.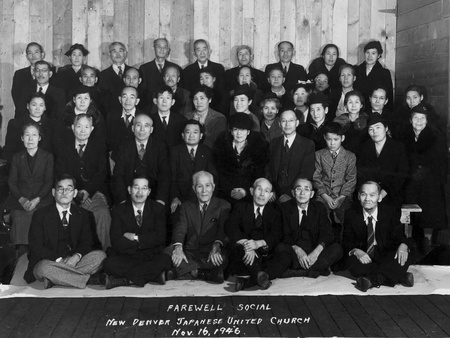 What kind of lessons did they instill into you?
My parents had their set of friends and every Sunday in Vancouver, after church, a group of friends (sometimes as many as 30 people) would gather in a Chinese restaurant for lunch and visit for several hours. This was a boring time for me because aside from having lunch, I had nothing to do. My friends' children were all much older than I so they were hardly ever at lunch with their parents after church.
How 'Japanese' was your upbringing?
During the war years, we were in New Denver for over 4 years so naturally my friends were Japanese. I don't think I was too Japanese in my upbringing. I had a variety of friends so…
I have lost my ability to read and write Japanese. I speak a little bit of Japanese but not much.
Where were you living at the time of internment?
During the internment years, I lived in New Denver from the summer of 1942 until November 1946 when we left New Denver and moved to Fingal, Ontario and on to London, Ontario.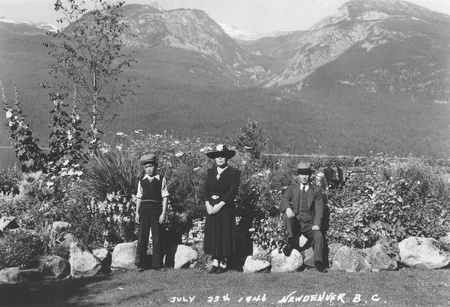 What do you recall about how your parents reacted to the government's decision to take away your property and put you into an "internment camp"?
My parents never really talked about the whole issue of internment and the manner in which the government treated the Japanese people. He had that attitude of "shikataganai" and had a tremendous amount of hope that this will end soon and there will be better days ahead. The idea of moving east after the war was not a problem with us because we had lived in Toronto before WW2.
What did your family lose?
As far as I know, we did not lose much because we did not own our home nor did we have such things as an automobile.
What do you remember about living in pre-WW2 Toronto?
Life in pre-war Toronto was no different than living in Vancouver although we had more amenities. Of course, we lived on a busy street and very much a business district. But I had access to the Toronto Zoo which was located just south-west of Parliament and Danforth, so I spend a lot of time there. I did not have many friends, just a couple of kids older than me.
As an academic, do you take issue with the politically padded language of the day like "internment camp"?
Not really. Those words did not, and still do not, bother me nor do I find these words offensive. The situation was just the way it was at that time.
Today, what do your conversations about internment sound like with your family around the dinner table?
It was "many moons ago" when I took my children Cheryl Lynne, Arlene Joyce, Raymond George to New Denver, Kaslo, the Slocan Valley and I told my story. There was no reaction on their part other than show interest in what I had to say. My wife, Peggy Anne (nee Fry), who is hakujin knows my many stories and she has learned a great deal by reading and listening to other Nikkeis talk about their experiences during the war years.
How much of a part of your own kids upbringing were "internment" stories and your experience as Japanese Canadians?
They have heard my stories but we don't talk about my experiences as much. They read about WW2 internment experiences, they have taken my Internment Camp bus tours, and they hear stories from their Nikkei friends from time to time.
How do your children and grandchildren self identify themselves culturally?
My children and grandchildren do not identify themselves as Nikkeis but they know that they are "hapas" which does not bother them. Mixed marriages are common to them. Many of their friends are from mixed marriages.
What do you remember about when you heard that you were able to move out of the camps? What was your parents reaction?
My parents were looking forward to moving to southern Ontario after the war years. As I mentioned earlier, we had lived in Toronto before WW2 so this was not a "strange" or "frightening" experience. To the best of my knowledge, there were no fears… only excitement.
What was the family's path after that? Where did you settle?
We went to Fingal from New Denver. Fingal was a former RCAF training centre and it was currently used as a "holding tank" for the Nikkeis while the fathers moved about in southern/south-western Ontario to see where jobs were available and the best place to settle. I know many of my "friends" in Fingal ended up in places like Leamington, Chatham, and the Niagara peninsula.
We moved to London where my father established his practice. I went to Lord Roberts and Aberdeen Public Schools and spent five years (Grade 9 to 13) at London Central Collegiate Institute (LCCI).
What kind of adjustments did you and your family have to make? Where did you go to school? Did you chum around with other Nisei?
There were just over a 150 Nikkeis living in London. The Suzukis were well known as the seven Suzuki brothers. They had a construction business. Dr. David Suzuki (CBC TV series host of "The Nature of Things" and environmentalist) was the son of Carr Suzuki and he, too, went to LCCI.
The first year or two in school was a bit uncomfortable because I had no friends at the time but it did not take long for me to adjust and get involved in various school activities. I made a number of hakujin friends. I also had a hakujin girlfriend whose parents accepted me unconditionally. I had a part-time job at a well-known bookstore (Wendell Holmes Bookstore) while I was in high school.
Were you connected to a Nikkei community back then? What kind of events did you typically gather at?
The Nikkei young people got together a couple of times a year for social activities but for the most part, we were on our own with our own circle of hakujin friends. I did not have any close friends among the Nikkeis. For one thing, I was the only child of the Takashima family whereas the other Nikkeis had siblings. I spent five years in one of Canada's oldest army cadet corps (No. 9 Royal Canadian Army Cadet Corps) and rose to the rank of Cadet Major, Second-in-command. I was also in the army reserves in London.