This month I thought we'd have a little fun with short form and featuring two creative community members who are dear to the Japanese American and Little Tokyo communities. Sunny Seki (a.k.a. Sankyaku Seki) has taught senryu (a short form similar to haiku but with a focus on the human condition over a focus on seasons and nature) and curated and edited a wonderful collection of 100 years of Japanese American gardeners' stories through senryu. Fran Ito, who shares a handful of haiku here, is an avid senior filmmaker with the Digital Histories program through Visual Communications. Enjoy!
—traci kato-kiriyama
* * * * *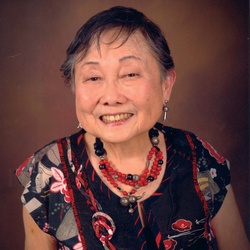 Fran Ito is a third generation Chinese American from the Island of Oahu. Graduated from McKinley High School. She majored in Business and studied Art in college. She currently makes her home in Los Angeles. She was employed with the Los Angeles County for almost 30 years. After retiring from the County she went to work for a prominent non-profit charitable organization for 23 years as their Office Manager. To make a difference she has volunteered at the Japanese American National Museum, East West Players, Audubon Center at Debs Park, Los Angeles Conservancy, etc.
Fran enjoys edible gardening, hiking, camping, snow skiing, and attending concerts. She loves to travel and has visited many countries. She is now involved in creating short films.


On the Road
Freeway like lightning
I see red lights heading north
Morning sun kiss the hills


Landscape
Fruit trees now vineyards
I drink Merlot in beer mugs
Sweet smell of cattle


Origami Encounter
One piece star patterns
White dress with matching shoes
Wonder if it fits?


Water Flowihg South
Owens Aqueduct
Wildflowers wave their hello
My thirst will be quenched
* These poems were copyrighted by Fran Ito (2018)
* * * * *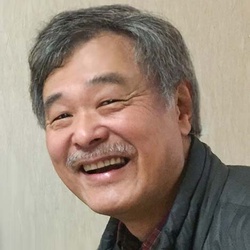 Sunny Seki (a.k.a. Sankyaku Seki) is a teacher of senryu and has published two compiled works: Gardeners' Pioneer Story and Hokubei Senryu Michi Shirube. He is also the author/illustrator of four award-winning Japanese children's folktales: The Last Kappa of Old Japan, The Tale of the Lucky Cat, Yuko-chan and the Daruma Doll, and The Little Kokeshi Doll from Fukushima.
Born in Tokyo in 1947, he earned a BA in photography, and studied illustration at Pasadena Art Center. For the next 30 years he and his wife Judy operated Sunny Seki Photography. Today he presents his books at schools and community events.


We Shin-Issei ride a free train
on the railway paved
by the Issei


Americans see Ichiro as a Ninja


Edamame vines
travel the world
to create friendly connections


Having successfully transplanted cherry blossom trees
the American Issei
peacefully fade away

International flags eagerly await the day
when the umbrella of the atomic bomb
scare will disappear forever.
* These poems were copyrighted by Sankyaku Seki (2018).