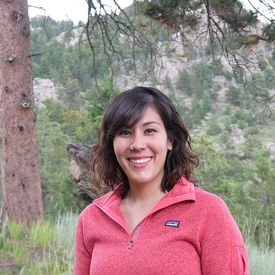 Meghan Tokunaga-Scanlon is an energetic and passionate music educator, who leads music, theatre, and dance programming at Eagle Rock School and Professional Development Center in Estes Park, Colorado. Meg is a Colorado native and has extensive experience as a singer and dancer, having begun studies and performance as a very young child. The first installment of our interview focuses upon Meg's training and college experience, which may be particularly interesting to college-bound students and their parents.

Earlier this year, Meg and her students performed what I believe to be one of the first and only student productions of Allegiance, a musical about the Japanese-American Internment experience. In Part 2, the interview will include more specific information on Meg's teaching, work at Eagle Rock and their recent production of Allegiance.

MOG: I know that you are Colorado native. Where are you from?

MTS: I was born in Aurora and lived there only for a little bit with my mom and then we moved to Greeley and I was there for most of my upbringing.

MOG: Discuss your start in the arts?

MTS: I was in tap, jazz, and ballet since I was about two years old and was in dance until I was about 17 or 18, every week and did pointe and hip-hop and a bunch of other different styles.

I grew up listening to music, I was always singing, I was always in school choirs and when I was in 5th grade I auditioned for the Greeley Children's Choral. While I was singing in that choir outside of school, I was in the band in middle school. My aunt actually played clarinet and I was very intrigued with it because I saw the movie "Mr. Holland's Opus" when I was a little kid and I just remember the scene where the girl's playing clarinet. As soon as I found out my aunt had a real clarinet, I made my mom take me to the music store and we bought some reeds and I had no idea how to play this instrument.

I didn't audition for my first theatre production until high school. I was a pretty shy, quiet student and—while I enjoyed music and I auditioned for solos when I was in school—it was a really scary thing for me…it was a really vulnerable, personal thing. So even auditioning for theatre in high school was really scary at first and I wasn't even going to do music in high school…. Through a bunch of people I started making friends with who were all in theatre and forensic and music, and I just started freshman year and it became what I did all the time.

MOG: What drew you to pursue a career in music education?
MTS: It all started my senior year of high school. Like a lot of my students at Eagle Rock, I had no idea what I wanted to do … I had thought about being a lawyer for a long time, I had thought about being a veterinarian because I liked animals, but then that was quickly subdued because I was grossed out by blood and I didn't want to put animals to sleep.
We got a new choir director and he actually had people vote for section leaders—so I first started trying out teaching when I was a senior in high school, where I was the Soprano I—the highest voices—section leader; I would call extra rehearsals and run rehearsals in class when we split into sections. And I just found that I really loved working with people and I loved getting to help them be successful and feel good about what they were doing. So by the end of my senior year, [I knew] I wanted to go into teaching.
MOG: What was your college experience like?
MTS: So I went to Colorado State, that wasn't a great experience in terms of—I don't feel like I grew a lot as a musician and as an educator in that year—but I feel like I learned a lot about myself and what I wanted to do, the kind of person I wanted to be, the kind of educator I wanted to be.
When I moved to Chicago, I kind of had to start over [at VanderCook College of Music.] It is the only private music education school in the country where their only major is music education, so everyone who attends VanderCook can be a music educator. That program is super-intensive—typically, a traditional music education degree takes about 5 or 6 years, because you're in the music school and you're in the education school—and VanderCook is everything all in one.

So that is exactly what I was looking for…very intensive. You learn all of the instruments—all woodwinds, brass, string—and then you have to play in an ensemble.… Everyone in the school is a part of the orchestra, everyone is a part of the band and everyone is a part of the choir and so, a lot of those experiences helped me and, I think most remember what its like to be a beginning student. I'd never played violin when I was younger, so learning how to play that and then having to play in an ensemble was terrifying, but I think also gave me a lot of tools on how to learn and how to remember that uncomfortability and to also learn how to explore and try new things.
* This article was originally published in the Japanese American Resource Center of Colorado's newsletter in June 2018.