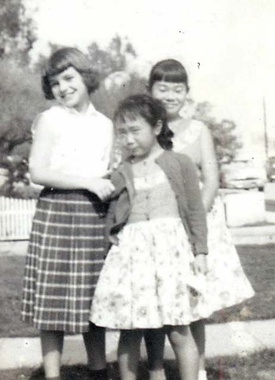 Almost 60 years ago, a promise was made by a girl who was ten years old. I was that little girl and remembered that day very clearly. My best friend, Leslie, came over to play and told me a secret. She said that the man I called "Pop" was not my biological father. I felt hurt and anger towards my mom because I heard it first from a friend. Now, I understood why I had emotions of not belonging, being unhappy, and always feeling lonely. I wanted to know why Mom did not talk about my father. Was he bad, did he hurt or abandon us? With these unanswered questions, I made a promise to find out who my father was.
Listening to Mom's story about Dad, I wondered if bad things only happened to bad people or do they happen to good people too. My dad, Yoneto Nakata, was born in Sanger, California while his parents, Suetaro Nakata and Rie Dehari, were from Hiroshima, Japan. Both his parents died at a young age leaving him an only child. Dad was a World War II veteran of the U.S. Army and volunteered for the MIS (Military Intelligence Service) which was a top-secret unit of the Japanese American soldiers fluent in the Japanese language. After WWII, he became a civilian interpreter for General Douglas MacArthur's government in Japan where he met and married my mother, Yaeko Niikura. I was born in Asakusa on New Year's Day of 1948. My parents left in March, 1948 for America in search of a new and better life while I stayed with my grandparents.
Soon news arrived in Japan that my father had passed away. He was 29, my mom became a widow at 21 and I was six months old still living in Japan. After a military funeral at Evergreen Memorial Park in Los Angeles, California, Mom shipped Dad's ashes to Hiroshima. She believed in the old Japanese custom that the only son should be returned to his parents. After two years, my mom returned to Japan for me. Leaving my grandparents behind, I felt abandoned and alone in a new country, America, with its strange culture and language. Soon, I adopted America as my own country. I graduated from high school and college, taught elementary school, married my husband, John Sunada, and became a loving mother to my two sons, James and David. Yet, I still missed my dad.
Fortunately, my mom had kept all my father's military documents, his passports, a red photo album with missing pictures, an old address book, a black Japanese/English dictionary, and his large American flag. This precious American flag with its 48 stars was given to my mom upon his death and later to me. My husband, John, provided enormous help and support in the search for my father. I had Dad's name inscribed on the "Go for Broke" monument in "Little Tokyo", Los Angeles, California. I joined many activities at "Go for Broke" Educational Center and JANM (Japanese American National Museum). I was invited to the "Congressional Gold Medal Ceremony" in Washington D.C. where I accepted a replica of the medal on behalf of my late father. I hoped to meet some WWII veterans who remembered my dad. However, most of the veterans and his friends were no longer alive. Instead, I wrote articles and stories about Dad for the Rafu Shimpo, JANM, and Discover Nikkei. These stories kept his memories alive for me. When my husband and I attended the Nikkei Genealogy class at JANM in Los Angeles, they were helpful in locating my father's relatives in America. Unfortunately, all of them had passed on. I needed to go back and trace his ancestors in Hiroshima to find any living relatives. My next journey would be Japan.
John emailed his cousin, Masahiro Sunada, for a family visit and help in searching for my dad in Hiroshima, Japan. I wanted to receive my father's Koseki (family tree) and to find the locations of my father's Ohaka (grave) in the Renkoji Temple and his only living cousin, Sayoko Dehari. These locations were found from my mom's old address book after her death. I became excited when Masahiro found both Dad's Ohaka and Sayoko. Then things went terribly wrong. The Renkoji Temple received permission to remove the ashes of my father and his parents from the Ohaka and place them into a potter's field because no one has visited them for 50 years. My heart was broken with worry that I would not be there in time. Masahiro talked with Priest Matsukage at the temple and was granted a delay. I needed to prove my lineage from my father and to my grandparents, but I had no records of my grandparents in America. Masahiro was able to obtain the Kanji names of my grandparents, their birth and death dates from their headstone at the temple. Priest Matsukage wanted to know my wishes on what to do with the ashes in the Ohaka. Do I keep the family's ashes together in the Ohaka or bring Dad home to America and leave his parents in Japan? This decision was too important for me to make alone. I asked Reverend Wondra from OCBC (Orange County Buddhist Church) for help in making my decision and in writing a letter of introduction to Priest Matsukage with my final wishes for the Ohaka.
After arriving in Japan, I was welcomed by my husband's relatives and treated as a guest. I was able to receive both the Nakata and the Dehari Kosekis because my birth was recorded in the Japanese registry by my father before he and my mom left for America. Now, I had access to both Kosekis. I was thrilled to meet my fathers' cousin, Sayoko Dehari, who was 90 years old, alert, coherent and also a Hiroshima survivor. She talked kindly about my father who was her favorite cousin, but I was saddened to hear that I was the last living member of the Nakata family. Later on, I presented my letter to Priest Matsukage with my wishes to keep the ashes of my grandparents together and to take home my father's ashes to America. I was pleased that Sayoko was happy with my decision. We had a beautiful Memorial Service at the Renkoji Temple in Hiroshima for my grandparents and Dad before we left for America. My heart was filled with gratitude, joy, and sorrow. I reburied Dad at Rose Hills Memorial Park in Whittier, California where two plots were purchased 12 years before my Japan trip. The first plot in cenotaph (without ashes) was for my grandmother, Kichi Niikura, who took care of me in Japan and for my dad, Yoneto Nakata, whose love will never be forgotten. The second plot is for myself and my husband, John. Knowing my dad was nearby, I felt so much peace and comfort.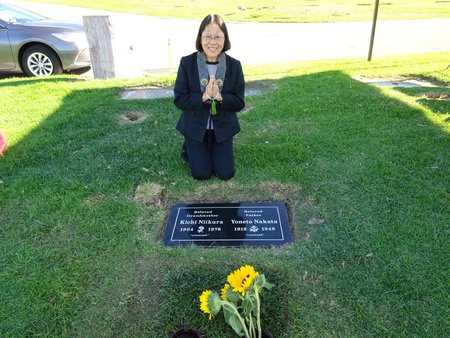 I am an older woman who had fulfilled her promise and found new insight about her father and herself. I learned that my dad was a true American WWII hero who loved his country and family. I truly appreciate my mom for saving all his documents and personal items to be researched. After learning about my dad's tragedies and happy moments in life, I believe that both our lives have crossed paths at some point in time. Dad found happiness after his parent's death, in his new family, being a loving father, and a loyal soldier of the U.S. Army of the MIS. After my father's death, I also found happiness in my teaching, my marriage of 36 years, and my two adult sons. However, my greatest enjoyment and accomplishment was bringing Dad home to America from Japan. I owe so much to Dad for giving us a better life in America, for his strength, perseverance, and compassion which I have inherited. I know Dad is a part of me and I am a part of him. I would not change a thing about my life. Now, our lives have come full circle at last and forever with a happy ending.