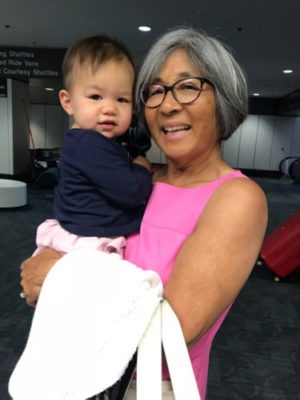 Ann Kiyomura-Hayashi, one of the first Japanese American tennis stars to popularize the sport for women worldwide, is also partly responsible for the mega million dollar prize winnings today's female stars enjoy.
She was asked if she regrets playing before the days of the big money in tennis for women.
"No," Hayashi said. "I thought it (tennis) was fun. I enjoyed traveling around the world and meeting people from all walks of life. I got to do things for myself; I booked my own flights, trained when I decided to and made my own hotel reservations."
Hayashi along with Billie Jean King, Chris Evert, and Rosemary Casals brought women's tennis out its former club-only status to new recognition during a time when the sport made a leap to worldwide attention.
A participant in the Women's Tennis Association (WTA) tour from 1973 to 1984, Hayashi played in 13 U.S. Open tournaments and in 1973 won the Wimbledon Junior Singles title beating Martina Navratilova. In 1975 she won the Wimbledon Women's Doubles title playing alongside Kazuko Sawamatsu of Japan—two Asian women tennis champions, a first in history.
During the 1970's and 80's she played for tennis teams including the Oakland Breakers of the World Team Tennis (WTT), a professional tennis league. She also played for the WTT San Francisco Golden Gaters (1975), the Los Angeles Strings in 1978 (WTT champions), the Hawaii Leis (1974), and the Indiana Loves (1977). In 1976 she teamed with Australian Ray Ruffels of the Indiana Loves to become WTT champion in game winning percentages and mixed doubles.
"Back then World Team Tennis was just beginning," Hayashi said. "It was a wonderful experience."
She started her climb to the top of women's tennis early-on.
"I started when I was only five, I was a pro at 18 and I played for 13 years," Hayashi said. "I won my first major trophy at the age of nine and a Junior National title at the age of 10."
Born in San Mateo, Hayashi is a third generation Japanese American (Sansei) who came from a tennis family. The youngest of four children, her father Harry Kiyomura was a notable tennis amateur and instructor.
Her mother Hisayo for a time at the age of 17 lived in Japan where she achieved a number two ranking in that country.
Players back then were amateurs, there was no professional tennis.
Hayashi's grandparents came from Japan and opened a cleaners' outlet in San Francisco.
During World War II the U.S. Government decided to lock up Japanese Americans into barbed-wire-enclosed concentration camps located in mostly remote areas of the desert Southwest for no reason other than ancestry.
Hayashi's mother and family were sent to the Topaz War Relocation Center in Utah and her father's family to the Heart Mountain Camp in Wyoming.
Later her family members got to leave the camps when they acquired work furloughs and sponsors and moved east.
"My dad joined the 442nd Regimental Combat Team during the war and saw action in Italy," Hayashi recalled. "The day before he was to leave, my parents got married in Utah by a Mormon bishop who was willing to marry them. My mom had worked for him in his office in Salt Lake City."
Composed of Japanese American young men formerly prisoners in the camps, the 442nd went on to become among the most decorated combat units of the American Army.
After the war her parents returned to the Bay Area where Harry Kiyomura became a gardener and worked as a maintenance mechanic for apartment complexes and also at an appliance store.
Both her parents were athletic.
"My mother taught piano lessons at home," Hayashi said. "All four of us kids had to learn how to play the piano and tennis. I took lessons and started playing in tournaments. I had coaches and chaperones who accompanied me to the tournaments."
In the early 1970's Hayashi had gone to Aragon High School in San Mateo, but had not entered college.
"I was doing well I had won the Junior Wimbledon Tournament (England)," she said. "I figured if things didn't work out I could always go to college. I turned pro in August of 1973."
From the moment you take prize money in a tennis tournament you are a professional and stay a pro there is no returning to the amateur ranks. A top prize in those days might be $10,000.
At one point Hayashi was ranked number 15 in the world.
She said in the early days there was not a lot of money to be made in women's professional tennis, not like the millions of today.
"We had a few sponsors back then, for example Virginia Slims (cigarette company), who were willing to take a risk on women's tennis," Hayashi said. "You could make a living but not a whole lot. You had to be at least 18 and today the age requirement according to the rules of the International Federation of Tennis is younger. You can be 14 if you qualify."
Tennis tours used to be composed of mostly American women. Today they include women from countries across the globe including Czechoslovakia, Russia, Germany and others.
Hayashi said the big money to be made today unfortunately convinces some parents their child can become a tennis star and they become unrealistically obsessive.
"Tennis has become big business," she said. "Some parents today see dollar signs and they think my daughter is good enough.
"Today's tennis stars have a team of handlers including a coach, a hitting partner, a masseuse, an agent, a chauffeur and more.
"It's a different atmosphere," Hayashi said.
One of the things she said she is proudest of is helping to popularize the sport in Japan.
"There was a big tennis boom in Japan and today Japanese players go all over the world to play and gain experience," Hayashi said.
Hayashi, 63, has two grown children both of whom were excellent tennis players. Her son John is a lieutenant commander and navigator on a submarine who attended the U.S. Naval Academy. Her daughter Jane is a college recruiter for a company in Palo Alto.
She agrees the sport of tennis has lost some of its innocence from the early days, but has also progressed because of its greater popularity today.
"We all had a lot of fun back then. Today the tour players don't travel and party together like we did," Hayashi said.
She has seen the world because of tennis, playing in the U.K. and Europe, Australia, Japan, Hong Kong and South Africa.
"I was in South Africa at the same tournament where Arthur Ashe became the first black player to visit that country (1973)," Hayashi said.
Ashe broke the color line as the first black tennis player in South Africa, a state that practiced the apartheid segregation of races.
Hayashi's husband David is a retired dentist. She said she rarely plays tennis these days.
"My husband and I like to travel and I walk every day," she said. "I used to go to Japan twice a year. I love Japan. Sometimes I would do endorsements or speak at a tennis event if they want me to."
She said she visits her former champion doubles partner Sawamatsu, who lives just outside Tokyo and owns a tennis club with her husband.
Hayashi used to practice and play 30 hours a week and more. She warned against people who think becoming a champion is easy and who automatically assume their child is the greatest player.
"You don't know where your life is going to take you," she said. "You should experience different activities, do other things, play other sports as well. You should be a good student in school. Some parents want to place all their eggs in one basket by pushing a child into tennis and if the child gets injured or burned out—it's sad."
Hayashi added young people who are determined to proceed in tennis should learn to become students of the game. "You need to train hard," she said.
"You need to get your sleep and conserve your energy. If there's a late-night dance you want to go to and you have a match the next day—the dance won't happen. There are things you have to give up."
Hayashi praised Naomi Osaka, reigning U.S. Open champion in women's singles, the first Grand Slam Singles winner (four major championships) from Japan.
"She has a good, strong, persistent, well-rounded game, and she loves competition," Hayashi said. "I haven't met her but from what I see she seems like a good person and it's nice to see a player like her do well."
*This article was originally published on NikkeiWest.com on December 2, 2018.