In 1974, Yamauchi's life was about to change again as four Asian American writers began putting together an anthology of Asian American prose and drama under the title Aiiieeeee!—a reference to the cries of suicidal Asians in WWII U.S. propaganda films. At Si's behest, Yamauchi submitted some of her stories, and the editors—Frank Chin, Jeffrey Chan, Lawson Inada and Shawn Wong—chose to include one entitled And the Soul Shall Dance.
Soon after the publication of Aiiieeeee!, Yamauchi's own domestic situation fell apart. Her husband of 27 years asked her for a divorce; it had taken a long time for him to decide that she was not the subservient Japanese wife he had always wanted. Too proud to beg him to stay, she granted his request (made over the telephone), feeling, at age 51, a crushing and bitter desolation. Alone at home playing endless rounds of solitaire, she wondered what would become of her, what she would do with the rest of her life.
In what was to be a convergence of events that she never tired of recalling, it was on the very day that her husband moved out that she received a phone call from Makoto Iwamatsu—Mako—the well-known actor and the artistic director of East West Players, an Asian American theater company in Los Angeles.
The Japanese-born Mako had appeared in films (including The Sand Pebbles [1966], The Hawaiians [1970] and Conan the Barbarian [1982]); the original Broadway production of Sondheim's Pacific Overtures (1976); and TV shows like McHale's Navy, M*A*S*H and The Incredible Hulk.
Having read Yamauchi's story in Aiiieeeee!, he told her that he believed it would make a wonderful play. She asked him who would write it, and named two Asian American playwrights of the era, Frank Chin and Momoko Iko, as possible candidates. Mako demurred, insisting that she write it. In response to her protests about never having written a play before, he said he just wanted her to try, assuring her that he didn't care how it turned out, as long as she remained true to the spirit of her beautiful story.
Yamauchi said she would consider it, hung up the phone and, albeit grateful for a possible distraction from the implosion of her marriage, was manifestly uncertain about whether she was up to the task. She was leaning towards resuming art classes and putting all her energy into painting when a foolish accident—falling off a chair and breaking her leg—helped make the decision for her. Having to lie in bed for a month with a cast made the art classes impossible, and so she asked her daughter Joy to bring her books from the library about how to write for the stage.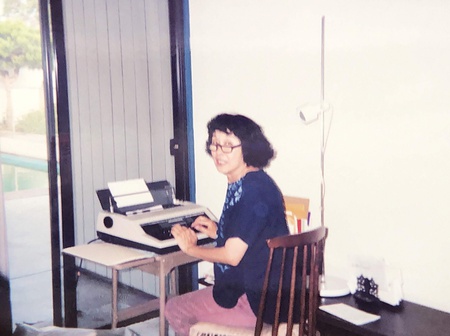 Using her story as an outline, Yamauchi fleshed it out with action and dialogue, and produced a first draft that she submitted to East West. Mako used it to secure her a Rockefeller Playwright-in-Residence grant that, along with his guidance, helped her make it through five more drafts of the play before it was ready for rehearsals.
The semi-autobiographical tale centered on two couples, the Muratas and the Okas, in the Imperial Valley of 1935. The play unfolds through the perspective of 11-year-old Masako, the Muratas' daughter. When the Muratas lose their wooden bathhouse to a fire, Mr. Oka, who lives with his wife Emiko about a mile away, offers them the use of his own. Masako thus becomes a witness to the tragic life of the despondent and furtive Emiko Oka, whom the teenager first believes is insane. She later learns that back in Japan, Mr. Oka was married to Emiko's sister, and that they had a daughter, Kiyoko.
Oka came to America with plans to send for his family soon after, but back home, his wife became ill and died. The young Emiko, meanwhile, had become passionately involved with a man of questionable character, so the parents, after arranging a marriage by proxy, sent her to California as wife to her sister's widower. But unlike her sister, the delicate, rebellious Emiko has no love for the coarse, abusive Oka-san, and passes her days longing to return to her old life in Japan. When Oka finally brings his daughter Kiyoko over to live with them, a reluctant Masako is pressured to befriend her, and is ultimately drawn into the Okas' tragic and volatile domestic situation.
And the Soul Shall Dance premiered on February 23, 1977, at East West's 99-seat equity-waiver theater in East Hollywood, on Santa Monica Boulevard near Hoover Street. The production featured two alternating casts as well as a circular revolving stage, the Murata house on one side, the Okas' back porch on the other.
The play was an instant success; Dan Sullivan, the Los Angeles Times theater critic, became its biggest advocate, calling it a "beautiful play, grounded in an absolutely authoritative knowledge of who these people were and how they lived." Comparing the play's artful mix of humor and pathos to the works of Anton Chekov, his glowing review and many others ensured that the house was packed for the run of the play, extended to 53 performances.
Every night, audiences left the theater pondering the fate of Mrs. Oka, who, at the end, dressed in a kimono far too elegant for her bleak surroundings, sings "And the Soul Shall Dance" in Japanese ("Kokoro Ga Odoru"), and, as if lost forever in her dream of returning to her life of grace and culture in Japan, slowly dances offstage.
Never one to seek the limelight, Yamauchi had now officially joined the pantheon of pioneering Asian American writers. According to Esther Kim Lee, author of A History of Asian American Theatre, Yamauchi's play put East West Players on the map. It paved the way for subsequent plays about the Asian American experience, and would soon became a staple in the inaugural seasons of the many Asian American theater companies springing up across the nation.
Soul won four Los Angeles Drama Circle Awards, including best new play, and was excerpted in the Burns Mantel Theatre Yearbook for 1976-1977. It was filmed for public television by KCET Los Angeles, airing in 1978. It made it to New York in 1979, where it was produced by Tisa Chiang at her Pan Asian Repertory Theatre, at that time a resident company at Ellen Stewart's La MaMa Experimental Theatre Club in the East Village. Chiang produced Soul again in New York in 1990, a production that inspired New York Times theater critic Stephen Holden to write:
"[The play] is predominantly a psychological study of people struggling to adapt to the stringent traditions and laws of two worlds simultaneously: one they have left and one in which they are trying to forge a new identity. In the playwright's even-handed vision, Oka and Emiko are the largely helpless victims of the squeeze between the two. And the most compelling scenes are those in which the couple's bottled-up feelings explode in violence, followed by excruciating guilt and masochism."
Soul has since been produced around the country—mainly in cities with a strong Japanese American presence, like Seattle and Honolulu—and in Japan, under the title Soshite Kokoro wa Odoru.
As particular as its subject matter is to the Japanese American experience, providing a valuable window into the pre-camp world of the Issei and Nisei (its joys as well as hardships), the play strikes a universal chord with audiences who are moved by the juxtaposition of the two women characters, Mrs. Murata and Mrs. Oka, each coping with a bleak, male-dominated existence in different ways—Murata with stoic forbearance, Oka with her flights of fancy.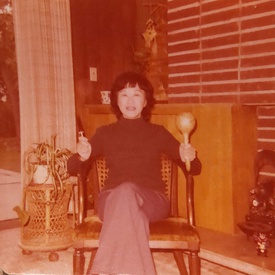 With Soul, Yamauchi had found her voice as a playwright, as well as her milieu: the world of her youth, a transplanted culture struggling to maintain its values and traditions within a hostile physical and social environment.
When at times critics accused her characters of speaking in platitudes expressed in simple sentences, Yamauchi would fiercely defend herself, asserting that that was the way Japanese out in the country spoke—that the desert, and the pervasive prejudice that surrounded them there, forced even the most unrefined farmers to become philosophers, to find some aphorism or another to help deal with the forces aligned against them.
In addition, much of the dialog was, in fact, a translation from Japanese (only in English for the sake of the American audience), thus calling for a staccato, Japanese-like cadence—realities that Yamauchi, who was certainly a naturalistic writer, had to contend with.