As mentioned, throughout the prewar years Japanese Americans, especially those in the Intermountain West, developed connections of different kinds with members of the Church of Jesus Christ of Latter-day Saints, or LDS church. To show their appreciation to the Mormon church for its friendly attitude toward Japan, in April 1941 a group of Salt Lake Japanese Americans, led by Mike Masaoka, presented 25 Japanese cherry trees for planting around the Mormon Tabernacle. This relationship would be tested by World War II and by the wartime removal and confinement of Issei and Nisei from the West Coast.
At first, Church leaders maintained a friendly policy. In the wake of the Pearl Harbor attack and the US Declaration of War on Japan, the First Presidency of the Mormon church released a public statement deploring the tragedy of war and warning against feelings of hatred.
Two days later, the Deseret News, the Church's official organ, ran an editorial: "There is no reason to doubt…or to question the loyalty and devotion of the Utah Japanese to this country. The Japanese children in the schools and the Japanese men and women throughout the state should be treated with due respect and tolerance."
Such a policy of welcome was not universally applied. In Osgood, near Idaho Falls, Idaho, one Mormon bishop announced: "I don't want any Japs in this congregation." Yet a local Mormon farmer agreed to buy the contraband guns of his Japanese American neighbors for a symbolic $1 and to hold them during the war—he later returned them, as promised, after the war's end.
After President Franklin Roosevelt signed Executive Order 9066, West Coast Japanese Americans faced mass removal and confinement. The Mormon Church took no official position on the president's order, nor did church leaders send missionaries to assist Japanese Americans. However, Mike Masaoka mobilized his contacts with individual Mormons to win aid for the Nisei.
With support from Elbert Thomas and from Salt Lake City Mayor Ab Jenkins (a Mormon leader and former race car driver), Masaoka invited the JACL leadership to leave the coast and move to Utah. The JACL not only set up wartime operations in the Beeson Building in Salt Lake City, but JACL leaders sponsored the launching of the Pacific Citizen as a regular newspaper and hired the journalists Larry and Guyo Tajiri as editors. According to legend, in mid-1942 Mayor Jenkins travelled to the state's borders to welcome caravans of Nisei from San Francisco personally and escort them into the capital.
It was at this same time that Masaoka's previous efforts bore fruit. In the months before the war, as part of his work with the JACL Intermountain District, Masaoka had gone through Utah and up and down the old Mormon trails, visiting areas such as Rexburg and Idaho Falls, Idaho, to assist local Japanese communities in forming new JACL chapters. With the coming of mass removal and the shuttering of West Coast communities, these JACL chapters were the only ones that remained intact, and National leaders were able to draw from their chapter dues to fund JACL operations.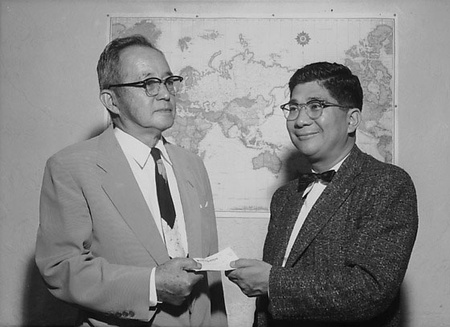 Furthermore, in 1943, using $100 worth of funds provided by members of these same chapters, JACL treasurer Hito Okada started a JACL credit union, which was chartered by the state of Utah. This union would later provide loans for resettlers, and in the process helped finance JACL operations. Even after 1952, when the national JACL offices and the Pacific Citizen returned to the West Coast, the credit union would remain based in Salt Lake City.
The mass confinement of some 20,000 Issei and Nisei at the Topaz, Heart Mountain, and Minidoka camps, all of which were located in areas with significant Mormon populations, plus the coming to Utah of waves of resettlers, brought Japanese Americans into large-scale contact with LDS Churches and their members.
While some Latter-day Saints had previous contact with people of Japanese ancestry in Japan, Hawaii, or California, many Mormons living in the Mountain West encountered Japanese Americans only after the federal government began releasing detainees from the camps for seasonal agricultural work.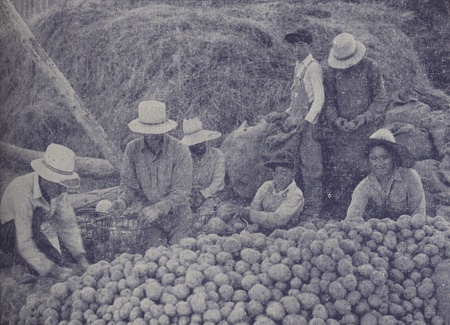 From 1942-1945, thousands of Nikkei laborers worked in Mormon-dominated communities in Utah, western Wyoming, southern Idaho, and eastern Oregon. The largest percentage of these laborers were recruited by sugar beet companies, such as the LDS-operated Utah and Idaho Sugar company, to thin, block, and harvest sugar beets. As such, Latter-day Saint attitudes toward the Nikkei were largely shaped or altered by the personal interactions they had with them in this setting. In turn, many Japanese Americans formed opinions about Mormons as they worked on their farms, in their factories, and in their homes.
Mormon farmers welcomed seasonal laborers with open arms. In 1943, Utah and Idaho Sugar Company man and Latter-Day Saint Ford T. Scalley observed, "Some communities, at first prejudiced against the Japanese as a race, warmed up to the situation. Local residents and inmates became mutually better acquainted. At first tolerated as a necessity, thousands of Japanese Americans were later accepted under mutually helpful arrangements as efficient workers." Desperate for laborers, many farmers appreciated the efforts of Japanese American workers and acknowledged, as Amalgamated Sugar Company District Supervisor D.E. Smith did in 1944, that "many acres of sugar beets in the county would have been lost if we had not had this Japanese labor."
For their part, seasonal laborers reported that the Latter-day Saints with whom they interacted generally treated them with respect and even kindness. Reflecting on his experience with residents of the Utah town of Delta, Kinbichi Yoshitomi recalled, "That was my first contact with the Mormons and I found them very delightful . . . They encouraged us to keep our spirits up, and they gave us a lot of help. Whenever we went into town to do some shopping, why, there was no animosity."
In a May 1943 issue of the Heart Mountain Sentinel, editor Bill Hosokawa singled out Lovell, Wyoming, as a community willing to "stick out their necks against critics and speak truth as they see it." "One of the reasons attributed to Lovell's friendliness toward us is that it is a strong Mormon community, he observed, "Mormons in all parts of the Mountain states have been unusually charitable toward the evacuees." A number of seasonal workers, such as Dave Tatsuno, also expressed the sentiment that the Latter-day Saints had a "background of being persecuted and so they had a natural sympathy for those of the evacuees who were also being persecuted."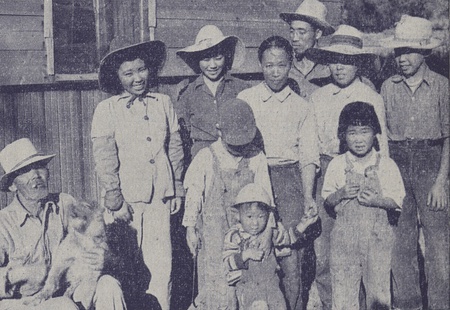 Latter-day Saints, too, were changed by their interactions with Nikkei workers. In an October 1942 letter to journalist Carey McWilliams, one seasonal worker described a conversation he had with a Utah woman. "She told me of the attitude of the people here toward the coming of Japanese workers. That some were definitely suspicious of us, afraid we might do them harm or that we might be 'spies,'" he wrote. "She said that our coming and living in the same community has dispelled their fears, and now most of them think very highly of us as being well-mannered, friendly, and being perfect gentlemen . . . She invited us to attend the services at the LDS Church Sunday."
In 1943, schoolteachers Rulon and Lucilla Hinckley hired Topaz inmate Gladys Hayashi to care for their young children. The children quickly fell in love with the twenty-one year-old Nisei, and she was embraced as part of their family. The Hinckleys included Hayashi in their family activities, and eventually invited her to attend Latter-day Saint worship services with the family, despite opposition from some other local residents. In time, Hayashi embraced the family's faith.
Though Nikkei workers had predominantly positive interactions with the members of the Church of Jesus Christ of Latter-day Saints, not every member of the community – Mormon or otherwise – accepted the outsiders. Latent racism, inflamed by the presence of what some perceived as "dangerous elements," made it difficult for some of the region's residents to overcome their prejudices. While on seasonal work leave, Japanese American laborers faced varying degrees of racial discrimination, and some were even victims of physical violence.
In 1943, for example, a group of teenagers fired several gunshots into a labor camp in Provo, Utah, injuring three Nikkei workers. Even in the waning months of the war, some Utahans lobbied to block Japanese Americans from owning land or obtaining business licenses in the state.
The acrimonious rhetoric eventually led the LDS church-owned newspaper Deseret News to print an editorial – titled "They Are God's Children Also" – asserting, "Americans who are loyal are good Americans whether their ancestors came from Great Britain or Japan, the Scandinavian countries or Germany. Let us, therefore, endeavor to banish these foolish prejudices from our natures and let us attempt to see that all good and loyal Americans are treated as such."
Ultimately a number of Japanese Americans in Utah and Idaho did join the LDS church. For example, Ken Mano, whose family moved to Utah as part of "voluntary evacuation", lived in Layton (being housed in a chicken coop) then to West Bountiful. He and his siblings were invited to attend the local primary with all the classmates « because that was the thing to do. » Eventually, their house was visited by stake missionaries and they were baptized.
After the war's end, Mano served as a LDS missionary in Japan. By 1944, there was enough of a nucleus that an LDS Study Group made up of some 50 Nikkei formed in Salt Lake City, and engaged in joint meetings with other Mormon Groups. In early 1945 a Presidency, made up of three former missionaries to the Japanese mission in Hawaii, was appointed to preside over the activities of the study group.
A report of a 1947 meeting included speeches by Shigaki Ushio, who spoke of his experiences during the "evacuation"; Priscilla Yasuda, a former WAC sergeant in the European theater; and Chi Terazawa, who had served as an LDS missionary in Hawaii during the war years. Another Nisei Mormon social organization was the LDS Fireside group. In 1947 they organized to help the Latter-day Saints Welfare Department send Christmas food packages to 116 families of friends and relatives of LDS Church members in Hawaii.
In 1948, the LDS would reopen its mission in Japan (a Nisei, Koji Okauchi, was one of the inital team of missionaries) and attract a new generation of converts. Meanwhile, Nikkei church members in Hawaii and on the continent continued to grow in numbers during the postwar years, and to distinguish themselves.
In sum, the rich history of Japanese Americans and the LDS Church remains to be further studied, and to be granted its rightful place within the larger group story.