A curious thing happened after last month's column was posted. I received a letter – not by e-mail, Twitter, Messenger, Facebook or any other social media platform – but an honest-to-goodness letter mailed through the Post Office! It was from a hakujin white man who decided to complain about my opinions. He did not include it in the Comments Section (another convenient device to praise, vent or express counter-opinion) beneath my column. He claimed to be too shy, too old or too private to want to be exposed like that. So, he decided to ask for my address from the National Association of Japanese Canadians [NAJC], and they obliged after consulting with me.
As per his request, I will not or ever reveal his name, and I will not simply copy the contents here lest I be accused of being lazy, merely filling up space with someone else's words. In essence, his complaint can be summed up with the following: "What's your problem? The so-called 'redundancies' you cite are necessary for us [hakujin white people, I assume] to understand what it is you people are talking about." I added the emphatic underscore.
Other than the undertone of racism, his point is well-taken. How indeed can people possibly know what Shabu Shabu, tekka maki, or unagi is listed on a menu or spoken in conversation.
On the other hand, ravioli is not identified as ravioli meat dumplings, fettucini, lasagne, or even tagliatelle is not generally listed as a noodle or pasta, and pizza is simply pizza and not pizza pie. No, whenever I indulge in patronizing a favourite Italian eatery in Toronto's fabled Little Italy or elsewhere in the city, like Buca Osteria & Bar on King West (one of four scattered throughout the city – simply known as Buca), Massimo Bruno Supper Club in Liberty Village, or George's in the Beach, there is no explanation of the different types of pasta on offer. Yet just about every ramen place in town is described as a "noodle" restaurant or chain. Surely, with the proliferation of the "noodle" restaurant in Toronto, there is no need to describe it. Hence places like Kinton Ramen (a chain), Sansotei Ramen, Hokkaido Ramen, Santouka, Ryu's Noodle Bar near the Danforth and the most obvious of all Momofuku Noodle Bar have no need of describing their menu and advertised items as "ramen noodle soup". The success of the ramen noodle restaurant in Toronto is made obvious by the long lines at various times in front of the restaurants.
Other Asian restaurants near us also advertise redundancies, like mochi mochi chewy pancakes, Japanese style udon noodles and rice with ume plums on top. As an aside, I remember gagging when I found a small bottle of umeboshi plums in a health food store at the Danforth Carrot Common (a "progressive" shopping plaza) priced at $70. My jaw dropped. That was almost as outrageous as the ume plum label.
Then there is J-Town, located just outside the northern border of Metropolitan Toronto. Its name is a misnomer since it is hardly a "town"; it's more like a strip mall or shopping plaza with a good collection of Japanese businesses: Heisei Mart (grocery store), Tora Sushi, Famu (butcher), Bakery Nakamura (with its specialty – Nakamura Bakery Bread), Café Green Tea, Green Tea Lounge (a different establishment from Café Green Tea) and Niwatei and Shiso Tree to name a few.
I will concede that menu items at the cafes and restaurants need explanation. Hence when ordering the soba set at Niwatei, the customer needs to know that you must choose a type of salad, choice of rice (white or brown), choice of main (tonkatsu breaded pork, chicken or shrimp, and type of soup – miso (pronounced "mizo" by some hakujin white people) or clear broth. I love the choices that need to be made. Gives it a variety all at the same price.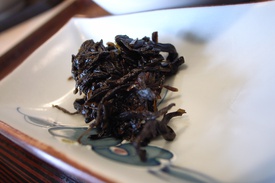 The items for sale at, say, Heisei Mart indulge in the redundancy factor. The place is quite good for the amount of product from Japan.
Nori
Seaweed
Tsukudani
Paste comes in various sizes and is readily available. Yes, a sign above it identified it as Seaweed Paste for the non-Japanese customer no doubt. Once, I happened to be at Sanko in downtown Toronto looking for a bottle. It is a small store but difficult to find anything. I walked up and down the aisle looking for it on the multi-level shelves. I had the feeling I was being followed. I glanced back surreptitiously and sure enough a tall Asian man (Japanese, I assumed) was indeed following me. He was dressed in a suit and tie and wore shiny black shoes. He was well-groomed, but his nefarious demeanour was obvious.
I tried to ignore him and continued my quest. When I finally found it, I examined the bottle and noticed it was twice the price as Heisei. The stranger suddenly spoke. "You like the tsukudani?" he asked in a definite Japanese accent. "I see you see it is expensive. That's because it is straight from Japan. All the other stores in the city get theirs from China. Chinese," he said in a rather dismissive way. I was shocked by his shameless bigotry, but I said nothing. Bought the bottle and left.
Back to J-Town: other products like maguro tuna, wagyu beef, and dashi soup are all for the benefit of the uninitiated. I will also admit, my fellow Nikkei (Sansei, Yonsei and so forth) really need help in general identifying the product. I suppose, I have to give-in and accept the redundancies perpetrated by business owners and hakujin white people. The businesses must cater and appeal to the ignorant and, as I said, the idiots.
When a true genius appears in the world, you may know him by this sign, that the dunces are all in confederacy against him.

Jonathan Swift
Again, make of that what you will.