Never Give Up: Jessica Yamada
By the end of July 2020, the world's attention should be focused on the Tokyo Olympics. Tourists from around the world have been planning the trip for months, booking tickets and hotels. A group of people, however, have been preparing longer: for months, many years; maybe a lifetime. These are the athletes.
The Brazilian Olympic Committee estimates that their delegation will be composed of approximately 250 athletes, who will be competing in the Tokyo Olympics.
"The Olympic Games is an event that takes place only every four years, with few places for many countries and which provides great visibility. It is the dream of many athletes, but not all can achieve it. For a professional athlete, the preparation doesn't change much in relation to the daily workouts, only the pressure that is greater," says Jessica Yamada, 29, a Yonsei table tennis player from Brazil who will be competing next summer.
Jessica has participated in national and international competitions and won numerous titles at many of these events. At the Pan American Games in Lima, Peru, which took place between July and August 2019, she was a doubles bronze medalist and team silver medalist.
At the Latin Pre-Olympic Team Tournament held in late October, Jessica joined the Brazilian team with athletes Bruna Takahashi and Caroline Kumahara to finally secure a place in Tokyo-2020.
"For me, the feeling is different from other girls. They are younger and have already competed in the Olympics. I had two opportunities, but never made it. And I'm the oldest on the team! For a few years I had given up on this dream, I thought I had done everything possible. Suddenly that opportunity came up again and I'm here, we qualified for the Olympics," Jessica said in a statement for the official broadcast of the International Table Tennis Federation (ITTF), shortly after qualifying.
"I had dedicated 10 to 12 years of my life. I stopped studying, to dedicate myself to table tennis, to pursue a dream that is the Olympics. I think I'm proving we can't give up, we always have to believe and fight hard, that someday the result will come. Mine is now," celebrated the athlete.
In her speech, Jessica highlighted her parents' role in her success. "I have always had a family influence [for sports], because my father, Marcos Yamada, has been an athlete and coach since 1975, a table tennis lover, so I accompanied him when he was going to train. My mother, Nanci Toshie, a semi-professional volleyball athlete, still plays at Corinthians [Brazilian club team]."
This will be Jessica's first time competing in the Olympic Games, although she has been to Japan on other occasions. "My first participation in an adult World Championship was in Yokohama in 2009. In 2014, we were world champions in second division teams. When I was 13, I did a three-month internship at Butterfly [table tennis equipment manufacturer] dojo in Tokyo. I can say it was an experience that changed my life because I learned a lot from Japanese culture," she says.
"In Japan, athletes are very hardworking, disciplined, and have an incredible structure available. Brazilians are more passionate about the sport, because even with such lack of support, everyone fights as best they can to get to a good level."
"I carry a lot of Japanese culture with me. There was that internship when I was younger and, in Brazil, for seven years, I had a Japanese coach, Mr. Toshio Takeda, who was strict just like the Japanese style. Discipline, respect, senpai and kohai [veteran and novice] relationship, schedules, team spirit, yakusoku [commitment], sonkei [reverence], gaman [perseverance] were words that were part of my daily life," adds Jessica.


The Battle for Qualification: Alexandre Taniguchi
The Tokyo Paralympic Games are scheduled to take place from August 25 to September 6, 2020. Sansei Alexandre Taniguchi, 33, who is a wheelchair rugby athlete, is still struggling to qualify to compete.
"There are eight spots for Tokyo, and Brazil is in tenth position in the world ranking. From the regional championships that took place around the world this year, six countries have already won their direct spots. There are two spots left that will be defined in a tournament that will take place next year," he explains. "For our sport, qualification to the Games is defined only in the previous year. So in the meantime, we usually take part in international preparation tournaments, to face other countries and get prepared by actually playing."
Alexandre has been a rugby athlete for 10 years. His career highlights include competing at the Rio 2016 Paralympic Games (8th place), the Parapan American Toronto-2015 and Lima-2019 (4th place), the Bogota Wheelchair Rugby 2011 and Birmingham 2013 (bronze medal), the Brazilian Championship (four-time champion), and being named Best Paralympic Athlete of the Year for Wheelchair Rugby, three times.
"I've always enjoyed sports, both watching and practicing. Before being a wheelchair user, I practiced swimming and, after the accident in 2006 (diving in a pool that resulted in a fractured spine in the cervical region), I knew wheelchair rugby," he says.
"In a competition, we usually schedule our pre-game meetings and meals according to game times. After the meeting and after discussing the game plan, we get ready in the game chairs, which is a process that takes a while too. Usually half an hour before the games, we are ready," explains the athlete.
Regarding playing style between Brazilians and Japanese athletes, there is not much difference in relation to other sports. "As the saying goes, Japanese are well disciplined, and Brazilians are more passionate, perhaps, more driven by emotions. I think I have a little of both, but more Brazilian than Japanese," says Alexandre.
The Brazilian Wheelchair Rugby Team ranked fourth place at the Parapan American held in Lima in August 2019. Although the road to qualifying for the Tokyo Olympics is complicated, it is still possible that they will make it. In early 2020, there will be one last qualifying tournament.


In Preparation for the Future: Enzo Anzai
Participating in an Olympics is a time-consuming project. Although a competition in Japan may have special meaning for Nikkei athletes, it is important to follow a daily routine based on one's training and to prepare according to one's abilities.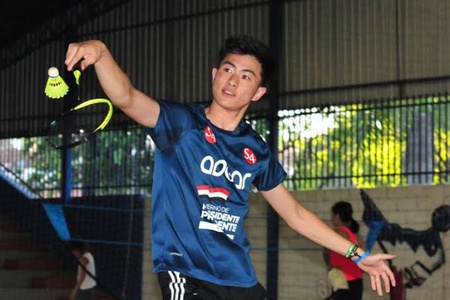 This is the case of Enzo Anzai, 17, a Sansei badminton athlete. "According to my goals, Tokyo-2020 is a little too early, but for Paris-2024, I will be looking for points to reach 34th position in the world to achieve this dream."
Enzo has been practicing badminton for six years and is now a professional athlete. "As a child, I started training outdoors with only rackets, shuttlecocks, and a net. Not really sure about how to play, always practicing together with my father, who today is one of my coaches. Over time, I have evolved in both technique and location, and training material as well."
The athlete, who lives in Presidente Prudente (about 340 miles from Sao Paulo), won two bronze medals in the doubles at the 2018 South American Adult and Youth Championships held in Lima, Peru, and has prominent stakes in state and regional competitions. On the occasion of the 2016 Rio Games, he was one of the Olympic torch bearers.
Badminton has been played at the Olympics since the Barcelona Games in 1992. Qualification for the Olympic team is mainly based on the world ranking, in which the 34 best placed badminton athletes are guaranteed a spot. There are three more spots granted to athletes by invitation, and another spot for an athlete from the host country.
"In the world, there are several specific championships that give points for the athlete to try to achieve the rating to be within the 34. The work is doubled because they are all important championships," explains Enzo. "I have never participated in a championship in Japan. My plan is to compete there next year because the level is higher," he adds. "In general, the Brazilian's game is more focused in the shots. In Japan, players put more effort in playmaking. I think I would fit myself in the style of Japan."