This month's column features two friends I made when I participated in a movement response workshop in Chicago last summer, led by Chisao Hata, featuring our physical reaction to poetics expressed by actor & poet Ken Yoshikawa. With the emphasis on an intergenerational lens through which we shared, I looked forward to being able to featuring both of them someday here. The two hail from Portland, Oregon and continue to work together amongst their own creative projects aplenty. They hold space here, through their words that weave lineage with a search through the mundane for linkage with fathers, ancestry, and self. Enjoy.
—traci kato-kiriyama
* * * * *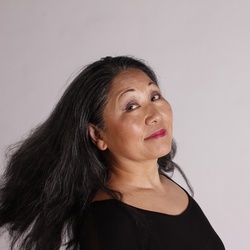 Chisao Hata is a performing artist, community organizer and global citizen artist. Her work shares the Japanese American story to communities from Hiroshima, Japan to Cuba, and New Mexico to Ontario, Oregon. As an arts educator her perspectives are shared as an Oregon Humanities Conversation Leader and Vanport Mosaic Festival Stories in Movement artist. She originated Gambatte Be Strong, stories of Japanese American displacement and resilience in Portland, Oregon and is a guest artist at the Dance Exchange in Takoma Park, Maryland.
Chisao is on the Board of Directors for the Oregon Nikkei Endowment, American Music Program, and Advisory Board of the Physicians for Social Responsibility. She is a founding member of Portland Taiko, Theatre Diaspora and serves on the Regional Arts and Culture Council Arts Education Committee.

What I Carry
I went back to discover and uncover
and find parts of me.
It is amorphous unseen but, in my blood and breath
It is in my cells.
As my DNAcestors pulse to be heard
As they whisper to me in a language I never spoke
I went back to remember who I had become
And found out who I was all along.
The universe knows
when to assist
When to offer the tangible
Evidence To move me along
Nudges to open my eyes.
it appeared this fall
A traveling trunk packed away
Almost discarded
A locked trunk without a key
ready to open me
I went back to see
There was this key
This key to the past
This key to lives lived before me
Insert, twist, open
Revelations
Views from 1930
Views Before Poston, Arizona
Photos Before WII and the people they became
I went back to remember who I had become
And found out who I was all along.
It took more than this key
It took me
It took me
To look back to uncover
To speak to know
To discover
What I forgot to find out
Everyday, every minute with the people I love
With the people who know me
With the people who forgot me
But now I have the key
To this
This trunk of my dad's
This artifact I carry
These papers, these books, and youthful hopes
They can never be packed away
Because theyre in my heart and always will be
As I pass on this trunk and this key
Go back to get to now
Go home to know
Wake up
Turn off
Breathe
Listen
Feel
Make
Know
I went back to discover and uncover
Parts of me
I went back to remember who I had become
And found out who I was all along.
* This poem is copyrighted by Chisao Hata (2018).
* * * * *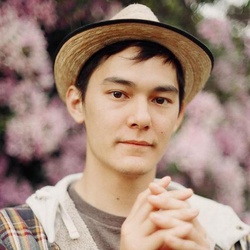 Ken Yoshikawa is a Shin-Issei/first generation half-Japanese American poet-actor from Portland, OR and graduated from Reed College with a B.A in Theatre Arts. An active poet in the Portland Poetry Slam community since 2014, he recently released his first album of spoken-word, Quiver, which focuses on the subjects of abuse, yellow-face, and healing.
In his theatrical career he has worked at the Portland Playhouse, Portland Center Stage, Oregon Adventure Theatre, and the Northwest Children's Theatre. Presently he is working on Gambatte: An American Legacy with dance-artist Chisao Hata. In addition, this summer, he is taking his solo theatre piece, The Art of Flyswatting to Pan Asian Repertory Theatre's NuWorks 2019 festival in NYC.


To My Father's Neckties
1. 結び方 (Musubikata):
the way to tie a father to his son.
These roadways of inheritance,
these
dusty pulse keepers
nobly slept
in a mahogany cabinet
at my grandparents' home.
They are London,
Melbourne,
Milan, and Grand Rapids.
They are Paris and Nagoya,
Amsterdam and home.
Multichromatic elephants
and polka dots.
Take 20,
30,
he said,
with gently,
demanding generosity.
Maybe, each time
I tie one
for an interview
or
for a wedding,
I'll learn
to tie the clouds
together:
dress fancy the Pacific,
connect
his mirror
to my mirror.
2. かっこいい (Kakkoii):
Wrap it twice
around the knot,
so you remember.
Keep the front
just long enough,
so you remember.
Master that dimple,
just below the knot,
so you remember.
Yes.
No.
Wait.
Here.
Just like that.
Hai. Iiyo
3. 正しい (Tadashii):
I stuffed
probably
18 ties
into a plastic bag.
Now,
what the hell
am I gonna do
with 18 ties?
Can they tie the years I didn't see him
to the moment
I looked him in the eyes
to thank him?
He gave me shoes,
a badass coat,
bought me a navy blue suit.
When he saw
the condition which I'd subjected the ties to,
I realized
I didn't really want the ties,
but rather
the instruction
for how to take care of them.
Please, Dad,
show me a way
to not stuff my life
into a plastic bag.
Show me
how to dress so sharp
it cuts a wormhole to the sun.
Is this the right way?
Are these ties
your wormhole
to me?
4. 何をしましょう? (Nani wo shimashyou?)
He told me,
there has to be distance
between two people
for there to be
a conversation.
That if you ask someone
directly
what they want
in Japanese,
it ends up being
rude and invasive.
I'm so used
to being the other end
of your tie
that now that we're
together,
looking through the very same mirror
I'm living
on the black stripes
printed
on your thin end,
just that much closer,
just for today.
I contradict
every time I ground your memory
like a fingernail.
I will never be you, Dad.
But,
I'm fixing my collar, Dad.
I remember everything,
otousan.
Look,
I did it.
Look,
I did it.
Dad, I am just like you.
5. 完璧 (Kanpeki):
I've decided,
when I leave,
I'll tie each one
to the wings
of the airplane,
and watch them flutter
from the window seat.
* This poem was originally published in Nailed Magazine on November 19, 2018.