Um comentário feito por um amigo aguçou meu interesse e logo fui fazer uma pesquisa e encontrei o que procurava.
A prestigiosa Universidade de Harvard, nos EUA, por mais de sete décadas, vem estudando um tema fascinante: O que faz as pessoas felizes da vida? O que torna uma vida boa de se viver?
Abstraindo de comentar detalhes do trabalho, meramente por questão de espaço nesta coluna, mas confiando na seriedade da renomada instituição, soube que o estudo chegou à conclusão que, para nos mantermos felizes e saudáveis ao longo da vida depende da qualidade dos nossos relacionamentos. Que, independentemente da riqueza, do nível social e profissional, as pessoas mais satisfeitas em seus relacionamentos, que interagem bem com os outros, que fazem boas amizades, o seu corpo e cérebro permanecem saudáveis por mais tempo e proporcionam mais energia e mais vitalidade. Onde uma relação de qualidade é uma relação em que você se sente seguro, à vontade, em que você pode ser você mesmo e fazer as coisas que têm significado para si mesmo.
Paralelamente, a conceituada escola também vem desenvolvendo um curso sobre a "ciência da felicidade", onde o professor israelense Tal Bem-Shahar dá as aulas mais concorridas da Universidade, ensinando "os segredos para ser mais feliz".Para ele, não é preciso ser rico, ter fama e poder e nem ser perfeito para levar uma vida mais rica e feliz. O que realmente importa é o tempo que passamos com pessoas que são importantes para nós, como os amigos e familiares.
E, a reboque de tão candente tema, que sempre me interessou, lembrei que recentemente o querido amigo Carlos Ianaze (Dinho), sempre sensível e humano, havia sugerido que eu comentasse em artigo o episódio recentemente vivido por um colega nosso, que comemorou seu aniversário com uma festa na melhor tradição japonesa, como sempre desejara. Imagino que deve ter sido algo especial. Vamos a ele:
KOKI IWAI
Descendente de tradicional família de Bastos, cidade do interior de São Paulo conhecida pela destacada e participativa comunidade nipônica lá radicada desde a sua fundação, o amigo Patrício Moniwa, nissei de 1ª. geração, sempre admirou a cultura e as tradições japonesas, fortemente arraigadas na região. Um dos costumes que chamava a sua atenção eram as celebrações que ocorriam em determinadas datas natalícias que, por serem consideradas auspiciosas e especiais, precisavam ser lembradas de uma forma ostensiva e solene. As comemorações trariam saúde, sorte e felicidade para a pessoa.
Seijinshiki, yakudoshi, toshi iwai eram algumas expressões que ficaram gravadas em sua memória desde então.
Um episódio fortuito, mas lamentável e estressante ocorrido com Moniwa alguns meses atrás e que, por sorte, não o levou a um grande prejuízo material, soou como um sinal para que Patrício valorizasse mais o seu lado familiar e espiritual. E, uma ideia surgiu como forma de compensar esse descompasso espiritual. De colocar em prática um desejo que sempre teve desde quando entrara para a idade madura: o de festejar condignamente o seu aniversário de 70 anos como reza os usos e costumes do Japão tradicional. Seria o seu Koki Iwai que, mais do que a comemoração do septuagésimo aniversário, tem o significado de um verdadeiro rito de passagem para uma nova fase da vida, duradoura, na qual se busca uma melhor qualidade de vida e a valorização dos laços pessoais.
Assim estimulado, em março passado, Patrício enfim concretizou sua vontade, oferecendo uma grande festa de confraternização pela passagem de sua data natalícia, seu Koki Iwai. Caprichou na organização e até convite formal enviou. Num local aprazível, conseguiu reunir as pessoas mais queridas, seus familiares, parentes e amigos diversos, alguns da infância, outros da faculdade, do clube e do trabalho. Pessoas que de alguma forma tiveram e têm muita importância em sua vida. Um evento que contou com aproximadamente 200 participantes, uma verdadeira festa de casamento, como bem destacou um dos presentes.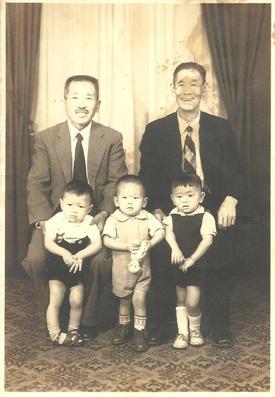 Em meio às alegrias do evento, no qual não faltaram os discursos,o karaokê e os tradicionais kampais, um dos momentos destacados foi a exibição no telão de fotos que registraram cenas da vida do homenageado, da infância aos dias atuais. Sob muita emoção, instantâneos inusitados passaram sob o olhar atento e admirado dos presentes. Flashes lembrando os avós, os pais, a formatura no ginásio, a foto da família que nunca pode faltar e, para a sua grata surpresa, uma foto de que não se lembrava mais, com os seus primos Edison Shigueo Aoyagi e Carlos Hatada, todos com 3 anos de idade. Um pensamento ocorreu naquele momento, ao imaginar que, 67 anos depois daquela foto, os mesmos primos estavam ao seu lado na festa, trazendo o carinho de uma amizade indissolúvel. Para deixar registrado para a posteridade, fez questão de uma nova foto, agora todos setentões bonitos.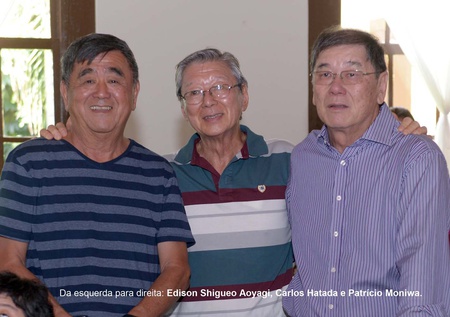 A presença de vários outros amigos e parentes o emocionou muito, tanto quanto o abraço que recebeu de colegas da faculdade, que o fez rememorar, com saudade, da querida UNICAMP e da luta e sacrifício para conseguir se formar no curso de engenharia.
Mas, tudo valeu a pena. Pela profissão e pelos amigos que conseguiu! E, mais do que tudo, a alegria de ter essa grande família reunida, esposa, filhos, netos, irmãos. Todo esse cenário, carregado de carinho,alegria e emoção, só fez aumentar a convicção de como é importante manter os laços familiares, ter bons amigos e cultivar amizades. Uma receita imbatível para enfrentar a nova jornada que se inicia. Afinal, acabou de completar 70 anos apenas...Patrício, omedetou!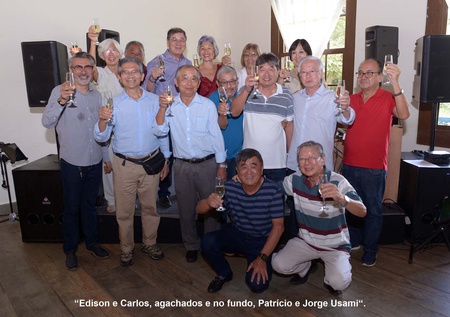 Talvez sem perceber, Patrício já estava imbuído da essência do Koki Iwai desde sempre! Não imaginava de quanto era querido e tamanha amizade semeou!
O poema abaixo, creio que de um poeta norte-americano, com o título "Your name is written... at the top of my list" serve como corolário final:
Alguns amigos sabem tudo a nosso respeito,
E gostam de nós do mesmo jeito.
Eles nos aceitam como somos,
Sem pedir por mudanças.

Eles nunca nos criticam,
Enquanto ouvem nossos pontos de vista.
Ficam quando os outros saem,
E falam quando alguns se recusam a falar.

Não existem muitos amigos assim.
E afirmo serem poucos os preciosos.
Mas, no topo de minha lista
Com orgulho, coloquei seu nome.