MUKILTEO — Judy Kusakabe's life began at the Puyallup fairgrounds.
It was Camp Harmony then.
Barbed wire surrounded the grounds. Guards with guns were positioned atop watchtowers.
Her dad and pregnant mom were sent from their home in Seattle to makeshift barracks in the temporary detention facility after Japan's bombing of Pearl Harbor. President Franklin Roosevelt's Executive Order 9066 decreed it a matter of national security to put tens of thousands of people of Japanese heritage in internment camps.
Kusakabe was born during her parents' stay in Puyallup, where they were detained before taking a 600-mile train ride to a more permanent camp in Minidoka, Idaho.
Talking to Kamiak High School students last week, she held up a canvas sack from the camp stamped with "Kawaguchi" and "17351."
"It has our family name and our family number," Kusakabe said. "We didn't break any law. We didn't get a chance to defend ourselves. If you protested, you got sent to prison."
The camps weren't prison, so to speak.
Kusakabe, a 76-year-old who lives on Mercer Island and dotes on her grandkids, began on the lecture circuit 15 years ago after hearing discriminating remarks by some middle school students. She speaks to classes at no cost. Most of her talks are at elementary schools to fourth and fifth grades.
She brings pictures, articles and artifacts of the experience of Japanese Americans.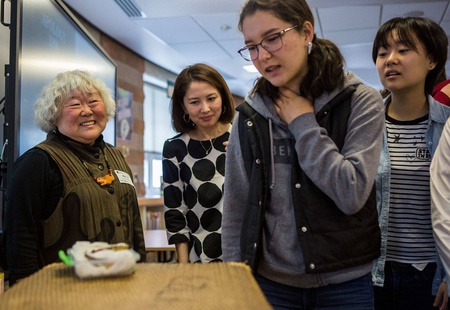 "Men, women, children, old people, they were all sent to camps," she said.
Many were there until after World War II. Families had to start over, often with nothing.
"The years after were really difficult for the Japanese," she said. "They felt shame, and it was unfounded because they hadn't done anything wrong."
Most tried to put the ordeal behind them by remaining silent and working hard. Her family and others lost most of what they had accumulated before December 1941.
Kusakabe was too young to remember the camps with cramped living chambers, lumpy straw mattresses, standing in line for several hours for meals and sharing communal bathrooms. Toilets were planks of wood with holes in a trough.
"Dignity was taken away, as well as freedom," she said.
"Nobody ever talked about it. Years later when I was an adult I started hearing stories."
Now she shares those stories.
It's her passion, told with tact.
In her talk to Kamiak students, her voice wasn't bitter. Her tone was chipper. She smiled at times.
It was almost like listening to the life story of the friendly grandmother seated next to you on a plane.
Her message: Hate is destructive and narrows your world. Seek good in people. Be kind, be understanding.
"It's important to remember the sacrifices our families and friends made," she said.
Kusakabe has the tattered woven basket that was used to hold belongings of a relative.
"You could only take what you could carry," she said.
People had a few weeks to prepare, and were forced to sell businesses and items for insulting prices, she said. She told of sewing machines and washing machines going for $5. They had to leave their pets behind.
Kusakabe showed drawings by her uncle, who had worked at Disney before internment. His sketches of everyday life at camp are a stark contrast to the happy cartoon characters he'd drawn.
She told how people bundled in coats inside to stay warm during the cold Idaho winters. Families stuffed walls with newspapers to keep the dust out. A searchlight swept over camp at night.
Years later she married a man whose family was also in the camp. She has connected with many others in her mission to add as many firsthand details as possible to her talks, which cover the bad and the good.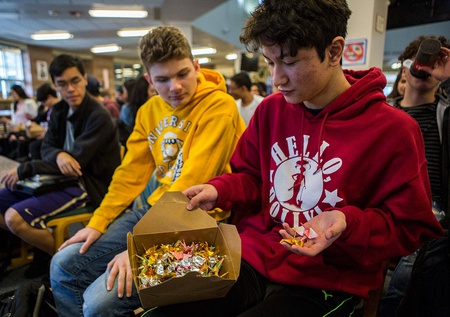 At the end of the talk, Kusakabe handed out colorful origami cranes, a symbol for wishes to come true.
"My wish is that you be kind. Help out each other," she said.
She makes thousands of cranes. Each one takes four minutes with her arthritic hands, she said.
Each student was given two cranes. "One for you to remember what I told you. The second crane is to give to someone you want to be kind to or to thank."
The audience was a college-level Advanced Placement Japanese class taught by Kamiak teacher Yoshitaka Inoue and a history class studying the Holocaust.
"It is very important for the kids to listen to this kind of thing," Inoue said. "The same things might happen again because of the hate and people's differences and panic. Kids learn to stand up (against) those wrong things and injustice. It is very important, especially now."
For Aaron Banh, a junior studying Japanese, it added a personal element.
"It gives it so much more a human connection that is so different than just learning about it in class," he said. "It is something that will stick with me."
Others on the Kamiak staff also attended the talk.
"It gives kids a living voice to put some personality to the history they learn," said Steve Shurtleff, an assistant principal.
It hit home for office assistant Karen Cunningham, whose parents endured internment.
"They died 30 years ago," Cunningham said. "They never talked about it, so I really didn't know much about it."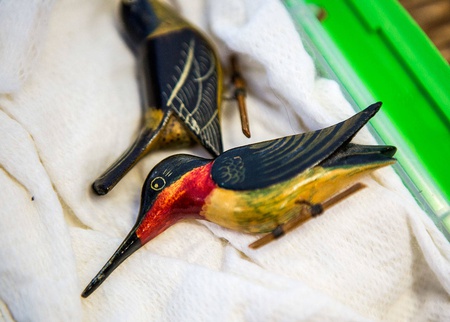 *This article was originally published on Herald.Net on May 6, 2019.