Read the interview with Marjene Matsunaga Turnbull by Norm Ibuki >>
After learning what the Japanese Canadian (JC) history was, I could describe events. Using layers to build upon, it became like a cake. And making a recipe for it was perfect for doing the family history within the general JC history, I thought. Each layer was done separately, glazed, and fired. Layers were glued together.


Recipe for The Hisaoka History Cake: "Continuum"
Preparation Time: 90 years
Use three nesting bake pans and make each layer, a generation at a time.
Yield: There is a piece for each and additional member of the Hisaoka family

Bottom Layer:
One young man, Ichirohe Hisaoka
Canadian maple leaves
Bouquet of sakura (cherry) blossoms from Japan
Courage and determination
One young picture bride, Kin Hirashima
15 acres of land in Mission, BC
Nine children: Shizuka, Fujiko, Kimiko, Kasumi, Kenichi, Jiro, Haruo, Michie, Isamu
1. Preheat oven to 1907.
2. Ship one young immigrant, Ichirohe to Canada, the country of gold and maple leaves.
3. Add coal lumps, tree bark chips, lumber slices, and sift in a little "English" house dust.
4. Stir, to bring out the bouquet and aroma of the ever-present sakura blossoms.
5. Drop in liberal amounts of courage and determination at regular intervals.
6. Increase heat to 1911, and add a framed picture of Kin Hirashima for an arranged marriage.
7. When the temperature reaches 1912, carve the family mons (family crests) in the heart of the family tree trunk.
8. Mix in the 15 acres of land, 5 acres at a time, stirring well.
9. Gently bring forth children in order: Shizuka, Fujiko, Kimiko, Kasumi, Kenichi, Jiro, Haruo, Michie and Isamu.
10. Mix well with love; add smiles, laughter, tears and sweat.
11. Cut the trees, blast with dynamite and dig out stumps by hand.
12. Intersperse hardship with hot baths and denki (Japanese treatment of electrical stimulation much like TENS of today) to help ease the aches and pain.
13. Plant and harvest vegetables, fruit and strawberries.
14. Enjoy apples, pears and plums; some of the fruits of labor.
15. Blend in Kin's brother, Toraro, add his wife Yumiko; stir in other kinfolk and friends.
16. Fold in chunks of trade, economic, religious, social, common interest and mutual aid groups.
17. Spoon the batter bound by the Pacific Ocean and the Rocky Mountain range into the largest pan. This is a very thick, heavy dough-like batter. It has balled up into itself because of outside atmospheric pressures.
18. Place the pan into oven and increase heat to 1941.
19. Immediately turn off oven, leaving cake inside to heat through, then gradually cool. Watch carefully as it it in great danger of exploding and shattering.


Second Layer:
1. Mix Tension, Apprehension, Uncertainty and Fear with Integrity, Character, Spirit, Strength, and Courage.
2. Add Gambari, Gaman, Shikataganai, Giri, On, and Enryo (perseverance, patience, obligation, indebtedness, and reservation, found only in Japanese stores of culture).
3. Seal the pan in ghost towns and prison camps with barbed wire and bake at 1942-1945.
4. Arrange Japan's red sun and target along with thumbprints to make an attractive pattern.
5. Round up batter in family units and load into Alberta pan, via old CP trains.
6. As this cake layer is very bitter and sour, make an icing using fields and fields of sugar beet sugar mixed with buckets of tears and sweat. Spread over batter.
7. Take out of oven, let stand on wire rack; brush off the chunks and crumbs of cake that have been ripped off the edges. These crumbs are dispatched to Japan. Matsunaga mon (family crest): my father's brother and father "repatriated".
8. Put what's left of cake back into oven to brown the remaining broken people, ripped families, and torn community soul.
9. The cake may be taken out of the oven only when the temperature reaches 1949.


The third layer:
Slices of takenoko (bamboo, a strong resilient plant, bending but not breaking in all kinds of harsh growing conditions).
Bandages to cover wounds and plaster casts to set broken souls and spirits
Mashed bananas (yellow-skinned pears can also be used)
Maple sugar and Maple leaves
Sakura buds and 100 National Association of Japanese Canadians (NAJC) logos - sakura blossoms
1. Mix bamboo slices (bamboo roots are already in place) with bandages and plaster casts; apply freely within self.
2. Make a facial mask by beating the banana pulp with the maple sugar.
3. Cover the entire face with this mixture. Slather layers on to cauterize feelings, to tighten and inure the self from further damage and pain. Cautiously place maple leaves on top of batter. Let set to protect the soul, rejuvenate and rebuild the body, and to energize the spirit.
4. "Canadianize" further by shaking off bits and pieces of "Japanese-ness".
5. Store for a generation, while slowly folding in rediscovered dormant sakura buds.
6. Set freezer dial to 1979. Setting aside the maple leaves, gradually peel off facial mask and place batter into the smallest pan.
7. Sprinkle 100 sakura blossoms and the maple leaves on top, arranging in the NAJC way.
8. Put into freezer to chill and set, until the cakes's temperatures reads 1988, official NAJC-Canadian government degrees. This will finally expose Canada's shame. (Note: this layer is dedicated with gratitude and appreciation to those who attained Redress and apology to all Japanese Canadians: especially to Art Miki of the NAJC, and our own Jerry (Jiro) Hisaoka.


Top: Kokeshi (Japanese doll)
One Yonsei, a 4th-generation Canadian baby (American baby optional)
1. Make a baby, using fresh ingredients from one member of the Hisaoka clan and any other person regardless of age, race, ethnicity, religion, and physical and mental ability.
2. Feed and let rise; the baby will grow as you lovingly handle him or her.
3. Shape according to beliefs, attitudes, and social mores.
4. Blend in heritage, culture and traditions from each parent. The Hisaoka traditions are no longer "Made in Japan"; they are full-strength Canadian (American).
5. Outfit child with kimono (Japanese dress) and coat with outer clothing according to Western climate.
6. Treat with respect and unconditional love. (Note: more than one baby is optional. The Kokeshi represents the 5th or 6th generations, etc., or Hapa (mixed race).

Cake Assembly
1. Make a gel with: strips of self-denial, sacrifice, hard work and shared experiences of shock and horror. Allow mixture to drench the Hisaoka children; to honour the values and heritage passed on by: Shizuka and Yuichi Akune; Fujiko and Masaru Okamura; Kimiko and Todomu Matsunaga; Kasumi and Roy Matsuda; Ken and Renko and Fran Hisaoka; Jerry and Tomi Hisaoka; Michie and Tad Kawasaki.
2. Fuse cake layers with gel in order, largest to smallest.
3. Top with kokeshi.
Love had flowed freely from Bachan (grandmother) and Gichan (grandfather) through the copper tie, binding the generations together and wrapping around the child. Funnel gratitude and respect back through the tie.
Serve the Hisaoka cake by re-telling the stories to the next generations.
* * * * *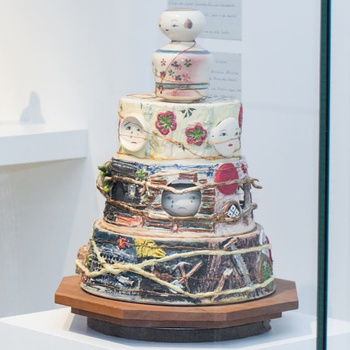 Marjene's explanation of "Continuum: A Japanese Canadian History Cake" (1992)
The bottom layer:
Issei immigrants having to survive by working jobs with the least pay, that Caucasians wouldn't accept. Fishing, agriculture, work with lumber and lumber mills, coal mines, and road work working with Japanese bosses. The Bible and the Buddhist insignia: some did house work and some, through Christian church learned some English. Others retained Buddhism. Picture bride and family mon. When they were able to save some money, marriage and family began the family building stage. Fruit farm in the Fraser Valley and more tree trunk: need to cut trees for farmland. The use of sakura flower represents Japan; the maple leaf represents Canada. Yellow rope represents racism in BC (British Columbia) from the Pacific to Rockies. It also showed the financial barrier to travel beyond BC.
The second layer:
The face inside, shedding tears. Through the holes, words can be seen: broken people, broken family, and broken community, and Japanese words—shikataganai, enryo, on, giri, gaman—express ideals for a person. The thumb print (represents the ID cards that Japanese Canadians had to carry at all times), bunk beds in Vancouver's Hastings Park, and cabins in interior BC internment camps. The red sun of Japan (repatriation) and target on back of JC's prison shirts at Angler and Petawawa POW camps Ontario. The Matsunaga family mon—my father's father and brother—deportation and more exclusion. The old Canadian Pacific Railroad train taking people to Southern Alberta and Manitoba sugar beet farms. The whole layer is surrounded by barbed wire.
The third layer:
A peaceful serene face with a hole at each side is a mask people wore, never talking. JCs rebuilding their lives, becoming good Canadian citizens, and "Everything is done for the children." Bamboo stalks and leaves showing resilience and strength. Yellow glaze. "Yellow on the outside, white inside," often used as a description of JCs, trying to lose their "Japaneseness." National Association of Japanese Canadians (NAJC) logo - sakura on outside, maple leaf inside. The mask is gradually torn off. The face with tears shows the sorrow and horror of the past. Reliving and telling stories. Redress.