Some readers may well wonder why this book by seasoned Latin American journalist Mary Jo McConahay is being reviewed here for their consumption, consideration, and contemplation. After all, its focus, as the volume's title intimates, is the World War II shadow war for the Western Hemisphere pitting the Axis against the Allies for popular support, military advantage, and natural resources, one in which each side, "closely shadowed the steps of the other, like dancers in a tango" (pp. xii).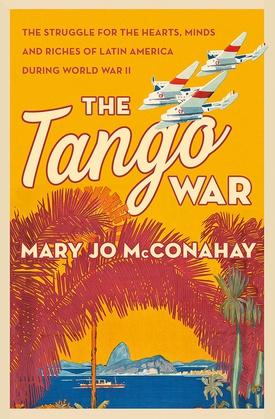 While The Tango War certainly fills a gap in the history of World War II, is painstakingly researched and documented, conveyed in a dynamic narrative, and achieves a balance between being edifying and enjoyable, the overriding rationale for reviewing it in this particular venue is due to the inclusion in the book of what British historian Susan Carruthers depicts as its "two most poignant chapters," Chapter 6: "In Inca Country, Capturing 'Japanese,'" and Chapter 7: "Inmates: A Family Affair." Together these chapters assay the causes and consequences of the U.S. government-concocted scheme nicknamed "Quiet Passages" to kidnap Latin American residents (mostly, but not exclusively, Peruvian males of Japanese ancestry, both aliens and, to a lesser degree, citizens) and to dragoon them (some 1,800 Peruvian Japanese out of a total of 2,200 Latin American Japanese) into U.S. internment (aka concentration) camps.
Chapter 6 concentrates mainly on the causation of the Peruvian Japanese catastrophe, which consisted of a combination of factors. Chief among these, according to McConahay, were the United States' fervent need for "Japanese" prisoners to exchange for Americans held captive by Japan; the Peruvian government's escalating anti-Asian prejudice and alleged fear of sabotage, subversion, or espionage by members of its 30,000 Japanese population; and the economic success of Japanese Peruvians and the attendant jealousy about and resentment for this achievement by Peru's white European-oriented business community.
In the next chapter, McConahay turns her major attention to the consequences or costs of the wartime ethnic Japanese cleansing of Peru, which was enacted by its complicit leaders in conjunction with the "Machiavellian" maneuvers of U.S. governmental officials exercising their country's hemispheric overlord powers. As the Peruvian Japanese "captives" boarded ships that would take them to the U.S. at either New Orleans, La., or San Pedro, Calif., they were mandated to relinquish their passports, "so they would land in the U.S. as "undocumented aliens, subject to arrest" (pp. 128). Then, en route to their destinations, their ships sailed through imperiled waters infested with prowling U-boats.
Thereafter, upon arrival at their American ports of entry, the involuntary passengers were interrogated by FBI agents who apprised them that they were subject to arrest because of lacking proper travel documents. In addition, captives and family members were forced to undergo not only the indignity of stripping, but also to endure having attendants spray them with DDT.
Following a darkened train ride from New Orleans or San Pedro to the small southern Texas town of Crystal City, the bedraggled passengers were deposited as prisoners of war at a 290-acre site girded by 10-foot fences and guarded by armed sentry towers in a U.S. Immigration and Naturalization Service-administered facility called the Crystal City Internment Center (which remained in operation until 1947).
Although McConahay provides a superb overview, replete with personal reminiscences, of this prison, readers interested in a fuller treatment of this site of shame will be well served by checking out Jan Jarboe Russell's 2016 book The Train to Crystal City: FDR's Secret Prisoner Exchange. Arguably, the best treatment of the short- and long-term causes and consequences of the pernicious World War II experience of Peruvian Japanese is Lika C. Miyake's January 2002 Asian American Law Journal article entitled "Forsaken and Forgotten: The U.S. Internment of Japanese Peruvians during World War II," which is available online.
THE TANGO WAR: THE STRUGGLE FOR THE HEARTS, MINDS AND RICHES OF LATIN AMERICA DURING WORLD WAR II
By Mary Jo McConahay
(New York: St Martin's Press, 2018, 336 pp., $29.99, hardcover)
*This article was originally published on Nichi Bei Weekly on July 18, 2019.