My hero Is my late father-in-law Yoneto James Nakata. He was the father of my wife, Mary Nakata. She asked me to research her father's life as she never knew him because he died when she was only six months old.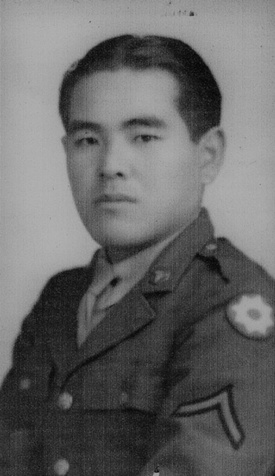 Over a period of 30 years, I came to know him through the few documents that Mary had. Yoneto Nakata was born in Sanger, California on November 25, 1918 to immigrants from Hiroshima, Japan. They worked in the San Joaquin Valley as farm workers, picking fruits such as grapes and peaches. But in 1925, his parents along with him returned to Japan. There Yoneto grew up in a new land and culture and completed high school. When his mother died, he decided to return to the U.S. in 1935 to live and work with his uncle in Gardena, California.
His life changed dramatically when he was inducted into the U.S. Army in July, 1941. On December 7, 1941, when World War II broke out, his life changed again. He along with other Nisei soldiers in the US Army were assigned non-combat duties such as hospital orderlies and stationed at army forts away from both coasts. The army did not trust these men with weapons. Yoneto Nakata spent two years as a hospital orderly at Camp Robinson, near Little Rock, Arkansas.
By the spring of 1944, the army realized there was a need for more soldiers with linguistic skills at the battle front and began recruiting for soldiers for the top-secret unit, the Military Intelligence Service (MIS). This unit was created in 1941 but the demand from the front exceeded the supply. Yoneto was screened but was not accepted, maybe because his language skills did not meet their standards. He did have a Japanese high school education but perhaps his English language was lacking. So, he bought a Japanese-English dictionary in 1943 and began to study, preparing for the future recruitment of linguist and interpreters. He also found in the dictionary a Christian name "James" which he adopted as his middle name. Like many Niseis who did not have a Christian name, he chose this name to become more Americanized.
Yoneto was accepted for the MIS program in August, 1944 and enrolled in 9 months of language classes at the MIS Language School at Fort Snelling, Minnesota. The students had to pass rigorous classes in all forms of the Japanese language, both written and spoken, in addition to regular army training such as field maneuvers, marching, and weapons training. On May, 1945, He along with 180 other soldiers (all Japanese Americans) graduated from the school with the rank of corporal.
Within two weeks, Yoneto Nakata was sent to the Philippines and was assigned to the 10th Antiaircraft Artillery Unit. This unit was attached to an infantry division and was useful in destroying reinforced fortifications and bunkers in northern Luzon. He may have tried to talk Japanese soldiers into surrendering. He faced dangers from three sources, the Japanese enemy who considered him a traitor and faced certain death, friendly fire since he looked like the enemy, and lastly from the Filipino population who suffered under Japanese occupation. Because of these dangers, as many as three white soldiers were assigned to protect all MIS linguist/interpreters. Not only did he face enemy fire, he had to endure the jungle conditions and the many tropical diseases present in the Philippines. I saw a photo of him in late 1942 and a photo after the war - he had aged noticeably. Combat stress had taken a toll of this soldier. He knew what was ahead of him and yet he still volunteered.
He was honorably discharged in early 1946 and quickly went to work as a civilian for the Supreme Commander of Allied Powers (SCAP) General MacArthur in Japan. There he met and married Yaeko Niikura and produced a child, Mary Mieko Nakata. He and his wife returned the states in April, 1948 but after a long illness in the Veteran's Hospital in Santa Monica, he passed away in May, 1948. His daughter was only six months old.
After reviewing his life, I wondered why Yoneto James Nakata volunteered for this dangerous duty. All he had to do was to serve his time in the army, away from combat in an army hospital, and with an honorable discharge, he was entitled to all the benefits due to a returning veteran. He was a true hero in that he wanted to help his country win the war and maybe help improve conditions of his uncle, aunt, and cousins who were imprisoned in nearby Jerome Concentration Camp, Arkansas, near the Mississippi River. He also knew that he might face his Japanese cousins in the pending invasion of Japan. This must have been a very difficult decision to make.
I searched the internet for the definition of hero and found that a hero is
A person who is admired or idealized for courage, outstanding achievement or noble qualities – war hero
Sacrificial, determination, virtuosity, courage.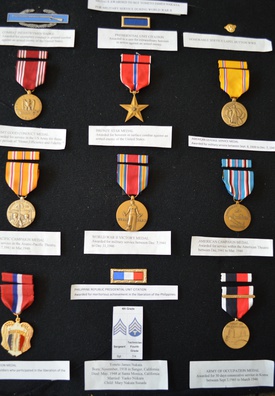 All these traits are found in Yoneto James Nakata and is expressed by the numerous medals he so deservedly earned. A total of 13 medals were awarded which include the Congressional Gold Medal, Bronze Star Medal, Presidential Unit Citation, Combat Infantryman Badge, Army Good Conduct Medal and two from the Republic of the Philippines, the Philippine Liberation Medal and the Philippine Presidential Unit Citation. Eight of these medals were awarded long after he passed away in 1948 because of the efforts of his only child, Mary Nakata Sunada, Sergeant Yoneto James Nakata was finally recognized by his country and the Republic of the Philippines for his heroic deeds.
When I see his medals on our family room wall, I feel a great debt of gratitude to him for making my life easier. I am so very proud that he was my father-in-law.