In the years surrounding World War II, the Japanese-born writer and progressive activist Ayako Ishigaki lived in exile in New York and Los Angeles. During this time, she concentrated on opposing Japanese militarism. In lecture tours around the United States that she made alongside Chinese colleagues, she scored the Japanese occupation of China and called for boycotts of Japanese goods.
Ishigaki was equally forceful as an author, most notably of the semi-fictionalized memoir Restless Wave, published in 1940 under the pen name Haru Matsui. The book described her struggle for independence as a woman within Japan's rigidly hierarchical and patriarchal society, then touched on aspects of her life in the United States. The book received widespread praise from critics, and it appeared on numerous booklists during the war years. I was proud to coedit a new edition of Restless Wave, published under the author's real name, with the Feminist Press of the City University of New York in 2004. The new edition of Ishigaki's book was awarded a special citation by the Association for Asian American Studies as a "lost Asian American treasure."
Still, even before she wrote Restless Wave, Ishigaki made a name for herself as a journalist during the 1930s, writing both in English and Japanese. What is particularly noteworthy about all her writing is the central place the author accorded gender and women's experience, which gives her work a remarkably contemporary tone. Thus, in the various pseudonymous articles and editorials Ishigaki wrote for such left-wing journals as China Today and The New Masses, she focused on the negative impact of Japan's war in China, not just on the Chinese, but on the everyday lives of the poor in Japan, especially women. Her practice of "domestic internationalism" was even more marked in the daily Japanese-language column, "Jinsei Shokan" (woman's thoughts) that she wrote for the Los Angeles newspaper Rafu Shimpo during 1937. In these columns, Ishigaki addressed herself to Issei women and portrayed herself as a housewife speaking to other housewives. Using a deliberately simple, chatty style, she discussed household matters and daily activities as a framework through which she introduced analyses of gender discrimination and diffusion of antiwar propaganda.
Before I go further, it might be useful to give a little background on Ishigaki. She was born Ayako Tanaka on September 21, 1903 in Tokyo. Although her father, a university professor, embraced Western ideas and permitted her to be educated, she had a fairly conventional upbringing for a woman of her elite background. When her elder sister was pushed into an arranged marriage, however, she rebelled. During the liberal Taisho period of the 1920s, she asserted herself as a "new woman." She refused an arranged marriage, took paid employment outside of the home, and became interested in politics as an organizer for the progressive Farmer-Labor party. After she was arrested and harassed by police, she agreed to her family's suggestion that she join relatives in the United States.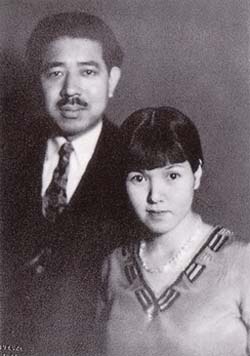 Shortly after her arrival in 1926, she moved to New York. There she met and fell in love with a radical Issei artist, Eitaro Ishigaki. In later years, she frequently recounted an evening in 1927 when Eitaro took her to Union Square to attend one of the international protests over the execution of the anarchists Sacco and Vanzetti. Despite family opposition, she insisted on marrying him.
In the years that followed Japan's 1931 invasion of Manchuria, Ishigaki took a leading role as an organizer and speaker for left-wing antimilitarist groups such as the American Friends of the Chinese People and the American League for Peace and Democracy. During these years, Ishigaki also took on a number of different jobs to support herself and her artist husband, working variously as a lampshade factory worker, waitress, sales clerk, and cashier.
In 1935, Ishigaki began reporting on Japan for the New York-based radical publications The New Masses and China Today. In those articles, she demonstrated the class and feminist consciousness that underlay her ideas on international affairs. In one article, she reported on slave labor conditions in factories. Peasant girls comprised the largest share of workers. Foremen recruited them as cheap labor by paying their impoverished families 70 yen, representing a year's wages, and falsely promising to educate them in tea ceremony and flower arrangement to help them find husbands. Similarly, in an article on Baroness Shidzué Ishimoto, the feminist and birth control pioneer, Ishigaki praised Ishimoto as "the Margaret Sanger of Japan, carrying on an intensive fight for birth control and struggling to free Japanese women from the grip of feudal bondage in all fields of activity," and expressed approval for Ishimoto's socialist sympathies:
The Baroness grew to maturity during the period of Japan's transition from feudalism to capitalism. Factories, machines and skyscrapers sprang up like mushrooms, and thousands of Japanese girls were plunged into the brutality of capitalist exploitation…The ruthless exploitation of the workers in the coal mines came to her as a terrible shock; the poverty and misery among the miners awakened in her a sympathy for the down-trodden and oppressed.1
Nevertheless, Ishigaki considered women's rights and democracy to be intimately linked with the struggle against international oppression. The Japanese war machine ran on the exploited labor of the poor, especially women, while militarization silenced opposition and stifled progressive social change. Therefore, she criticized Baroness Ishimoto's failure to connect her reform efforts at home with solidarity against Japan's international aggression in China.
In 1937, Eitaro Ishigaki was hired by the federal Works Progress Administration to paint a black history mural for a Harlem courthouse. Because of his job, Ayako was able to quit her factory job and devote herself full-time to activism. She decided to base herself in Los Angeles because of the large Japanese American community there. Adopting the pseudonym May Tanaka, Ishigaki moved west in 1937. Once settled in her new home, she sought a way both to introduce herself into the community and to help support herself. Thus, she became a newspaper columnist. As she later explained, her column was designed to look at everyday life in Los Angeles from a woman's point of view, and then to use such mundane daily scenes to express anti-war ideas.
Ishigaki used her new platform to speak to the community for women's rights and against militarism. She couched her discussions in homey terms. In her April 21, 1937 column, for instance, she described her delight after so many years on the East Coast in being able to find authentic Japanese foods such as pickles and soy sauce. However, she used the discussion to make a point about the economic impact of war:
"Speaking of the war emergency in Japan, its effects have advanced even to the homes of Japanese away from Japan making strenuous efforts in a strange land. When I was at the market, I heard a middle-aged woman saying, "The price of soy sauce is up again, [though] it has been up thirty cents more per barrel."
Similarly, Ishigaki found ways to bring up the question of women's rights in an indirect fashion. In her April 26 column, she decried the images she found of women in Japanese magazines as "stupid stuff." Men, she commented acidly, must really fear that women were smarter than them if the only images they were willing to show of women were those doing flower arrangement and tea ceremony. Her September 13 column was even more radical. Ishigaki presented the case for birth control, commenting "Just as every woman is free to marry or not, every woman is free to decide whether or not to have children and how many." On the one hand, she remarked straightforwardly that the decision whether or not to have children, and how many, was a woman's choice. However, she added that such freedom of choice formed a necessary part of respect for motherhood: families suffer if mothers have children whom they lack money to raise properly.
In order to gain material for her work, Ishigaki sought out Issei women in the Los Angeles area. Ironically, despite Ishigaki's egalitarian sympathies, she had found it difficult to really connect with workers or country people in Japan because of her elite background. In Little Tokyo, however, all Nikkei were brought together by their shared marginalization, and Ishigaki was able to forge relations with them on a deep level. She was also interested in the younger generation. As Larry Tajiri later wrote in Nichi Bei Shinbun, "Though not a Nisei, Haru Matsui of New York made several succinct observations on the life of the west coast Nihonmachis in her autobiography "The Restless Wave"…She sympathized with the problems of those bilingual, sometimes bicultural, bipeds, the U.S. Nisei."
Ishigaki's columns gained a great deal of attention. Togo Tanaka, the Rafu's English-language editor, spoke admiringly of them: "Emancipated from the traditional Japanese role of inferior status for women, May Tanaka lashed out in condemnation of the Japanese political system."2 Sadly, Ishigaki did not think highly of her own efforts. When a captain in the Japanese military made a propaganda tour of California following the Japanese invasion of China in July 1937, and a group of Issei mounted a subscription to purchase an airplane for the Japanese military, Ishigaki decided that her mission had failed, and she returned to New York in September 1937. Not long after, she was commissioned to write the book that emerged as Restless Wave.
What is so striking about all of Ishigaki's writings during the 1930s, whether her magazine articles, newspaper columns, or her book Restless Wave, is the ways she portrayed herself as ordinary and nonthreatening. Although Ishigaki was clearly an independent-minded upper-class woman with a career, she presented herself as a housewife, talking to other housewives, in ways that simultaneously manipulated and subverted gender and racial expectations of the author as a Japanese woman. Similarly, her arguments relied on deploying domestic imagery, all of which humanized her and made her radical ideas seem less threatening.
After working for the Office of War Information and the U.S. State Department during the wartime period, in 1945 Ishigaki started writing for the New York Japanese-language (ultimately bilingual) newspaper Hokubei Shimpo. She resuscitated her "Jinsei Shokan" column, talking about women's rights and international peace. Ishigaki returned to Japan with her husband in 1951, a victim of McCarthy-era official harassment. During the decades that followed, she became well known in Japan, first as a feminist writer and social critic, later as a television commentator and popular author. The rediscovery of Ishigaki's work on both continents allows us not only to celebrate the achievements of a remarkable woman, but to see how she challenged stereotypes about Asian women's activism, feminism in popular media, and Issei women's communities.
Notes:
1. Haru Matsui, "Baroness Ishimoto—End or Beginning?" China Today, Vol.2 No. 1, Oct. 1935, p.21
2. Togo Tanaka, cited in Kaori Hayashi, "History of the Rafu Shimpo: Evolution of a Japanese-American newspaper, 1903-1942, master's thesis, communication, Cal State U Northridge, 1990, p. 277