So, here we are entering fall 2020 and the second wave of Covid-19 is upon Canada…. the inevitable has arrived.
So, from Nelson, BC there is Diana who I met last summer on a short trip to the Kootenays that now seems like a lifetime ago. I like the edginess of her American Niseiness. Her "Sideways" memoir gave me insight into what it was like to grow up as someone born into internment in Minidoka Internment Camp. A friend of William Hohri (1927-2010), writer, civil rights activist, and lead plaintiff in the National Council for Japanese American Redress (NCJAR) class action lawsuit which sued the U.S. government for $27 billion for injuries suffered as a result of the exclusion and imprisonment of Japanese Americans in U.S. concentration camps during World War II. Diana has a sense of social justice that still burns.
We know Joy Kogawa, Order of Canada and Order of the Rising Sun. I read her Canadian classic, Obasan, in the 1980s. It was a trigger for so much that went on for me personally, starting from the 1990s. Reflecting on this, moving to BC, Japan, and back to Canada to teach (she is a teacher too). More than any other writer, I would posit, she's touched post-internment WW2 generations of Japanese Canadians in deep and profound ways that we have yet to reckon with.
Finally, there is the new work of Jeff Chiba Stearns who worked collaboratively with Lillian Michiko Blakey (Newmarket, ON) on a graphic novel, On Being Yukiko, which addresses many generational issues of Japanese Canadian identity that Jeff brought to the forefront with his groundbreaking 2010 Emmy-nominated documentary, One Big Hapa Family. Like his family, most Japanese Canadian now are more like the ethnic/cultural mix that reflects the 2020 reality that three-time Grand Slam winning tennis star Naomi Osaka and rookie NBA phenom Rui Hachimura who plays for the Washington Wizards represent: a more global, inclusive, and kinder Japan: that's the kind of universal expansiveness that we should all aspire to embrace and grow.
* * * * *
Author/poet, Joy Kogawa (Toronto, ON)
How is Covid-19 affecting how you do art?
I hate isolation but love contemplation. A different perspective on being alone. There is choice. This isolation is an opportunity to write, which requires solitude.
How is Covid-19 affecting how you think of yourself as an artist?
It isn't affecting how I think of myself as a writer.
Are there themes that are preoccupying you during this time?
The suffering to come, old age, spiritual perspective.
What is your greatest hope for when we emerge from Covid-19?
My hope is that the time of isolation will lead many of us to focus on our spiritual identities, needs, and practices. Particularly as we age, I think we need the expansiveness of that perspective to guide us to the end of life.
* * * * *
Filmmaker/Artist, Jeff Chiba Stearns (Vancouver, BC)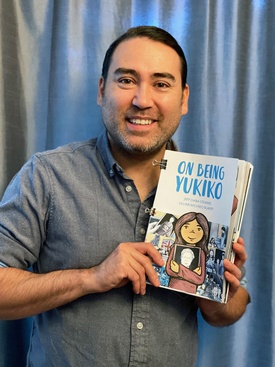 How is Covid-19 affecting how you do art?
As a filmmaker and artist, I've actually worked from a home studio for almost two decades. Therefore, when the pandemic hit, it really wasn't much of an adjustment for me. I actually found that I was more productive because there wasn't a reason for me to leave the house for meetings or errands. As well, there was no need to travel which takes up a good amount of my time promoting my work. I was able to spend much more time with my two young children who are a huge inspiration to my work now that I create children's books. My four-year-old daughter and I spent a lot of time drawing and making art together.
The quarantine back in March also helped kick start a new project that I've been developing with Japanese Canadian Sansei artist, Lillian Michiko Blakey. It is our first graphic novel entitled, On Being Yukiko. The book is an intergenerational story on Japanese Canadian family history and cultural identity set to release this December 2020.
How is Covid-19 affecting how you think of yourself as an artist?
The pandemic really hasn't made me shift how I see myself as an artist. If anything, it allowed me more time to focus on our new graphic novel project. So I guess now I can add comic book writer and artist to my resume alongside filmmaker and children's book author/illustrator. Creating a graphic novel has been something I've always wanted to do ever since high school. Now over 20 years later, it has finally become a reality. Because of Covid-19, I was able to maintain focus and finish a 56-page graphic novel in less than six months. Since the graphic novel involves themes of identity and history, the pivotal movements happening now in the US with the Black Lives Matter movement have actually inspired small parts of our book.
Are there themes that are preoccupying you during this time?
When the pandemic hit in March, there was quite a bit of Covid-19 emergency arts funding in Canada. I applied many projects to these funding opportunities during this time. This included a new short Post-it Note animation that focused on my daily pandemic experience. I applied to three different funding sources and was rejected each time. In the end, I'm actually happy that the film was rejected because I'm really tired of focusing on Covid-19. Instead, I'm much happier focusing on the new graphic novel Lillian and I are creating, On Being Yukiko.
I love the themes we're exploring in the book. Through the blending of two unique artistic styles, my cartoony 'hapanimation' and Lillian's sketchy realism, twelve-year-old Emma, who is Gosei and a quarter Japanese, learns about her Japanese roots through the story of her great-great grandmother Maki, a Japanese picture bride who journeyed to Canada at the turn of the 20th century. Through Maki's story of extreme perseverance and sacrifice, having been interned and then deported to Japan after WWII, Emma discovers a deeper connection to her JC identity. These themes of mixed identity and JC cultural heritage and history are very important to me in my work. They are a direct reflection of the work I've been doing in film for the last 15 years and it's great to follow this up now in a print format that will appeal to youth.
What is one societal change you would like to see when we emerge from the Covid pandemic?
I would love to see progress be made towards the push for equality and the end of systemic racism in Canada and the US, which has been the focus of many groups during the pandemic. We're at a very pivotal moment in history where we can start to turn the tide. The world is listening. I really hope this movement helps people around the world to stand up and take notice of the injustices that still exist and inspires people to make a positive change in their own lives and in the lives of others.
* * * * *
Writer, Diana Morita Cole (Nelson, BC)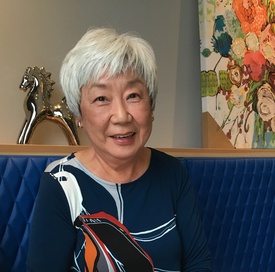 Reflections on Precarity
I
I am both distracted and obsessed during the pandemic. Happiness and sadness switch on and off in a dizzying circuitry of consciousness, relaying the horror of one million dead while signaling "all clear" for relatives, safe but scanning the internet for evacuation alerts.
Gardening, cooking, and putting-away, as my astrologer friend says, is every woman's purpose now, as we re-calibrate our appetites for scarcity.
Sick migrant workers. Locusts. Civil unrest. Drought. No-survivor hurricanes. Quarantine.
"We should think about the bears. Leave the huckleberries for them," people say, causing me to wonder: who are we to think ourselves the master species when a microorganism, smaller than bacteria, can bring us and our civilization to its knees?
Time to care for the bears and all other beings, before the corona virus lays us lower than the ants that crawl beneath our feet.
II
I am a fly.
I see the startling flashes of light—
the smoldering embers in Penticton,
the white ash of the Amazon,
the blast in Beirut,
the red flares in the valley.
I buzz—
near your glassy eye;
land on your lifeless brow
scorched by the raging sun.
I crawl—
and lay my eggs
that my kin and I
might yet be spared.
*This poem is copyrighted by Diana Morita Cole (2020)
Diana Morita Cole's reading of her poem, "Precarity"