In the 1950's Tachi and May had their first daughter, Ruth Ann. Soon after, Hiro and Aiko had Linda, born in 1951, and Janice (Janni), born in 1952.
All the Ukita family members in Chicago got together for holiday dinners. Friends of the family also gathered at our home. Those were wonderful times having relatives and friends gathering together on holidays. Christmas was like a toy store for me and Charlene. We must have gotten more than a dozen presents each on Christmas from family and family friends. I've long forgotten what those specific presents were, and now only remember what wonderful fellowship between family and friends was shared at our home on Wilton Street.
Tachi would give Charlene and me quarters almost every time he saw us. He would often come over with candy bars for us too. He liked Reese's Peanut Butter Cups so we would often get these. He would pop one in his mouth like it was a piece of M&M candy.
He knew where all the candy manufacturers like Curtiss Candy and Mars Candy companies were located on the north side of Chicago. He even bought boxes of candy directly from the manufacturing plants. I remember him taking me to see where the candy companies were located. He would buy ice cream bars from the Good Humor man who would pass by on our street. Toasted Almond Bars or Coconut Ice Cream Bars were items everyone seemed to like best.
The whole Ukita family eventually moved back to Los Angeles between 1956 and 1959. Tachi worked with Dad at Dad's and his partner Nathan Rosenfeld's Taro-Loid Company. The company made industrial diamond wheels, special precision drill bits, and carbide dies. One reason that the Tachi Ukita family moved to Los Angeles was the need to have qualified machinists at the Taro-Loid Company and Tachi was a highly skilled machinist. Tachi worked at Taro-Loid starting in 1959 until the time he retired some thirty years later.
Tachi became a player-coach for the Taro-Loid basketball team playing in the Nisei Athletic Union (NAU) from 1959 to 1962. In its second year, Taro-Loid won the1960 post-season A Plus basketball tournament. The team really wasn't that strong, even though winning the tournament. It only came in second or third place during the regular season playing at Dorsey High School. Tachi pretty much just had a triangle offense to coach and manage because only three players like the three points of a triangle could regularly score: Yoshiro Hata, Manuel Fernandez, and Gordon Zane!!!
The team was required to play in the upper division NAU AA league in the 1961 season, due to winning the A Plus post-season tournament. He definitely understood the team was not that strong, but never complained that we had to play in the upper division. It ended up that the team lost all games becoming almost like cannon fodder for the strongest league teams but a few game scores ended up close.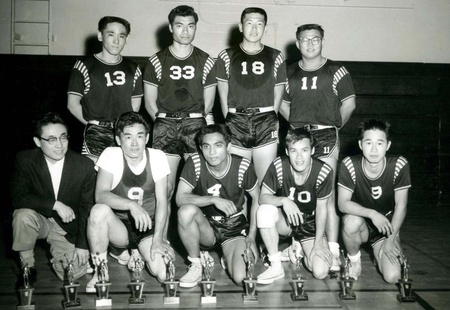 I attended the 1961 preseason NAU AA manager's nighttime meeting with Tachi. At this meeting, one subject discussed and voted upon basically was how many non-Japanese American players should be allowed to play on NAU basketball teams. Prior to the meeting, Tachi wasn't told nor made aware that this topic would be discussed and voted on.
This matter was a big concern of several managers and players of various teams. Team representatives expressed feelings that one strong AA team was composed of all Chinese American players. The team was named "Kow Kong" which was composed of outstanding players who had played on various high school teams in the Los Angeles area. They were a great team but not the top team in the NAU AA League. The San Kwo Low Restaurant sponsored Lords team was at that time the strongest team and was comprised of Japanese American players.
At this meeting a team representative said that it was not fair that the Kow Kong team composed of all Chinese American all-star players could play in the NAU AA league. Other team representatives felt the same way about limiting teams to only so many non-Japanese players. Some team representatives at the meeting asked, "Why don't the Chinese Americans form their own league?"
Tachi pretty much said, "What's wrong with you folks?" and "Wouldn't you want to play against the best Asian American teams in the area?" He said that the Lords team was comprised of outstanding Japanese American players who mostly played high school varsity basketball with several having played or were playing college-level basketball and further said, "No one's complaining about that team!"
This stance by Tachi has always struck me as being an unprejudiced position being taken as his immediate response. He didn't just sit there without speaking his mind.
There was a vote by all the team representatives at this meeting to primarily allow only three non-Japanese American players on any NAU basketball team. This vote resulted in the excellent Kow Kong team being eliminated from playing in the NAU.
I'm not trying to say this was a bad decision; however, I wrote this attesting to how Tachi did not just sit there without saying what he thought and he stood up for the Chinese American team who was eliminated from playing in the NAU AA basketball league.
To this day, I have a deep admiration for Tachi for what he said. He didn't take any back seat on what he felt was fair and right!!
Akira Komai was highly involved in JA sports before and after the War and he was the owner of the Rafu Shimpo paper. He was one of the leading persons who organized the NAU after the War. In one 1961 NAU AA game, Tachi at 41-years old scored about 15 points. In the Rafu, a nice article appeared about Tachi, saying that at 41-years old he was still playing basketball in the top level NAU AA basketball league and that before the War he once played for the well known JAU (Japanese Athletic Union) Cardinal team. Tachi after reading the article said at his age he was and had to be well-versed with the art of cherry picking. My thoughts were that the Rafu article identifying Tachi being 41-years, as someone special to still be able to play against much younger competition in the top NAU league.
In 1965, Tachi and May had their second daughter, Robin. Hiro and Aiko had their third child, John, in 1956. So by 1965 there were seven third generation members of the Ukita family in California. There was a good-sized gang of Sansei Ukita family members.
My wife Miyo and I moved quite often throughout our married life starting in 1962 and Tachi was the best man at our wedding. He helped us on many of these moves. If he heard we were going to move, he would call and ask without any hesitation when to be there. He would borrow a pickup and be over "lickety- split"—a favorite expression of his—and help until all was moved from one place to the new place.
In 1992, Tachi went into Monterey Park Hospital. He was having cardiac problems. We visited him in his hospital room. He was pretty cheerful and happy to see us. I grasped his hand while talking to him; he was in good spirits. He would even then wink his eye talking about certain matters still maintaining his sense of humor and I thought he would be okay. However, he passed away within about two days after we visited him in the hospital. I couldn't believe this happened.
Tachi was never one to say that things in the past were better than now. He was one to think ahead in having better days and that things will be better than in the past. He took a positive forward view on life. I also remember that he would always with his full interest and concern ask how you or others were doing and not just talk about his-self. At his memorial service, I said that he worked hard being diligent at what he did, was there to help others, and when the work was done knew how to have a good time for himself and readily share with others. He did this utmost with that unforgettable smiling face.
At his memorial service, cousin Janni said something that expressed the full essence about who Tachi was. She said he was someone that "would give his shirt off his back to someone that needed it." So Janni truly recognized, understood, and appreciated the soul of Uncle Tachi.
* This paper is a shortened and revised version of what was written about Tachi in the author's book about his family, Pillars of a Sansei's Family, published in 2013.