6. Shoyu forever
In August 1907, the year that the Takeda store came to Chicago, the Japanese YMCA, which was later directed by Rev. Misaki Shimazu, opened a dormitory for Japanese students at 3036 Groveland Avenue.1 Komataro Katataye, another minister who was educated at the University of Chicago like Shimazu, had converted his home at 2938 Prairie to a lodging called the Japanese Mission Home for Japanese students in 1906. The Japanese Mission Home later grew to become the Japanese Christian Association at 4352 Cottage Grove, which was run by Shigeji Tani and had lodging facilities on the 2nd and 3rd floors and a restaurant and retail store for Japanese goods on the first floor.2 Tani opened a restaurant at 643 S. State Street in 1915.3 In 1914, Tamekichi Mikawa opened Hinode Ryokan at 2426 Cottage Grove Avenue.4
It would be easy to imagine that Japanese food with shoyu was provided to Japanese students and tourists who stayed at those lodging facilities in the early 20th century. Japanese ate Japanese food at their homes as well, of course. Kokichi Mizuno, former consul general in New York, who came to Chicago around 1911, said in a letter to a newspaper that he had eaten sukiyaki and tuna sashimi at his friend's house in Chicago.5
During prohibition, the Japanese restaurant business, which provided cheap meals to immigrant workers, prospered along with the economy after the war. And a wave of "Japanism" embracing Japanese culture in general had also reached Chicago. The Stevens Hotel had a big Japanese lunch room which was decorated with Japanese paintings similar to Hiroshige's famous 53 Stations of The Tokaido on the walls in the 1930s,6 although they did not serve any Japanese food.7
On the campus of the University of Chicago, one could eat at a cafe run by a Japanese8 and students and visitors could enjoy rice and tempura at the International House.9 Some Japanese restaurant owners, such as Yasuma Yamazaki, had planned to open a model Japanese restaurant and inspire "Japanism" by providing sukiyaki in their menu in the late 1920s10 because not just Japanese, but also Americans were complaining about the lack of sukiyaki restaurants in Chicago.11
Finally, in the 1930s, a true Japanese washoku restaurant opened in Chicago. In May 1931, Tomeno Shintani started Shintani Shokudo at 3725 Lake Park. The Shintani restaurant was Chicago's only sukiyaki restaurant at this time.12 Tomeno Shintani came to the U.S. around 1912, and arrived in Chicago with two daughters and three sons, all of whom had been born in Washington State. They stayed at Reverend Shimadzu's Japanese Young Men's Christian Institute (JYMCI) and Tomeno supported her family by working as a housekeeper at the JYMCI, which included cooking Japanese food at the JYMCI's restaurant.13 About a year later, she opened her own restaurant, which was a popular place to eat, featuring the Japanese version of "mom's home cooking."
John Drury, a Chicago Daily News columnist, introduced Shintani Shokudo in his book as follows: "For a delicious suki-yaki meal visit shintani's native restaurant, 3725 Lake Park Avenue."14 Japanese sukiyaki was well known among Chicagoans in the days before World War II. The Shintani restaurant changed its name to Miyako and moved to 743 Rush Street in 1935.15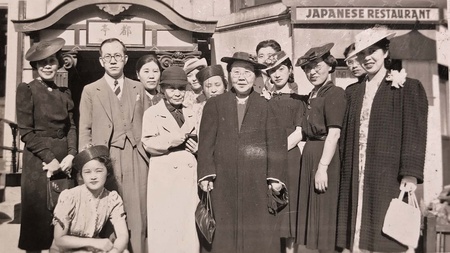 Another Japanese washoku restaurant, Futaba, also opened at 109 East Oak in 1931, the same year that Shintani Shokudo opened. Futaba served regular Japanese food such as kaiseki ryori, sukiyaki, udon, soba, all kinds of donburi, shidashi, and bento boxes.16 The restaurant had a tatami room and served mostly canned food. At the restaurant's entrance hung a Japanese lantern-like paper-covered light with Futaba written in Japanese.17
The chef at Futaba was Soichi Kanazawa, who had come to Chicago from Seattle.18 He was born in Wakayama and arrived in Seattle in November 1912. As he was already in the restaurant business in 1920, by the time he was 23 years old,19 he may be called a "yobiyose Nisei" ("sent for" first generation Japanese called to the US from Japan by their parents).
Futaba was considered a high enough class restaurant to hold a reception party for the Japanese Ambassador, Hiroshi Saito.20 Kanazawa was well trusted as a Japanese chef and was also put in charge of the Chicago Nippon Club at 19 East Goethe Street which opened in May 1931 and served teishoku, Sukiyaki, and Kaiseki Ryori.21 The Chicago Nippon Club was a lodging facility serving the Chicago Nippon Tourist Bureau and was operated by Teruo Mukoyama.22
Even American restaurants run by Japanese provided sukiyaki. One of them was Mansho Kanayama's restaurant which opened in 1937 at 5253 Cornell Avenue.23 Consumption of shoyu in Chicago increased with the popularity of sukiyaki. Sukiyaki never lost its popularity in post-World War II Chicago either. In their book, Chicago Confidential, Jack Lait and Lee Mortimer described a sukiyaki restaurant as follows: "It is prepared at your table, comes raw in a frying pan, a sort of chop suey without gravy. The waitress cooks it before your eyes in a gas or charcoal brazier. It is flavoured shoy-u. At the Wisteria, 739 North Wabash, you take off your shoes and sit cross-legged on the floor."24
At Wisteria, a restaurant run by Katsumi Nozawa, a Washington born Nisei, Japanese American women served customers in traditional kimono.25 Nozawa had previously served complete sukiyaki dinner at Delaware Gardens at 58 East Delaware Place.26 Mrs. S. Okimoto also ran the Wisteria Tea Room at 212 East Ohio Street and sukiyaki was also served there.27
Although there really had been no physical enclave called Japantown in Chicago since Japanese immigrants came to the city in the 19th century, there was a quasi-Japanese community in which shoyu helped to connect people throughout the last one hundred years. Shoyu follows Japanese and Japanese Americans no matter where they go. For example, Denver, one of cities chosen for Japanese American relocation after World War II imprisonment, had not one but two shoyu factories right after the war. One was Rafu Shoyu Co. (3500 Larimer Street) and the other was Nakamura Co. (1935 Arapahoe Street). Both factories manufactured white miso, along with what they called "USA Kikkoman".28
In January 1946, the Chicago Shimpo published a big advertisement for Marusho shoyu.29 It was manufactured by Showa Shoyu Brewing in Glendale, Arizona.30 But what happened to Fuji Shoyu in Chicago after the war?
Included on the manifest of the second exchange ship taking Issei and Nisei to Japan, the Gripsholm, which left New York in September 1943, were the names Shinsaku Nagano and Saburo Miyagishima. The list had been made by the Japanese government, which meant that Nagano and Miyagishima were considered valuable to Japan and were allowed by the government to leave the U.S. if they wished.31
But Nagano and Miyagishima did not go back to Japan. Although the shares of stock in the Fuji Trading Company owned by Nagano and his wife, Kaku, had been seized in December 1941 by an alien property custodian32 Nagano remained in Chicago, and kept working at Fuji Trading, 441 W. Huron Street33, until suddenly passing away in his Chicago apartment due to a heart attack on September 15, 1951. He was 69 years old.34 After Nagano's death, Fuji Trading Company continued to prosper, and became Fuji Foods Inc. in 1963.35
Nagano came to Chicago in 1906 with a big dream of challenging America with Japanese tea and shoyu business, and kept working for 45 years in Chicago. When he was in his heyday, he humbly told a newspaper reporter that he deserved no special honors, and also that one should explore one's own destiny by working with one's own hands.36 He expressed his hard working days as well in the following proverbs: "Wagamono to omoeba karushi kasa no yuki" (The snow on my hat is not heavy at all, if I believe that the snow is mine) and "Korogaru ishi ni koke hazezu" (A rolling stone gathers no moss).37
This is the beauty of hard work, and in these words Nagano captures the true aesthetic of pre-World War II Issei lives.


Notes:
1. Nichibei Shuho, May 16, 1914.
2. Ito, Shikago ni Moyu, page 164, 1923 Chicago City Directory.
3. 1916 Chicago City Directory.
4. Nichibei Shuho, February 7, 1914.
5. Nichibei Shuho, December 9, 1911.
6. Otsuichi Kinoshita, Amerika no Sangyo-Gori-ka Undo wo Miru, page 42.
7. Menu collection, qF38JB M52, Chicago History Museum.
8. Muneyoshi Irizawa, Obei no Insho, page 303.
9. Koizumi, Amerika Kiko, page 197.
10. Nichibei Jiho, July 7, 1928.
11. Nichibei Jiho, January 19, 1929.
12. Nichibei Jiho, May 2, 1931.
13. 1930 census, Nichibei Jiho April 20, 1929.
14. John Drury, Guide to Chicago, page 172.
15. Nichibei Jiho, January 1, 1935.
16. Nichibei Jiho, May 11, 1931 and May 18, 1932.
17. Ito, Shikago ni Moyu, page 164-5.
18. Ito, Shikago Nikkei Hyaku-nen Shi, page 235.
19. 1920 census.
20. Ito, Shikago ni Moyu, page 165.
21. Nichibei Jiho, January 6, 1932.
22. Nichibei Jiho, October 17, 1931.
23. Nichibei Jiho, August 14, 1937.
24. Jack Lait and Lee Mortimer, Chicago Confidential, page 87.
25. Ito, Shikago Nikkei Hyaku-nen Shi, page 295.
26. Chicago Shimpo, January 3, 1946, Chicago Japanese American Yearbook, 1947.
27. Chicago Japanese American yearbook, 1947.
28. Chicago Shimpo, November 15, 1945.
29. Chicago Shimpo, January 3, 1946.
30. Chicago Japanese American year Book 1947.
31. Diplomatic Archives of the Ministry of Foreign Affairs of Japan, A-7-0-0-9-24-1.
32. Chicago Tribune, September 2, 1951.
33. Chicago Japanese American yearbook, 1947.
34. Chicago Shimpo, September 19, 1951, Chicago Tribune, September 17, 1951.
35. Chicago Telephone Directory, 1963-64.
36. Nichibei Jiho, May 8, 1926.
37. Nichibei Jiho, January 3, 1931.