This month, we feature California-based Yonsei writer, Kendall Tani, and Arizona-based Sansei writer, Susan Yamamura. Susan's is a lighthearted parody poem that heralds where we look for some solace during a time of major strife, while Kendall's first piece featured here, soft bodies, speaks to a relationship with oneself through an intimate practice of shaping earth (and future) by hand. Both reminded me of the ideas of comfort and doing something good for ourselves...like poetry, a vessel through which we might practice introspection, our potential, or a bit of peace....enjoy.
—traci kato-kiriyama
* * * * *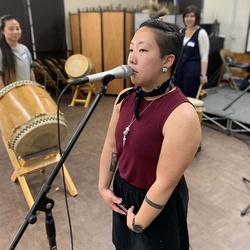 Kendall Tani is a "sometimes-artist" currently based in their hometown of Mammoth Lakes, CA. Much of their artwork, whether visual or written, draws from their personal experience as a fourth-generation Japanese American (Yonsei) navigating mental health and finding and creating community. Kendall has spent the past year focusing their creative energies into the multidisciplinary Asian American arts collaborative Bonbu Stories, which combines music, spoken word, taiko, and movement to explore vulnerability and connection. When not making art or working at their family's Japanese restaurant, they can be found baking and appreciating all things cute (especially dogs).
soft bodies
The feel of fingers
sinking into my skin like
anchors embedding themselves
in shallows, gouging out
supple clay to shape and raze
and shape again
persists, a phantom memory
I can never seem to shake
I tried to disguise my fear of touch
and tenderness
as a fondness for
the reliable violence of fire
and its power
to scorch and scar my form
into solidity, earthenware
being birthed in a kiln
but I couldn't convince you this
self-embalmment was self-love
that finding asylum as an artifact
for future hands to hold
without leaving traces
of their touch
was worth the sacrifice
of flesh and feeling
you showed me how touch
could mold elastic earth
without harm, that there is
a certain immortality
in the flux of workable bodies
and flexible flesh
that we are full of futures,
of perpetual potential to become.
you make me soft
and indestructible.


salvage
currents carry me
away from shore, my
memories and what-could-bes
floating out into the sea, flotsam
of a life lived
and being lived
and about to be lived.
out in the open remoteness,
salted air over salted water with
vicissitudes of blues,
I am just a body in a body,
an expanse in an even
greater vastness,
drifting, drifting.
* These poems are copyrighted by Kendall Tani (2020)
* * * * *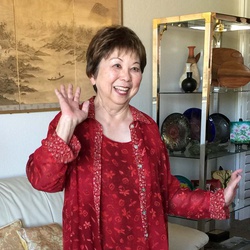 Susan Yamamura was born in Seattle, WA in 1940. She and her family were sent to Camp Harmony, WA and Camp Minidoka, ID. She graduated from the University of Washington, Seattle, in 1962. She first worked as a computer programmer at Space Technology Labs in Redondo Beach, CA and later at the Boeing Co in Seattle. Susan retired from managing a computer and graphics lab in the Chemistry Department at the University of Arizona in 1997.
She had a son with Hank Yamamura; Hank passed away in 2008. She currently lives in Tucson, Arizona.
Two Weeks After Lockdown
My Sincere Apologies to Clement Moore
'Twas a fortnight after lockdown, when all through the house
Not a creature was stirring, not even a mouse
The face masks were hung by the chimney with care
In hopes that the heat would kill any viruses there:
The children were nestled all snug in their beds;
While visions of more home school danced in their heads;
And I in my kerchief, and papa in his cap,
Had just settled our brains for a long lockdown nap,
When from my stomach there arose such a rumble
I sprang from my bed and narrowly averted a tumble
I flew to the pantry and threw open the doors
Could I find ingredients for S'mores?
When what to my wondering eyes did appear
But ingredients for treats with nothing to fear
There was mochiko, sugar and coconut milk too
I'd have goodies to spare, before morning dew
I dashed to my kitchen, googled chichidango in a flash
Heated the oven and soon mixed a batch
It baked in an hour and before long I knew
The joy of eating some Japanese comfort food too.
* This poem is copyrighted by Susan Yamamura (2020)