In November 2019, I was in a US hospital for five days. My temperature was hovering around 102°F. I sweat profusely, followed by the chills. I couldn't get out of bed without collapsing to the floor. I was dizzy, I had lost my appetite, I was extremely weak.
This was before COVID was a daily news story, though medical researchers now have speculated that the virus started around that time in Northern Italy (and not China).
I went to the Emergency Ward and the medical staff ran several tests on me. They found that my bladder, my kidneys, and most distressingly, my blood were infected. With what, they couldn't identify right away. So, they pumped me full of antibiotics and I felt better, good enough to be released the next day.
Unfortunately, the antibiotics hadn't been strong enough. The symptoms returned that night, worse than the first time. I went back to Emergency. After more tests, the attending physician decided to admit me. I spent the next four days in a hospital bed, fed a continuous flow of new antibiotics and saline solution. They ran blood and other tests continuously (including scans). The needles began to hurt badly by the second day.
On the third day of my stay, an infection specialist told me I was suffering from E. coli bacteria. The antibiotics had worked, my blood and organs were clear. But I had to endure another night's stay with yet another blood test the next morning. Just to make sure. To their credit and my relief, they rushed the test at the lab, and I was released by the afternoon.
It was not COVID, but I can relate to the suffering, the treatment, the isolation (only my wife was with me), the alienation, and the fear of the unknown fate patients are experiencing today.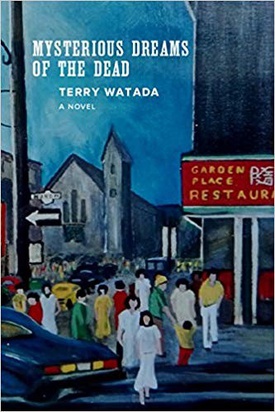 Toronto has become a ghost town in the onslaught of the virus. Everyone travelling to Canada and specifically Toronto and Vancouver are required to self-isolate for 14 days. Most businesses have closed—about 1 in 10 restaurants will never come back (and if this keeps up, by the end of April, it will be 1 in 5). All schools closed. All events and festivals postponed indefinitely. NHL, NBA, MLB, no alphabet game of any kind. Social distancing is encouraged, though Mayor Tory recently announced a by-law that requires people to maintain the necessary distance.
To give it heft, 160+ police officers are now patrolling the streets and parks to catch perpetrators. The set fine is $750 up to $1,000. If convicted, the resident can face a fine of $5,000. The repeated offender may see jail-time (one has actually). Draconian, perhaps. Necessary, yes. Idiots are attracted and tempted by sunny days and socialize with their children and friends at the beach or public park, though parks have been fenced off and locked. But people open the locks and break in to flagrantly break the social distancing order.
Mayor Tory has said: "The time for puzzlement at this misbehaviour is over. Lives are potentially at stake and we will turn up the heat in the hopes that the few who don't get it or pretend not to get it will get with the program."
The Japanese Canadian community is no exception. The Toronto Buddhist Church, the Japanese Canadian Cultural Centre, Momiji Seniors Centre, and the Japanese United Church have all closed their doors indefinitely. All programs have been suspended. As have all festivals (Hanamatsuri and Harumatsuri to name two), events, regular club meetings, and lessons.
In fact, all Nikkei institutions across Canada have instituted restrictions on entering their buildings and programs. Nikkei Place in Burnaby, Vancouver, is closed. Tonari Gumi in Vancouver is closed. The fate of the Powell Street Festival, August 1 and 2, is still up in the air. All related activities in March were cancelled, however. The Japanese Cultural Association of Manitoba recently cancelled its Obon Festival (July 2020). I'm sure this is happening nationally.
Community newspapers and magazines like the Vancouver Bulletin have stopped publishing print copies. Their selling outlets have all closed. They have gone on-line instead. Don't know if the elderly Nisei have access.
And then there are the xenophobic and racist attacks against Asian Canadians throughout the country. The refrain of "Go back to China" is a popular one. Violence has erupted. On a crowded Toronto bus, before the social distancing order was promulgated, my friend's son was assaulted by a white man. He said rather loudly that the 27-year-old should be wearing a mask. Being an intelligent and articulate kid (age relative to me) countered with, "First of all, I'm Japanese, not Chinese. In fact, Canadian. Second, I've not been to Wuhan, ever. Let's canvas everyone here about how many have been to Wuhan." And he went on until the white bigot exited hastily.
On another occasion, my wife and I were about to cross a street off the Danforth to get to the parking lot. We stood in front of a parked car. A white BMW came roaring up the narrow street and suddenly swerved into the parking lane. She continued, aiming it at me. At the last minute, she veered away and thundered up the street. Her window was open, and I saw a Black woman driving. I can't be sure of her motivation, but witnesses assured me she was threatening me with her car. If she had hit me, I would've been dead, and her car would've crashed into the parked car, possibly killing her. Too little comfort.
As John Okada, the great Nisei writer, wrote in No-No Boy: The Oppressed oppressing the Oppressed.
With the daily news services, Canadian and American, constantly inundating the public, Toronto and other Canadian cities have become ghost towns. On the plus side, driving to the supermarkets (with outside wait-lines) is easy. On the other hand, it is sad to see building after building closed for business.
For my part, I don't mind the isolation. Not much different from the time before. Back then I saw very few people. I don't like many. I just miss dining out with family and going to stores. Yes, I know there's Uber Eats and other services and Amazon. It's just not the same.
Literature gives us works to relate. Read Gabriel Garcia Márquez's Love in the Time of Cholera or TS Eliot's The Waste Land. The poet did say: April is the cruellest month.