On a past Thursday afternoon, about 20 people from all walks of life gathered for an early dinner at the lovely home of Akimi Ching in Pasadena, CA. Ching (76) is a Sansei retired physician from Santa Barbara married to a Chinese American husband of 52 years, Clifford. She has been feeling a sense of urgency to hold such a meeting, particularly for young people who do not know much about what had happened to the Japanese Americans during WWII. She called it the "9066 Meeting."
Ching has never been an activist for Japanese Americans' rights and justice. After all she had lived most of her life among Caucasians. She does not volunteer at the Japanese American National Museum (JANM) or at any other big JA organizations in Los Angeles. Today she does have many JA friends in and around Pasadena and is known to be very caring and thoughtful. She visits a JA who recently had a stroke at a nursing home almost every week and never fails to bring home-made Japanese sweets like manju or pumpkin pie with kaki (persimmons). For many years, she baked and brought the pies with no sugar to a diabetic Nisei friend until she passed.
The urgency she has been feeling is due to the passing of those in the past few years like her Nisei sewing teacher Mary Uchiyama and Ching's own brother Kazuo who was 12 years her senior. They were the ones who had lived through this dark period of the American history. Her parents did not share their stories as she was growing up. She was born in camp so she does not remember the circumstances. She wants those who lived in the era and others who have studied about the JAs' internment to share the history with those who do not know it.
"In the current U.S. political climate against the Muslims, Jews, and immigrants, I think this history must not be forgotten," Ching says with conviction. Most of the educational projects on the Japanese Americans' incarceration are sponsored by big JA organizations such as JANM or in Asian Studies programs at universities. Ching wanted to provide an opportunity for her cousins and friends to learn the history. In attendance were also her Caucasian friends from her senior sewing and Spanish classes and her neighbors.
Ching was born in the Gila River War Relocation Center in Arizona in 1943. Her family moved to Acampo, north of Stockton in Northern California, after the war. Her father's cousin had a pear orchard, where her father became a foreman. The family eventually moved to Carpinteria near Santa Barbara. She attended the prestigious girls boarding school Casa Dorinda which was formerly called Montecito School for Girls. She went on to study at the University of California, Berkeley then off to the University of Irvine Medical School. She was one of 10 women in her class of 100 in her freshman year. She worked for Kaiser Permanente as an internal medicine doctor until she retired.
Before the war, her parents, Kazue and Hideo Okino, owned a very successful fruit stand in Santa Monica with some wealthy customers, including a Hollywood star Peter Lorre who was very popular in the 1920s and 30s. "My mother told me she was still holding a check from Peter Lorre when the stock market crashed," says Ching with a rueful smile. The family lost almost everything when they were uprooted to the Gila Relocation Center. Her parents were resilient and came back to California to start their life all over again. "My father was hired as a handyman at the school and that's how my sister and I got in," explains Ching.
After a healthful dinner on this afternoon, the program began with an introduction by a JANM volunteer and facilitator, Marvin Inouye that about 120,000 Japanese Americans on the West Coast were incarcerated in 10 camps mostly in remote desert locations such as Manzanar or Crystal City, where his parents and grandparents were sent. He has done extensive research on them, as well as the Japanese from Latin America who were imprisoned in the United States, simply because of their ethnicity. According to the Densho Encyclopedia, the U.S. interned nearly 1,800 Japanese from Peru. Inouye explained that most of them were interned in Crystal City. He also told us that after the war, they were not welcomed, in fact, rejected by Peru for their return. When he explained that Japan accepted the Japanese Peruvians instead, there was a gasp of surprise. Nobody seemed to know about it except for the two Japanese Peruvians in attendance.
After the introduction, each attendee explained why they came to this meeting and if they had learned about the Japanese American incarceration at school. A young woman in her late 20s said it was never taught at her school in the Midwest. An English lady said, that it was indeed taught in Britain in the 70s. Inouye's wife, Dona, chimed in to say that at UCLA it was just starting to be taught around the same time. Most of them, however, confided that they knew little about the JA or JP (Japanese Peruvian) incarceration. A young man in his early 20s said he did not hear much about the history from his family, though he is a Yonsei, fourth generation JA. George Sugimoto (93) is Ching's cousin, who was the only internee present at this meeting. "I was 17 when you were born in the camp," says Sugimoto to Ching with a big smile. He explained how quickly the family had to pack and leave their home in the San Joaquin Valley to the Gila Relocation Center. He does not sound bitter. His positive attitude and hard work made him a very successful businessman in the aviation industry.
For Ching's Caucasian friends, it was a good exposure to the real history lesson of justice and fairness. For JAs, there were many new historical facts they learned for the first time. For the young attendees, it was relevant to today's issues on race and justice.
As Ching was hoping that her "9066 Meeting" project would be continued by others, her good friends, Marvin Inouye and Dona Mitoma, volunteered to host another meeting: JAs' internment through the eyes of an African American. For this Sunday potluck lunch meeting, more than 30 friends and family members gathered. The guest speaker was Barbara Williams (93), an African American, whom Inouye considers as his second mom. Williams' son Marcus Anthony Lewis was Inouye's best friend since kindergarten in Monrovia. Inouye wanted his Yonsei sons, Rikio and Makoto, and his friends to learn Williams' perspective on the JAs' internment.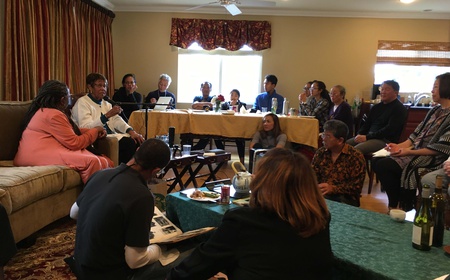 She was born in the Dayton Heights also known as J-Flats between East Hollywood and Silver Lake in Los Angeles. She wanted to tell her story what it was like to live among the JAs in the 40s before it was too late. She said before the war, her family lived between the two Japanese families, the Kakibas and the Hoshizakis. They did what neighbors would do in J-Flats in those days, exchanging food and dishes, despite the racial difference. Williams' family even had a Koi pond. She played with the JA kids in the neighborhood. They were all color-blind.
Vividly she remembers the day she and her family had to say good-bye to their JA neighbors before they left for the Santa Anita Assembly Center on the way to Heart Mountain Relocation Center in Wyoming. Her mother spent hours, baking biscuits and making eggs and coffee for the JA neighbors who had to pack in a hurry to be removed from their homes for more than three years in most of the cases. She continued to bake chicken pies and apple pies and took them to her neighbors at the Santa Anita Assembly Center where they had to sleep in horse stalls.
When Williams could not continue because of emotions and memories of the hard times, Joann Kakiba Asao raised her hand and said, "I just wanted to thank your parents for storing a trunk for my grandparents while they were incarcerated. My grandparents lived next-door. I am the Kakiba granddaughter. We are so grateful to your grandparents for keeping the precious kimonos, shamisen, and the Japanese dolls." There not a dry eye in the house. It is one thing to read about a Good Samaritan at a museum or in a newspaper article, it is quite another to meet someone who shares such a personal heartwarming story. It was a moment when history became an experience rather than just knowledge.
Among the audience were the new Japanese Consul General Mr. Akira Muto and his wife Misako who arrived in L.A. just six months ago, as well as their daughter Saori who was visiting L.A. for the first time. Misako Muto who had been reading Southland by Nina Revoyr looked very touched. "I am so glad my family and I could be here to listen to the stories. It is important for us Japanese to learn the history of the Japanese Americans," she said. Consul General Muto was the first to go up to Williams to shake hands and thank her for sharing her story. We appreciate that the Japanese Consul General who represents the country of Japan is keenly interested in the Japanese American experience and their issues.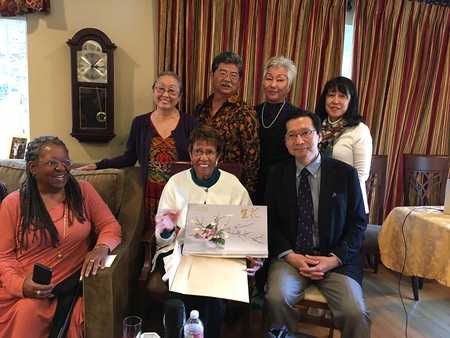 As COVID-19 spreads rapidly in New York and across the U.S., the history of the Japanese American internment must be remembered to prevent the danger of unfounded fear and hysteria toward the Chinese or any Asian Americans simply because the virus started in China.