3. Suicidal temptations and rebirth
By June 1909, having lost hope and with no meaning to his life, Maedako attempted to commit suicide four times.1 Ten years later, he reported that the experience was like being a gecko on the walls of hell, given six dollars a week, hanging upside down with his tail in the air, and staring into the depths of the abyss.2 He bought a pistol and looked into trying to shoot himself but could not do it. Then he went to Gary, Indiana, and rented a boat to row out onto Lake Michigan to drown himself, but again, he could not do it. With no other options, he jumped a freight train from Indiana to Chicago. On that train he met a hobo. Talking with him encouraged Maedako and helped him understand that he needed to live.3
After giving up their business, Maedako and Shizuo moved to 168 West Chestnut Street4 and back to their life as regular employees. Maedako was hired by Chas M. Jevne at 718 Milwaukee Avenue5 as a tea and coffee salesman. Jevne, a Norwegian who knew a lot about the Norwegian playwright Henrik Ibsen, had a fleet of six or seven carriages that made deliveries every day, all over Chicago.6 The two men also worked for Nitto Co.,7 a Japanese dry goods store run by Hideo Takemura and Yoshitomi Urano, at 2301 W. Madison Street.8
Once daily life settled down, Maedako realized that he could not help loving his mentor, Roka Tokutomi in Japan, himself, and humanity in general.9 Gradually he regained enough energy to keep living and writing.10 While Maedako resumed his study of literature, Shizuo quit the Nitto Co. in the fall of 1910 and went to study at the University of Iowa.11
However, Shizuo was unable to resume student life. After two months, he returned to Chicago and started working as a waiter and manager at a Chinese restaurant that Sadajiro Fushimi had opened near the stockyards at Halstead Avenue and 34th Street. Fushimi, a single, 19 year old man,12 had saved enough money to open the restaurant by doing domestic work. Bored again, though, Shizuo finally left Chicago and headed for New York.13
Maedako kept working five days a week at Jevne, and on the remaining days confined himself to a dark room, studying Emile Zola in French and English, and writing as if possessed by demons.14
In the summer of 1911, Maedako became a travelling painter for the Chicago Portrait Co. at 328 Wabash Avenue,15 as he was a good illustrator. Visiting farming communities outside Chicago and in Indiana, he painted portraits for farmers.16 In Brook, Indiana, he met George Ade, who was a columnist for twelve years at The Chicago Record, and in Momence, IL, he met Kiyoshi Kawakami, a journalist also known as K. K. Kawakami, who had once been a socialist, but was at this point was employed by the Japanese government to be an advocate for Japanese foreign policy in the U.S.
He wrote down his impressions of Kawakami as follows: "As if justifying the rumor that he had received money from the powerful politician, Shinpei Goto, he did not seem to have any trace of socialism left in him. I felt pity for him, as he seems to be satisfied with himself in defending Japan. I enjoyed conversing in English with the couple for thirty minutes, though."17
In 1912, instead of traveling for work, Maedako worked at a studio and painted 1,400 portraits.18 After a few months he was fired, as he was not a good employee. In fact, he was so bad that he himself was convinced that he should have been fired sooner. 19 He went back to work for Yamada, lived with Takahashi in an attic, and helped with tea deliveries three days a week.20


4. Josephine Conger-Kaneko
For Japanese literary and socialist youth like Maedako, Takahashi, and Shizuo, the two biggest turning points in their lives were the death of Leo Tolstoy in November 1910 and the massacre of twelve radicals, including anarchist Shusui Kotoku, by the Japanese government in January 1911. They, along with most progressive Japanese intellectuals, had worshipped Tolstoy. According to Kiichi Kaneko, a Chicago socialist, "the representatives of the modern realistic school of novelists in Japan are all Tolstoians.…It is not at all absurd to say that almost all progressive writers and thinkers of Japan today are more or less affected by Tolstoy's writings."21 Shizuo and Takahashi were so shocked by the death of Tolstoy that they even considered cutting off their relationship with their abusive uncle, Yamada.22 Maybe this was one of the triggers that pushed Shizuo to move to New York. Staying in Chicago had become meaningless.
Maedako learned about Kotoku's death from a Chicago newspaper. In his view, "Kotoku is a real Samurai. He embodies the beauty of the Japanese sword, in which all precious human concepts are condensed."23 Moved deeply by Kotoku's way of life and death, Maedako rented a typewriter for one dollar per month and wrote a story, "The Hangman," based on the massacre. He sent the manuscript to The Coming Nation, a socialist paper published in Girard, Kansas. The publisher paid him 20 dollars and "The Hangman" was published in November 1912.24 Encouraged by this success, Maedako decided to pursue further writing in English. He was alive with the kind of hope only the youthful can have.25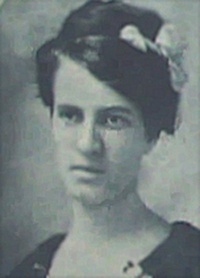 It was most likely Josephine Conger-Kaneko who advised Maedako to send his manuscript to The Coming Nation, because Conger-Kaneko had previously worked in Girard, Kansas as a reporter at the socialist weekly newspaper called Appeal to Reason, before her marriage to Kiichi Kaneko, another Japanese socialist in Chicago. She herself had published an article, "Unto the Third Generation" in The Coming Nation, 26 so she must have known the publication's editor. Later, Maedako admitted that he had been encouraged by Conger-Kaneko.27
Maedako knew Kaneko and his wife because he accompanied Takahashi and Shizuo whenever they visited the couple.28 Takahashi was introduced to Kaneko by Kotoku, right after Kaneko arrived in Chicago.29
Josephine Conger-Kaneko married Kiichi Kaneko in New York in 1905 and moved to Chicago with him in October 1906. They started publishing the socialist feminist magazine, The Socialist Woman, in Chicago in June 1907. In July 1908, they moved to Girard, Kansas for financial reasons and Kaneko's health, and continued publishing the magazine. But Kaneko had to return to Japan in May 1909 and died there in October 1909. Conger-Kaneko returned to Chicago from Girard in May 1911 and lived at 5445 Drexel Avenue,30 where she held frequent gatherings of Chicago socialists. One of them was William English Walling, a "millionaire" socialist whose socialism was, as Maedako called it, a "hobby for a not hungry person."31
After Conger-Kaneko returned to Chicago, Maedako contacted her and asked her for advice. We can assume that Conger-Kaneko checked his English and encouraged him to write in English. Their good relationship was evident from the fact that Maedako drew a profile of the late Kiichi Kaneko, based on a photo,and the delighted Conger-Kaneko kept it hanging in her living room for a long time.32
Maedako's debut in English was a poem titled "To the New Woman," published in the May 1912 issue of Conger-Kaneko's The Progressive Woman. The original title of the magazine, The Socialist Woman, was changed to The Progressive Woman when it was being published in Girard in March 1909. Maedako exclaimed at the end in his poem "now a cry, 'Awake, woman." In the subsequent years, Conger-Kaneko published more of Maedako's stories in her magazine: "A Daughter of the First Woman,"33 "The Unity of Asia,"34 "The Mikado's Crane-Room,"35 "A New Year Street in Yeddo,"36 and "A Satsuma Bowl."37
Besides "The Hangman" in November 1912 issue, The Coming Nation magazine published Maedako's "Haunted Night," in January 1913,38 while it was still based in Girard, Kansas. In these stories, Maedako wrote about such themes as women, exoticism toward the Japanese, and Japanese diplomacy in Asia.39 The publishing company moved to Chicago in February 1913 but then it ceased publication in June 1913. When this happened, Conger-Kaneko took the name for her own magazine and changed The Progressive Woman to The Coming Nation in November 1913. Under the management of Conger-Kaneko, the new iteration of The Coming Nation continued to support Maedako and published his antiwar piece, "The Monument."40
Notes:
1. "Zaibei Tushin No 1 dated June 20, 1909."
2. "Mizukara o Okuru Sho."
3. Dai-Bofu-U Jidai, page 39.
4 1910 census.
5. 1910 Chicago City Directory.
6. "Zaibei Tushin No 3 dated February 22, 1911," Musashino Pen No 3.
7. Dai-Bofu-U Jidai, page 136.
8. 1910 Census.
9. "Zaibei Tushin No 2 dated June 23, 1910."
10. Ibid.
11. "Zaibei Tushin No 2 dated September 15, 1910."
12. 1910 census.
13. Ningen (Tairiku-hen), pages 341, 393.
14. "Zaibei Tushin No 3 dated February 22, 1911."
15. 1910 Chicago City directory.
16. "Zaibei Tushin No 3 dated September 23, 1911"
17. Seishun no Jigazo page 111.
18. "Zaibei Tushin No 4 dated February 2, 1912," Musashino Pen No 4.
19. Ningen (Tairiku-hen), pages 343.
20. Seishun no Jigazo, page 115-6.
21. Kiichi Kaneko, "What Tolstoi has done in Japan," To-Morrow, January 1907.
22. Maedako Hiroichiro ni Okeru "Amerika," page 48.
23. "Zaibei Tushin No 3 dated February 22, 1911."
24. The Coming Nation Nov 16, 1912.
25. "Ore no Sanjyu-Roku Nen," page 40.
26. The Coming Nation Oct 12, 1912.
27. Ningen (Tairiku-hen), page 133.
28. Seishun no Jigazo, page 119.
29. The Progressive Woman, May 1911.
30. The Progressive Woman, May 1911.
31. Seishun no Jigazo, page 120.
32. Ibid.
33. The Progressive Woman, August 1912.
34. The Progressive Woman, October 1912.
35. The Progressive Woman, November 1912.
36. The Progressive Woman, January 1913.
37. The Progressive Woman, September 1913.
38. The Coming Nation, January 4, 1913, page 12.
39. The Progressive Woman, October 1913.
40. The Coming Nation, December 1913.