5. Floyd Dell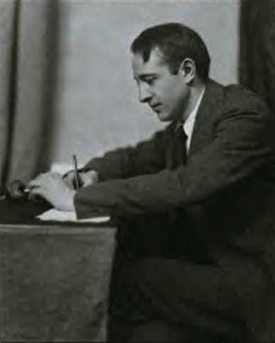 Floyd Dell, an Illinoian and editor of Friday Literary Review, a weekly supplement of The Chicago Evening Post, also played a big role in Maedako's career as a writer in the U.S. Dell was involved with Friday Literary Review from its beginning in March 19091 and was one of the main instigators of the Chicago literary renaissance that set a new standard for Chicago literary criticism.2
Dell was involved with The Progressive Woman as well. He had his own column, "Books and Writers, A Causerie" in The Progressive Woman from February 1912 to April 1913. He was also assigned fiction editor for the September 1912 issue and published two of his own reviews, "The Progressive Party" and "The Dark Continent." Since he was the editor in October 1912, Dell must have edited Maedako's stories. Maedako met Dell for the first time at Josephine Conger-Kaneko's house and reportedly felt immediately intimate with him. This intimacy was strong enough for Maedako to call Dell "comrade."3
When Maedako was introduced to "skinny and short" Dell, who was sitting in a chair by the living room window at Conger-Kaneko's home, he wrote: "He was like a candle burning in silence. He looked shy, unlike American..."4 "He did not look like American, rather closer to Japanese. His way to look, to use hands and legs, was like ones of Japanese actors. While talking with him, I noticed his smile was exactly the same one of nervous Japanese. I have seldom met Americans I could become to like from the first."5
Dell knew Maedako's name when he was introduced to him at Conger-Kaneko's. According to Maedako, the conversation between the two went as follows.
Dell: I read your 'Hangman' the other day. I too like to cry out the injustice of Japanese Government as our Jack London did. The story was very heartening. Why not write some more of these stories, if you have time to spare, write about the Japanese literature up-to-date?

Maedako: Will it interest you to know that the modern literature of Japan is the simple imitation of French?

Dell: Yes, O yes. It is much interesting to know the fact. I think we can see it in our Saturday literary edition.6
Friday Literary Review sometimes published reviews of books on Japan and Japanese literature, such asThe Crown Imperial, written by Unkichi Kawai7 Lafcadio Hearn in Japan, written by Yone Noguchi,8 and Japanese Poetry by The Athenaeum,9 it seems clear that Dell must have had a natural interest in Japan and its culture. Dell himself wrote a review of The Pilgrimage by Yone Noguchi.10 Unfortunately none of Maedako's articles on Japanese literature were published in Friday Literary Review while Dell was in Chicago.
Maedako visited Dell in his office at The Chicago Evening News just before Dell left for New York in October 1913.11 Maedako's visit must have been at the end of September, as the last issue of Friday Literary Review that Dell edited was September 26, 1913. To Maedako, Dell said:
Friend Maidako[sic], this will be my last week in Chicago, that is, I will stay no longer on this job. No more paper business for me. The day after tomorrow I will be gone to New York."

"Will you be gone for good?"

"Yes, for good, I'll be a freelance, working hard for my living."

"Well, some of these days, I will be [seeing] you in New York.

"Is that true? Well, come and see me, I will be in Greenwich village."
The two shook hands before separating. Dell looked lonely in Maedako's eyes.12
Maedako, who had gained confidence writing in English through his friendships with Conger-Kaneko and Dell, enthusiastically bought various magazines and sent stories to them. But most editors didn't pay any attention to his stories and sent them back to him with return slips.13 Nevertheless, Maedako was lucky to have a New York publisher, The International, a liberal magazine of literature, international politics, philosophy and drama, publish his "The Twentieth Century", along with "Oscar Wilde from a Japanese Point of View" by Yone Noguchi in 1913. 14 This was the last piece Maedako published before leaving Chicago.
After Shizuo and Dell moved to New York, the idea of New York occupied Maedako's mind most of the time. Most likely, Dell's invitation to New York encouraged him. In order to save money for the trip, he started working at a miniature bowling game parlor, once again run by a Japanese, in Riverview Park, west of Chicago. Remembering his days on the job in Springfield seven years earlier, Maedako was filled with a sea of emotion.15 Finally, in October 1915, he left Chicago and headed for New York with a bamboo stick Yamada gave to him as a farewell gift.16 Ambition forced him to go to New York. He was twenty seven years old.17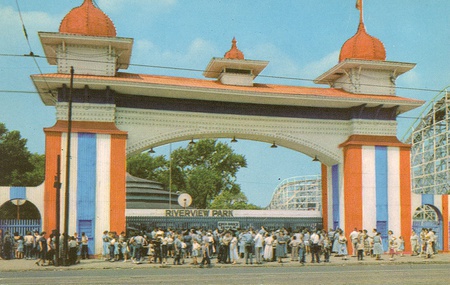 6. Afterword
Maedako visited Floyd Dell in Greenwich Village in New York as soon as he arrived there. He recounted the conversation:
"Hallo, Mr. Dell. I am glad to see you again. I just came to New York yesterday."

"Oh, Maidako [sic], so you are here at last. Come in and sit down."

"Well, how is everything? Are you working hard?"

"Oh, just so and so. How about you? "

"I am to see the city first, and then I will drop in the editor of every magazine I know of Vanity Fair, The Smart Sets, Everybody, and many others."

"Good for you. Have you tried The New Republic? If not, I will write a letter to Frank Harris."

"I thank you. Please do so. Is it very far from here?"

"No just a few blocks. By the way, Frank Harris will be interested with an article about the Japanese literature, something like the one you once gave to me."

"Can I do anything else?"

"Well, why not see the city, and sketch around the scenes and other matters, such as the Fifth Avenue and the Statue of Liberty? There will be an interesting article if you see it from an original and unique point."18
Maedako's "Japanese Literature of Today" was published in The New Republic in January 1916.19 The New Republic was a magazine that Francis Hackett, Dell's old colleague, (actually his superior) at The Chicago Evening Post's Friday Literary Review, helped start in 1914. In addition, Bruno's Weekly, which Maedako had been communicating with for two years from Chicago,20 gave him a column called "Phantasies" and published several of his short stories: "Woman," "Exotic Music,"21 "Tolstoy,"22 and "A Guest," which was about Lafcadio Hearn.23
When Maedako was asked by an editor to write a funny Japanese love story, it was actually Dell who wanted to co-author a piece about Yoshiwara, the red light district in Tokyo, with Maedako.24 The piece, Cherry Blossoms, was first rejected because the publisher was "opposed to stories dealing with professional votaries of sex etc."25 However, Maedako's poem on Yoshiwara titled "Nocturne" was published in the September 1916 issue of The Smart Set.
After a while, Dell found a publisher for Cherry Blossoms, a collaboration between Floyd Dell and "Heroichiro Myderco." It was published in Pearson's Magazine in February 1917. Dell had earlier introduced Maedako to Frank Harris, the editor of Pearson's Magazine. Later, this piece was included in Dell's book, Love in Greenwich Village, which was published in 1926. The name of the story was changed to "Green Houses" and there was no acknowledgment that it had beencoauthored with Maedako, only the following words: "With Acknowledgements to Heroichiro Myderco."26
Around this time (1917), feeling the irony of a socialist writer trying to be accepted by capitalistic magazines such as Vanity Fair and Harpers, Maedako concluded that writing in English was too superficial, empty, and ridiculous for him.27 He explained his feelings as follows: "Americans think that Japanese are dumb dolls decorated with women, kimono, Mt. Fuji, Yoshiwara and geishas, not real human beings with worldly desires in serious thoughts. Big magazines such as Harper's and Atlantic Monthly want stories of Japanese in rotten feudal days. They want their own stereotypical, exotic Japan." Maedako was really offended and asked Floyd Dell for his opinion. Dell agreed with Maedako but could do nothing about it other than loan him some money. Maedako suffered for two months, struggling between his own ego as a successful English writer and his inner consciousness, which demanded that he stick to the ideal of socialism. Finally, at the end of July 1918, Maedako decided to no longer write in English. "It was a masochistic measure to resist against softened self by lure of capitalism."28 Maedako finally realized that his ideal of socialism might work in Japan, but not so much in capitalistic America.29
After working for a Japanese newspaper in New York for a while, he returned to Japan in January 1920. There was a farewell party in New York, attended by Shizuo Tatsuno, as well as Sen Katayama, one of the first Japanese Christian socialists in Japan.30 By then, Shizuo had become an "oratorical performer," working with the Kienan & Co troupe at 1400 Broadway in New York.31 Shizuo's brother, Fumio, had been a student of the junior college at the University of Chicago,32 but in 1918 he had left Chicago to work as a waiter at Yokohama Café in Evansville, Indiana.33 Shizuo's cousin, Takeshi Takahashi, had long since gone departed Chicago for southern California to try to cure his tuberculosis.34
Among his group of old Chicago friends, only Maedako was able to go back to Japan. He was thirty three years old and was ready to return to Japan with new ambitions, hopes, and a vague socialist class awareness.35 In 1920, on the way back to Japan, he dropped in on Chicago to change trains and found that Chicago had not changed at all since he had left. Maedako observed that Chicago was optimistic, and that its optimism was continental and purely American, but also ruinous in his eyes.36
Seven years later, Floyd Dell wrote to Maedako in Japan after Dell published An Old Man's Folly in 1926. A letter from Dell was, for Maedako, " like stabbed in my heart" because "in Chicago and New York, where you have done everything for me to straighten up my life, whereas, I had nothing to offer to your warm friendship."37 Dell had been interested enough in Upton Sinclair to writea review on Sinclair's Love's Pilgrimage in Friday Literary Review.38 While preparing to publish his book on Sinclair, Upton Sinclair: A Study in Social Protest, Dell had communicated with Sinclair and discussedMaedako.39 Dell probably was the one who asked Maedako to translate his books into Japanese. Maedako responded to Dell: Your "Folly" seems very interesting to me, but in fact, I have not read through as yet I shall write you as soon as I finish it, together with in prospect of publishing in Japan.40
Dell's works were eventually translated into Japanese by another Japanese translator and published in the 1930s. In his lifetime, Maedako never translated any of Dell's work. Nobody ever knew why.


Notes:
1. Friday Literary Review, October 3, 1913.
2. The Encyclopedia of Chicago, page 502.
3. Maedako's letter dated Feb 20th, 1927 to Floyd Dell, Floyd Dell Papers, Newberry Library, Box 10 Folder 330.
4. Ningen (Tairik-hen), page 412.
5. Seishun no Jigazo, page 121.
6. Seishun no Jigazo, page 121.
7. Friday Literary Review, August 12, 1910.
8. Friday Literary Review, August 4, 1911.
9. Friday Literary Review, August 11, 1911.
10. Friday Literary Review, October 8, 1909.
11. Friday Literary Review, October 3 1913.
12. Seishun no Jigazo, page 135-6.
13. Seishun no Jigazo, page134-5.
14. The International, February 1913.
15. Seishun no Jigazo, page 136.
16. "Zaibei Tushin No 4 dated November 20, 1915."
17. "Ore no Sanjyu-Roku Nen," page 40.
18. Seishun no Jigazo, page 145.
19. The New Republic, January 8, 1916. pp.256-257.
20. "Zaibei Tushin No 4 dated November 20, 1915".
21. Bruno's Weekly, Dec 4, 1915.
22. Bruno's Weekly, Dec 11, 1915.
23. Bruno's Weekly, Jan 8, 1916.
24. Seishun no Jigazo ,page 157.
25. "Zaibei Tushin No 4 dated November 20, 1915."
26. Dell, Floyd, Love in Greenwich Village, page 253.
27. "Zaibei Tushin No 4 dated March 5, 1916."
28. "Ore no Sanjyu-Roku Nen," page 41.
29. Seishun no Jigazo, page 169.
30. Nichibei Jiho, January 10, 1920.
31. WWI registration.
32. Annual Register 1916-1917, University of Chicago.
33. WWI registration.
34. Nichibei Shuho Decenber 29, 1917, Seishun no Jigazo, page 183.
35. Maedako, Yonjyu-Ni sai no Gendai Made.
36. Maedako, "Nihon Made", Nichibei Jiho, January 17, 1920.
37. Maedako's letter dated Feb 20 1927.
38. Friday Literary Review, May 5, 1911.
39. Maedako's letter dated Feb 20 1927.
40. Ibid.