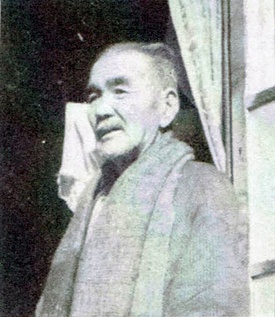 Upton Sinclair's The Jungle, once proclaimed "America's most influential proletarian novel,"1 was translated into the Japanese language by proletariat writer Hiroichiro Maedako and published for the first time in Japan in 1925. In a letter dated October 12, 1925 that appeared in the book, Sinclair told Maedako: "I shall be very glad indeed to give you the right to translate and publish The Jungle in Japan, for the period of five years." According to the letter, Sinclair had previously given permission to translate and publish the novel to a man named Yasotaro Morri at Kokusai News Agency in Tokyo in 1921, but nothing ever came of it.2
The daily struggles and nightmarish working conditions of Lithuanian immigrants working in a Chicago's slaughterhouse described in Sinclair's The Jungle reminded Maedako of his own youthful days in Chicago. Halstead Avenue, which is featured in the novel, was a place that Maedako himself had trudged day in and day out, wearing heavy, worn-out shoes while selling tea. He wrote that the agony of characters in the novel was precisely "our own."3 Maedako lived in Chicago from 1907 to 1915, and after he returned to Japan, he began his translation work of Sinclair.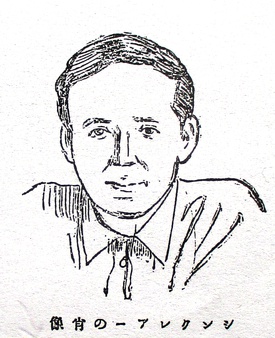 Although he never met Sinclair in person, Maedako worshipped him, translating his works, one after another: Jimmie Higgins in 1926, Hell: A Verse Drama & Photoplay in 1928, Boston in 1929, Mountain City and Oil! in 1930 and Co-op: a Novel of Living Together in 1937. In July 1926, Sinclair sent another message to Maedako from Pasadena, California, congratulating him on the Japanese version of Jimmie Higgins. 4
Maedako was born in Sendai, Japan in 1888, and having been exposed to socialism at middle school, chose to be a socialist without a clear awareness of what it meant.5 He dropped out of school in 1905, then went to Tokyo and became a pupil of the famous novelist, Kenjiro (later Roka) Tokutomi. Tokutomi recognized Maedako's talent for writing for various newspapers and magazines, and funded Maedako's trip to America, advising him to "grab the gold in the mud!" When he came to Chicago in May 1907, joining friends from his middle school days, Maedako was nineteen years old. He planned to stay in the U.S. for only a few years, as part of his training to become a good writer.


1. Shizuo Tatsuno and Takeshi Takahashi in Chicago
Shizuo Tatsuno had been Maedako's classmate in middle school in Sendai and was his best friend. Shizuo was also a socialist who decided to immigrate to Chicago, arriving in December 1906, just a few months before Maedako.6 According to Maedako, Shizuo was a "pale and sharp" man,7 intelligent enough to read novels by Paul Bourget and science books written by Ernst Haeckel and Thomas H Huxley. He was a good speaker too.8
Shizuo's brother, Fumio Tatsuno, was an engineer and a graduate of the prestigious Tokyo Koto Kogyo Gakko (Tokyo Industrial High School). He had come to Chicago in March 1906 at the age of 21. He may have been one of the graduates of technical schools who believed that there were more employment opportunities in America than in Japan.9 At first, he worked as a clerk for the bamboo craftsman Minoru Nagashino at Hinode Co. at 498 W. Madison Street.10, 11 Then he moved to 9217 South Chicago Avenue and started working at a steel millusing the English name, Fred.12 In those days, several Japanese were working at the steel mill; Sakujiro Saito as a machinist, Sydney Ohi as a chemist, Hattori Kockori as a draftsman, and Sannosuke Takahashi as a blacksmith.13
The Tatsuno brothers' cousin, Takeshi Takahashi, had come to Chicago in March 1906 as well. He declared himself a student and an anarchist, and the trunk he brought with him from Japan was filled with books on socialism, including many by Karl Marx.14 These young men had come to Chicago because Shichiro Yamada, an uncle of the Tatsuno brothers and Takahashi, lived in Chicago. Yamada, a tea and coffee merchant, ran a store called Far East, at 927 North Clark Street, where he also lived.15
Yamada was one of the first two Japanese students at the University of Illinois in Urbana. He had come to Illinois around 1886 and entered the preparatory class for the College of Agriculture at the University.16 He entered the freshman class the following year17 and changed his academic focus from agriculture to chemistry.18 It is unknown whether Yamada graduated from the university or not, but by 1890 he was employed as a chemist in Peoria, IL.19 It was at this time that he became an interpreter for Jokichi Takamine, who had developed "a new wheat bran fermentation process for the distillation of whisky" under contract with the "Whisky Trust" in Peoria.20 The 1892 Peoria City Directory recorded both S.R. Yamada and Takamine as distillers.
After Takamine moved to New York City in 1897, Yamada must have moved to Chicago, where he had a store at 4611 Wentworth Street.21 In January 1903, he went to Japan and in April, returned to the U.S. with his wife Yasu. He was 40 years old.22 He moved his store, the Far East, to 927 North Clark Street.23 Over the next eight years, he and his wife had three daughters, who were all born in Chicago: Chika in 1905, May in 1908 (24) and Misao in 1912.25
These young Japanese socialists, Maedako, Shizuo, and Takahashi, came to Chicago to pursue their life's dream. America was an ideal place for them, as they believed that America stood for freedom and democracy. To Maedako, America was more than just a huge capitalist country, it was also a place where he could confirm his ideas about socialism.26 The years that these men spent in Chicago was a time when socialism and labor movements were becoming popular in the U.S. Industrial Workers of the World (IWW) was established in Chicago in 1905 and the novel, The Jungle, written by Upton Sinclair, was published in 1906. In this atmosphere, the three Japanese immigrants were surrounded with the dynamic energy of the working class, which strove to change America through social activism.
However, Yamada actually detested socialists and bragged that he would straighten out and reeducate Shizuo and Takahashi through hard labor. According to Maedako, Yamada abused his nephews, forcing them to work every day for pennies. Shizuo and Takahashi delivered tea and coffee with a carriage all day from early morning into the night, without even so much of a lunch break. Upon his arrival in Chicago, Maedako realized that Shizuo and Takahashi were not happy at all, despite how excited they had been in Japan before their departure.
Shizuo was heavily into mathematics, but Takahashi was absorbed with anarcho-syndicalism.27 Over time, they gradually came to recognize the reality of capitalist America: that America was not a dreamlike country of freedom; instead, it was a place where racism and classism flourished. Falling into a deep dilemma between their ideal of human progress and the reality of America, the young socialist Japanese struggled to survive, searching for answers to their questions: "Who am I?" and "What is life for?" For them, Chicago was a stage on which they played out the agonies of youth.


2. Survival
Following his arrival in Chicago, Maedako took on the challenge of domestic work for the first time in his life, but broke a plate on the first day on the job. His employer, an elderly white woman, said to him, "I think you were too green. Take this and you can go home." She handed him a silver dollar and fired him on the spot.28 Then Yamada introduced him to a man named Takezawa in Springfield, Illinois, who needed workers to help build miniature bowling games in Springfield, Illinois. Maedako went to Springfield on the night train and tried his hand at this occupation, but once again, he was a "white elephant" and failed at this job too.29 According to the census, there was a Japanese living in Springfield in 1907 by the name of Say Takezawa, who had a tea and coffee business at 728 E. Monroe Street.30 It was possibly the same man.
At a loss, Maedako posted ads in the Chicago Daily News with Shizuo's help. In June 1907, ads for jobs appeared as the following: "JAPANESE BOY WISHES HOUSEWORK; NOT cooking. I TAKAHASHI, 3232 Wabash - av"31 "A JAPANESE WANTS SITUATION AS BUTLER or valet: No. 1 reference"32 and "WANTED-GENERAL WORK IN A PRIVATE family by Japanese student."33 Most likely, Maedako's ad was the following: "YOUNG MAN WITH SOME NEWSPAPER Experience and of literary talent desires a position where the qualifications and three years of college education will be of use; can furnish A1 reference and hold a record of steadiness."34 Maedako finally did find domestic work and put up with the work for about a year and a half, changing families frequently, sometimes after quarreling with them. It was a staggering monastic life for him, eating pork sausage and rice in the dim gas light.35
By the time Maedako became completely fed up with domestic work, Shizuo had already quit working for Yamada. With money that his brother, Fumio, had loaned to Shizuo, the two started a tea and coffee business. They rented a room at Langley Avenue and 36th street and called their business "Cherry Island."36 According to the 1908 Chicago City Directory, there were about five hundred tea and coffee merchants. It is easy to imagine how competitive that business was, and how difficult it was to survive.
Their business routine went as follows: "First you set up a weekly budget, for example, $29, and buy $29 of tea and coffee from a wholesaler. Next you visit each house in the city and take orders. Then you deliver the orders on the weekend. Sales would amount to about $40 and if you pay room and board, what's left is pretty close to zero. Well, if you are lucky, maybe 1 dollar 50 cents could be left as profit."37 Although they worked from seven in the morning to eight thirty at night every day, they could not make it.38 They eventually replaced coffee with perfume and fruit so that they could continue their business for another year or so.39
Being a salesman was oppressive for Maedako, since he felt timid in white society, where he had to flatter customers with feigned smiles.40 Maedako reported to his mentor, Tokutomi in Japan, that "unlike on the West Coast, in Chicago there was no great antipathy toward the Japanese, at least not enough to call it persecution. It is strange, though, that we feel such a sharp nervous reaction to the electrifying sparks of "persecution" in the complicated behaviors of Americans in their way of looking at, talking to and reacting to us."41
Tired of living with the ugly nature of human existence — greed, jealousy and racism — Maedako started feeling ashamed of himself,as he struggled in despair.42 Gradually, he fell into a bottomless pit of deep skepticism and pessimism.43
Notes:
1. The Encyclopedia of Chicago, page 442.
2. Hiroichiro Maedako, Janguru.
3. Ibid, page 2.
4. Maedako, Gijin Jimi.
5. "Zaibei Tushin No 1 dated May 29, 1909," Musashino Pen No 1.
6. Maedako, Seishun no Jigazo, page 31. List or Manifest of Alien Passengers for the US Immigration officer at Port of Arrival/US Border Crossings –Canada To US 1895-1960.
7. "Zaibei Tushin No 2 dated September 15, 1910," Musashino Pen No 2.
8. Maedako, Ningen (Tairiku-hen), page 340.
9. Daniel Inouye, Distant Islands, page 157.
10. 1897 Chicago City directory.
11. 1909 Chicago city directory.
12. 1910 census.
13. Ibid.
14. Maedako, Akai Basha, page 27.
15. 1904 Chicago City directory.
16. Learning and Labor Catalogue and Circular of the University of Illinois, Urbana, 1886-87, University of Illinois Catalogue and Register 1885-1887, pages 17-18.
17. Learning and Labor Catalogue and Circular of the University of Illinois, Urbana, 1887-88, University of Illinois Catalogue and Register 1887-1890, page 17.
18. Learning and Labor Catalogue and Circular of the University of Illinois, Urbana, 1888-89, University of Illinois Catalogue and Register 1887-1890 , page 21.
19. Frank's Peoria City Directory 1891-1892.
20. Distant Islands, page 46.
21. Washington, Passenger and Crew Lists 1882-196.
22. Ibid.
23. 1904 Chicago City Directory.
24. 1910 census.
25. 1920 census.
26. Sachiko Nakata, Maedako Hiroichiro ni Okeru "Amerika," page 115.
27. Seishun no Jigazo, page 55.
28. Ibid, page 57.
29. Ibid, page 58.
30. 1908-1912 Springfield City Directory.
31. Chicago Daily News, June 20, 1907.
32. Chicago Daily News, June 21, 1907.
33. Chicago Daily News, June 22, 1907. 
34. Chicago Daily News, June 4, 1907.
35. Maedako, "Mizukara o Okuru Sho," Nichibei Jiho January 1, 1920.
36. Seishun no Jizazo, page 80.
37. "Zaibei Tushin No 1 dated November 4, 1908."
38. "Zaibei Tushin No 1 dated September 25, 1908." 
39. Maedako, "Ore no Sanjyu-Roku Nen," Bunsho-Kurabu, page 38.
40. Maedako, Dai-Bofu-U Jidai, page 28.
41. "Zaibei Tushin No 2 dated September 15, 1910." 
42. Dai-Bofu-U Jidai, page 29.
43. "Ore no Sanjyu-Roku Nen," page 40.