When Greg Masuda and his wife Erin opened Courtenay's first ramen shop in the fall of 2016, it was welcomed with open arms by the residents of this small British Columbia town nestled in the heart of the Comox Valley on Vancouver Island.
Nikkei Ramen-ya, located in a former jewelry shop, serves their own handmade noodles, made daily. Frequent experimentation, and specials like ebi ramen, made with wild sidestripe shrimp and local pea shoots, have ensured that the menu stays varied, and made the shop a hit with customers. A visit to their online ordering page reveals ten kinds of ramen, along with both pork and vegan yakisoba, as well as an enticing variety of drinks, alcoholic and others, both Japanese and locally sourced.
In 2019, Nikkei Ramen-ya became the first BC restaurant since 2015 to certify as a Living Wage Employer and one of only 157 employers across the province to have achieved Living Wage certification from the Living Wage for Families Campaign.
Like every other restaurant, Nikkei Ramen-ya has been forced to alter its approach to serving customers due the COVID-19 mitigation measures, moving to takeout only, which has meant a big hit to sales. The recent lifting of the Province's Phase One restrictions has meant the shop can begin readying for reopening to eat-in customers, always the best way to experience ramen.
Spurred by an application from Nikkei Ramen-ya, Courtenay City Council recently approved a change to the sidewalk café program that will expand outdoor seating capacity, a change intended to help restaurants meet physical distancing requirements, while increasing potential income.
Greg took time out from preparing to reopen to dine-in customers speak to The Bulletin by email.
* * * * *
Bulletin Interview: Greg Masuda
The last time I interviewed you was back in 2010. You were in the process of reinventing yourself, having left the corporate world behind for a career as a documentary filmmaker. And it looks like your journey has taken another left turn. Did you wake up one day and say to yourself, you know what, I want to open and ramen shop? How did this come about?
There is a pretty complicated explanation to that but I'll try to keep it as brief as I can. Yes, in 2010 I was just beginning my career as a filmmaker. At that time I was a bachelor renting in East Vancouver, living on the cheap with roommates and no dependents so, while my income was sparse, I was able to make it work. Fast forward a few years to 2013, and I met Erin, my future wife; it was just impossible for us to find a reasonably affordable place to live and raise a family anywhere near Vancouver so we began to plan our migration out. Courtenay was on our radar because it was affordable and Erin had lived there before. At that time I had absolutely no interest in making ramen for a living; I just really liked eating it (every time I crossed the Lions Gate Bridge – often – I stopped in the West End for some ramen). But when we arrived in Courtenay in 2015 with two kids there was no work for documentary filmmakers, even a moderately successful one as I had become. So I was wide open to ideas. During a massage one day my RMT planted the seed. At first I dismissed the idea but a few months later I began to imagine selling ramen on street corner, kind of like the mid-20th century ramen yatai (street cart) in Japan. Six months after that, I had sold my video camera, sunk what remained of my life savings into a brick-and-mortar ramen shop, and was working 15 hour days every day, even though we were only open for lunch. Crazy.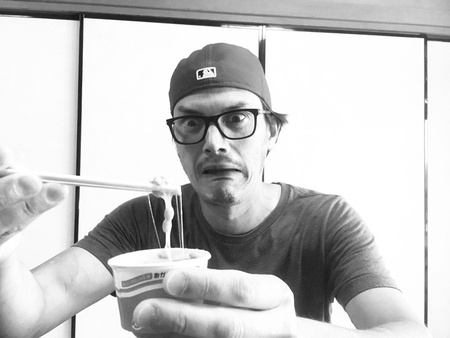 Why Courtenay? What drew you to that part of the world?
Erin had completed her nursing practicum at St. Joseph's Hospital in Comox and we really loved the Comox Valley for its proximity to nature. We could also afford a house close to the river, schools, and downtown. I also felt moving to the Island was somewhat of a homecoming since my Dad's family lived in Shawnigan Lake prior to being displaced to Alberta in 1942. Other than a couple of distant cousins I have yet to meet, I was the first Masuda to return to Vancouver Island since the war.
You have a background in activism and a strong sense of social justice, as evidenced by your work in the Nikkei community and the downtown eastside – but you also have a background in business. How have the former and latter impacted how you run your business?
I do have a background in activism and business but also art and engineering. All of these have played a part in running Nikkei Ramen-ya. Whatever I was going to do when I moved to Courtenay, it had to be fun. Ramen has a few rules that you need to adhere to for it to be considered ramen, but there is a lot of latitude for creativity which to me is incredibly fun. It was the creativity, the "art", that was really the driving factor – I had to enjoy my work. My activist background inspired our policies such as no tipping and living wage, and my business and engineering experience are what made everything actually work.
Running a restaurant is a low-margin business, yet you have signed on to the living wage commitment. How have you managed to make that work for you and your staff?
In the beginning we paid above-market but I couldn't make the numbers work to pay our staff a living wage. As BC was raising the minimum wage, we would keep pace with it, raising our base pay by the same amount that the government was raising the minimum wage. A couple of years in, though, I got fed up and calculated what it would take to pay everyone at minimum a living wage. As you might know the Living Wage is regional – in Vancouver it's $20.91 an hour, in Victoria it's $20.01 an hour, and in the Comox Valley it's $16.56 an hour. Those are the 2018 numbers, it actually went down in 2019. I figured out that we would need to charge 9.1% on every order to increase our base pay to $16.56/hr (the surcharge would need to be 22% if we were operating in Vancouver and 19.3% in Victoria). Because we never accepted tips, our customers, for the most part, didn't mind paying the fee. I have to emphasize though that the 9.1% surcharge is not a tip and our no-tip policy by the way is also for social/moral reasons – a difficult sell to a lot of people in the restaurant industry. As far as our staff, since we began paying a living wage we have attracted more reliable, more committed, longer-term employees and our turnover has gone way down.
I have been following you on social media and I've been impressed by your commitment to "getting it right" in terms of how you approach making ramen. How did you get started learning how to make ramen?
I learned to make ramen much how I learned to make films – I took a few courses, read every book or article I could find, practiced a bit, and then jumped right in. When I was learning to make films I would watch every documentary I could get my hands on. Likewise for ramen I ate every bowl in every new shop that I could find; Vancouver has some of the best ramen in North America, and even Japan, so that was convenient. At the time I began my research I had eaten at every shop in Vancouver many times over but today there are so many more that I have a lot of catching up to do. Luckily several research trips to Japan, Seattle, and LA have made up for what I've been missing in Vancouver.
Would you consider your ramen "authentic"?
Authentic is a loaded word but yes, I would definitely say ours is authentic. I said earlier that the rules are few and there is a lot of room for creativity so as long as it follows those few rules you can't deny its authenticity. In Japan different styles of (scratch-made) ramen are influenced by the ingredients that are available locally (emphasis on scratch-made because I have on good authority that a large number of Japanese ramen shops use broth concentrates and factory noodles). It's the local ingredients and the scratch-made that makes a ramen special. If by authentic you mean does it emulate a certain, familiar flavour of ramen, then yes we have a couple of those on our menu too. Our shoyu ramen is very close to the classic style you would get in Tokyo, and our tonkotsu ramen is close to what you'd get in Hakata. I'm aiming to diverge away from that approach though – all of our newer dishes are more freestyle but I have an affinity for Japanese flavours and my palate has been calibrated to those since a young age (growing up Nikkei) so that will always be my foundation.
Apart from the wild sidestripe shrimp and local pea shoots, whatever other local touches have you added to your recipes?
The amazing thing about the Comox Valley is its bounty of local ingredients. Literally 10 minutes from our shop is where much of our pork is raised and processed, and seasonally mizuna and garlic and some other produce are grown. I have been tinkering with local clams and oysters quite a bit and I am super excited about geoduck. I could almost walk to the beach to dig up my own geoduck but to get it in the amount we would need at the restaurant ironically it would have to first to go the mainland to be processed before I can get my hands on it. I'll find a better way. I am hoping to integrate a lot more of this local seafood into new dishes in the coming months. By the way a lot of the local oyster farms were started by Japanese Canadians before the war.
Have you found that you'd had to educate your customers about ramen, or do you let the food do the talking?
A bit of both. The Comox Valley is a fairly ethnically homogeneous place and a good number of our customers have never had ramen before. I'm always hearing about someone who thinks our food would be too exotic for them – in fact a friend of Erin's was even too scared come in for fear of embarrassing herself during the ordering process! (She finally placed an order online and has become a regular). As you know, however, a bowl of noodle soup is hardly anything to get intimidated by, and once our customers try it, a lot of them are hooked. We have a strong repeat customer base. We've always only relied on Instagram and word of mouth for our marketing.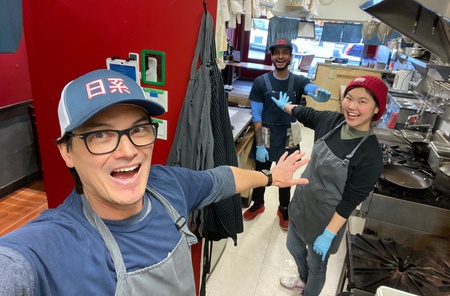 How has the response been to Nikkei Ramen-ya? What's been the biggest hit?
It's been bigger than I ever imagined it would be. Remember I started with the idea of a yatai street cart and now, at least pre-COVID, our sales were almost an order of magnitude larger than the projections in my first business plan. Most days our biggest seller is our miso ramen but I almost never have that one. It's very easy – too easy – to like.
I imagine you had to train your staff from the ground up, all while learning the business yourself. Was it a difficult process getting up and running?
Yes, it was difficult but, in the sense, that there was A LOT of work, not in the sense that it was hard to figure out. For me the hardest part has been finding and retaining good people. I had a couple of keepers early on who are still with us. Both are Japanese-born and are now in Canada permanently. They are also great to bounce new dish ideas off, and have been super-helpful for translating Japanese. I just checked a file I have of ex-employees on my computer and there are 47 people who are no longer with us. Forty-seven!! But that kind of turnover has been largely sorted out since we started paying a living wage.
Describe a typical day for you, pre-pandemic.
Maybe a better question is a typical day in 2018. Since then I've removed myself mostly from the day to day cooking and stepped into a mostly administrative/strategic/development role. Just before COVID hit for example I was consulting with building contractors for a two-location expansion (now 50% cancelled). In between those kinds of projects I'm developing new dishes at home and figuring out how to scale the winners to sell in the shop. But a typical day in the restaurant would go something like this: arrive at 8am and turn on the gas and heat up the noodle cooker. Heat up the pot that's been steeping konbu overnight for the day's dashi. Mix the dough in the noodle machine then clean the pork bones to be put in a pot for tonkotsu (or prep the chicken if it's a chicken chintan day). Boil 6-8 dozen eggs for ajitama, peel them, and get them into their brine. Roll out the dough and cut the noodles.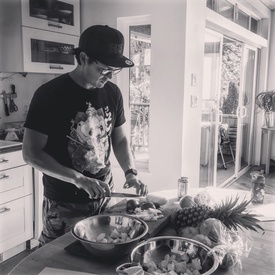 Throughout the morning one or two others have arrived and helped out with this prep – also getting the line ready, doing laundry, readying the dining room, getting ready to open at 11:30am. Most mornings it's a race against the clock. If it's a busy day we'll be slammed for the first two hours for lunch then another two to three hours at dinner. A shift change occurs around 3pm and we send the younger, stronger staff (and other times me) to the butcher to fetch the meat for the next day's prep – sometimes we need to hoist a 25kg box on our shoulder and hoof it, but it's only one block away (love that) so it's doable. After dinner service, closing up involves putting away the prep for the day, shutting everything down, cleaning up. Steep new konbu or shiitake as needed for the next day. Send off the end of day reports for the next morning crew so they know what they're up against when they come in. Closing crew is usually on the way home by 9:30 or 10pm.
Is there anything that surprised you about opening and running a restaurant?
The main surprise is that I opened a restaurant at all. I looked into buying one when I lived in Calgary in the early 2000s and after I saw the books I said no way ever will I be in the restaurant business. When we opened in 2016 I truly saw the shop as a vehicle for my creativity where I could flex my engineering and business muscle and support my family in the process. I never thought of it as a restaurant nor myself as a chef. These days, with nine staff (eleven pre-COVID), I still jump at the chance to be creative in the kitchen or to pop in and say hi to our regulars but most of what I lie awake at night thinking about is how to navigate the times and give my staff gainful and long term employment. I guess it feels more like a restaurant now than it ever used to.
This month, I'm asking JCs to submit recipes and stories that connect them to their childhoods, or to others. Is there anything you'd like to share with us?
Unless you're a glutton for punishment and you have three days to spare, I wouldn't recommend making from-scratch ramen at home. It is a whole lot of work of that will yield maybe four to six portions. But if you are super passionate for ramen like I was, go for it. Make it at home and impress all your friends. But the "simpler" dish that comes to mind is kare raisu (curry rice). I love Japanese curry so much (maybe more than ramen) that I adapted my kare raisu recipe that I make at home into a kare ramen dish at the shop. I tell people it's my family recipe, but there are actually three Masuda family recipes for kare raisu and the only one I know is my own. I never really liked the version my mom made my dad. Most of what I recall is the long, stringy, undercooked onions in that version that used to gross me out. My grandmother also used to make kare raisu for the farm hands on the sugar beet farm. Apparently, it was pretty popular, but the recipe never got passed down. I started making my own kare raisu when I was a bachelor and my thing was using dashi instead of water. My kare raisu (and kare ramen) these days still uses dashi, but it's REAL, from-scratch, traditionally made dashi (okay we don't shave our own katsuo). I also developed my own curry roux using my own blend of fresh ground spices instead of using the Glico curry blocks. Yes, sometimes I'm a bit of a control freak.


Nikkei Ramen-ya
320 5th Street
Courtenay, British Columbia
250.897.4700
www.nikkeiramenya.com
Facebook: @nikkeiramenya | Instagram: @nikkeiramenya
*This article was originally published by The Bulletin on June 3, 2020.