When I was little, I heard a quote said by American professional baseball player, Babe Ruth: "Never let the fear of striking out keep you from playing the game." This quote has stuck with me throughout my life and taught me that failure is undoubtedly part of the game of life but provides a learning opportunity to help us move forward. Babe Ruth's words are applicable to the Falcons baseball program because although the Falcons no longer exist, the experiences and memories are integral parts of many Nikkei childhoods and are still alive for participants, parents, and coaches.
The Falcons were created as a Buddhist Church of San Francisco (BCSF) program that allowed youths the opportunity to practice and play baseball with teams across the Bay Area. The program was an affiliate of the Golden Gate Optimist Baseball League which was a subsidiary of the Golden Gate Optimist Club, a club started by a group of Japanese-American businessmen in 1955. The Optimist League was most likely the first opportunity for many of the Sansei youth to participate in organized competitive sports.
With the help of parents, volunteer coaches, managers and the San Francisco Recreation and Parks Department, the Falcons were able to hold practices, play games, and host jamborees against Japanese American teams such as the Berkeley Bears, the Richmond Cubs, Diablo Cardinals, Oakland Eastbay, Troop 29, Troop 12, and Associates. As time went on, the Falcons grew to be a co-ed program and became a part of the San Francisco Youth Baseball League (SFYBL) and the San Francisco Summer League. In 2019, the Optimist league disbanded. That was the last year for Falcons baseball.
BCSF's Reverend Ron Kobata played for the Falcons around 60 years ago. He recalls a North-South Friendship game with a team from Los Angeles. From a youngster's perspective, this was a significant involvement as even traveling throughout the Bay was a big deal to him.
Chris Seiki, who played for the Falcons from 2002 to 2008 as an elementary and middle school student, remembers Falcons baseball by the inspiring words that Coach Lance would say to him and his teammates in every pep talk: "Let's just play baseball." Although winning was a goal, in his eyes, it's the simple times which consisted of "stuffing my face with sunflower seeds, listening to parents cheer and bonding with teammates that come to mind when I reminisce about the good ol' Falcon days." Chris wants to express gratitude for the support from the coaches and parents that made the Falcons experience as enjoyable as it was.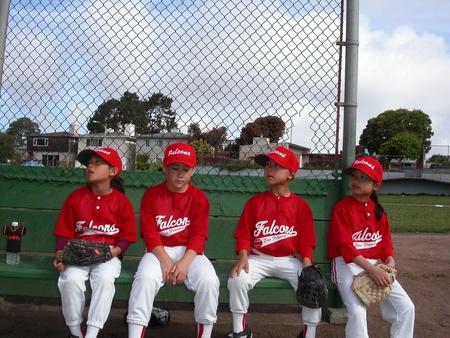 My brother, Max Chan, who played from 2004 to 2008 as an elementary and middle school student, has fond memories of having our dad as a coach and being able to learn and foster a love for a sport alongside his father. He remembers the fun he had playing baseball with his Troop 29 scout friends and our cousins, Evan and Jeremy. When Max was in high school, he wanted to give back to the Falcons program by conducting a baseball clinic for young teams as his Eagle Scout project and later became a Falcons coach along with several of his former teammates.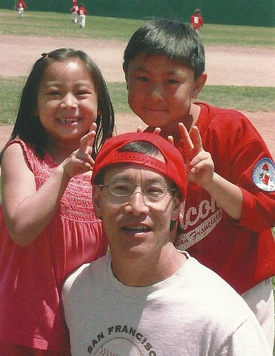 When I think of the Falcons, my memories are mostly being dragged to my brother's games by my parents, where I would watch from the bleachers, usually feeling very cranky and cold.
Although I can't speak from playing experience, learning about the Falcons and the history of the Optimist League made me realize that this was a revolutionary initiative. Falcons players, alongside other teams in the Optimist league, were provided an opportunity to play a sport from which Japanese Americans were once excluded. During World War II, Japanese Americans were wrongfully criminalized and interned because of their ethnicity, seen as disloyal and a threat. After being forcibly removed from their homes and incarcerated in internment camps, baseball became an outlet and form of normalcy for Japanese Americans. Despite being denied their civil rights, they still played America's favorite pastime with passion by creating leagues and baseball diamonds in the camps. Lingering prejudice after World War II led to Japanese American youth often being barred from joining little league teams. The Optimist League and the BCSF Falcons provided them with a positive and engaging environment and the opportunity to play a beloved sport that was a lifeline for past generations.