Motivation to Study Japanese
The reason why Nisei children who were born in the U.S. go to Japanese-language schools or hoshūkō is that their parents hope that they will acquire the language of the land where their roots lie. That was also the case for my two children. Every Saturday morning, I would hurry them along to Japanese school, with not a bit of enthusiasm on their part. This is the point where children diverge. Some will rebel against having to go to school on Saturdays on top of the usual Monday to Friday, and will end up quitting partway through. Others, less concerned with studying and more so with spending time with friends that they share a common background with will happily continue going to Japanese school. Of course, parents' attitudes also play a large part. If the parent keeps pushing their child forward no matter how they protest, eventually the day will come when the child will realize how precious their bilingualism is and will be grateful towards their parent. Christopher Yang, Vice President and Deputy General Counsel of Toyota USA (headquartered in Texas), is one such person.
Chris, who is fluent in Japanese, was born and grew up in Torrance, California. As his surname Yang implies, his father is Chinese, born in Taiwan. At a young age, Chris's father moved with his family from Taiwan to Tokyo, and eventually he married a Japanese woman. The two then moved to America, where they had Chris and his younger brother.
Reflecting on his childhood, Chris told me, "At home we spoke a mix of Japanese and English. I also went to a Japanese language school on Saturdays, though at the time I thought of it more as being forced to go. And every Saturday morning I would fight and talk back to my parents, saying, 'I won't use Japanese anyway, so I don't want to go!' But now I know that they were right, and I'm very grateful." Though he thought he would never use Japanese, now he has full command of both it and English and acts as a bridge between Japan and the U.S. in his role as the international general counsel of Toyota Motor North America's legal department. He is also on the board of directors at Toyota Connected North America, a new company that specializes in managing the corporation's data and technology.
Chris did have an additional source of motivation to learn Japanese outside of his parents' encouragement. That was kendo. His first encounter with the sport occurred at his grandmother's house in Japan, where he happened to watch an episode of the kendo anime, Musashi no Ken. Once he began practicing himself, he was completely absorbed. While he was in high school, he saved up money with a part-time job, and went to Japan visiting and training at dojos from Iwate to Kagoshima, what some might call "dojo storming."
He trained further at Fukuoka University's Ohori High School. At the time, he wanted to go on to a university where he could fully immerse himself in kendo. However, on the advice of his parents, who emphasized the importance of future job prospects, he ultimately went to University of California, Berkeley. In his junior year, he studied abroad at Tsukuba University, which has a strong kendo team. "I spent almost the entire year at Tsukuba in the gym with my teammates," he told me. In other words, in Japan, he was indeed able to immerse himself fully in kendo.


A Powerfully Kind Swordsman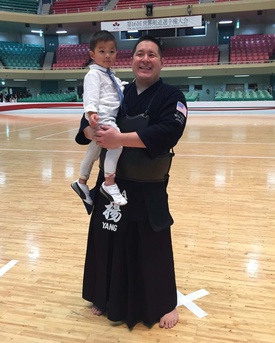 After returning to the U.S. and graduating from college, Chris went on to study law at Georgetown University, passed the bar exam, and joined a major law firm. The work there was more intense than one could have imagined. Of the 25 lawyers that joined the firm in 2003, Chris was the only one that had remained by the time he finally left the office. But even with the busy life of a lawyer, quitting kendo was not on the table. On the contrary, Chris took time off from work not once, but twice while trying for the World Kendo Championship. Chris represented U.S. kendo team for about 18 years, starting from when he was 18 in 1997. From 2006 to 2015, he took on the responsibility of being the team's captain. The purpose of his time off from working at the legal firm was to train with the Tokyo Metropolitan Police Department (TMPD).
"The Japanese kendo team is often considered the best in the world, and most of its members are police officers. They work as hard at kendo as they would at a job," says Chris. "If you want to become a top player, you need to train with the world's best. So getting in with the TMPD's kendo team and training with them was the ideal situation for me."
Speaking frankly, I wondered if a Japanese police department would accept a member of their rival American team. "If you have a pure drive to train yourself like me, they welcome you even if you're another team's captain," Chris answered. When Chris became captain of the U.S. team in 2006, they went on to beat Japan and take second place in the World Championships.
In 2011, Chris left his job at the law firm and started to work at Toyota USA, then headquartered in his hometown of Torrance. Regardless of the extremely hard work, Chris says, the mental fortitude he attained through kendo allowed him to endure at the law office even when everyone that joined with him had left, but ultimately, the relentless cycle of finishing a project only to start from scratch with a new client prompted him to move on from the firm.
Chris chose Toyota USA as the ideal place to make use of the corporate legal expertise he accumulated at the law firm, his bilingual abilities, and his bicultural background that was cultivated by living and studying in Japan. Then in 2016, along with the headquarters' transfer, Chris and his family moved from California to Texas. Now based in the new headquarters in Plano, he leads a busy life flying around the world, and has even established a new dojo in the city. "Torrance, where I was born and raised, was a nice, comfortable place for me. But coming here, I've been blessed with a lot of new encounters. I feel that it's helped me grow as a person," Chris told me when we met in Plano in May 2019. On that occasion, I had the wonderful opportunity to observe him participating in a meeting with some younger staff members. He spoke sincerely, giving precise and thoughtful advice. The impression I was left with was that Christopher Yang, leader of the American kendo team, is not only an exceptionally strong swordsman, but also an extremely kindhearted leader.